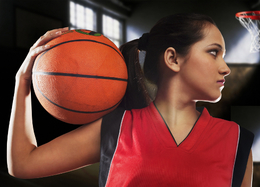 Achieving Greatness
These eight high school athletes are proving once again that South Jersey is a hotbed for success during the cold winter months.
These eight high school athletes are proving once again that South Jersey is a hotbed for success during the cold winter months.
Tommy Schurer
MOORESTOWN BOYS SWIMMING
A contributor since his freshman year for one of the top programs in the area, Schurer placed fifth in the state in the backstroke and eighth in the individual medley last season. The senior will continue his career at the University of Connecticut.
SOUTH JERSEY MAGAZINE: What do you like about the sport?
TOMMY SCHURER: I enjoy working hard and seeing the results you get from having a good work regimen. If you try really hard, you can get what you deserve and that's what I appreciate the most about the sport. I also love the camaraderie; some of my best friends are from the sport of swimming.
SJM: Do you know what you're doing for college?
TS: Yes, I'm going to swim at the University of Connecticut. It had everything I wanted in a school. The coach is a very nice guy, his name is Chris Maiello. It had the major I wanted, it's a big school and they have a great basketball team. They have great facilities too. There was nothing more I could ask for.
SJM: You had a terrific performance at last year's state meet. What are your goals for this year?
TS: Of course I'm looking [to make the] A final in both of my events. I'm probably going to swim the IM and back. I'm looking to win or at least place in the top three. I know I just have to train really hard in these next couple of months and everything should set up for states. That's a meet I really look forward to. I get hyped for it and I think I perform well there.
SJM: What is your pre-race routine?
TS: Some people like listening to music, other people try to get focused and other people like to slap their chests. I just try to stay as relaxed as possible. I talk to people and try to get my heart rate down. I try not to focus on the race until I have to swim it. I think staying calm right before you swim really takes the pressure off.
SJM: Do you like to hang out at the Shore?
TS: Of course. I usually head down the Shore a few times during the summer. I'm not really into surfing because my balance isn't too great. But body boarding is my forte, I guess you can say. I enjoy LBI, that's where I usually stay. Maybe Ocean City. But yeah, I always appreciate the Shore.
SJM: Who's your favorite teacher at Moorestown?
TS: My current math teacher, her name is Beth Glennon. She has a son who swims over at Haddonfield and she understands the sport. She always keeps tabs on me and asks me my times and how we did in our meets. She is someone who actually cares about you, more than just how you are as a student. I think that speaks volumes and I really appreciate it.
SJM: What kind of music do you listen to? Any favorite movies or TV shows?
TS: I like hip-hop, I like old-school rock, I listen to a little alternative. For TV, I just watched Stranger Things and I liked that. I watch Shameless too. And my favorite movie would probably be Forrest Gump.
Kendall Keyes
LENAPE GIRLS BASKETBALL
A senior guard, Keyes was a valuable member of Lenape's first-ever state championship team in girls basketball in 2016. Last year she emerged as the team's top scorer, averaging 14.9 points.
SOUTH JERSEY MAGAZINE: When did you start playing basketball?
KENDALL KEYES: I played in kindergarten with boys. I was actually [more of] a soccer player until seventh grade. I played soccer with Cinnaminson girls like Hailey Gutowski. Soccer was everything to me; that's how my whole family is. I broke my dad's heart because one day I went to him and said, 'I don't want to play soccer anymore, I just want to play basketball.' So in seventh grade I started playing AAU and I guess that's where it started. I was better at soccer, I just liked basketball more.
SJM: What did it mean to you to be part of Lenape's first state championship team in girls basketball two years ago?
KK: That was crazy. I wear my ring e very day and I loved that season. It just felt like everything clicked and we had the right people in the right spots. It taught me how to win as a team. I still watch videos from that year all the time.
SJM: Why did you pick the University of the Sciences to continue your career?
KK: I play AAU with Mr. [John] McFadden, who is an assistant coach at Cherokee. I've been playing with the Comets since my freshman year and they really opened a lot of doors. I had a lot of options but I want to study pharmacy at the University of the Sciences. I'm going for free and that was a big part of it. And I feel like going Division II will give me more of an opportunity to play all four years. I wasn't too concerned about being close, but I like the city and the coaches really gave me a good feeling when I went there.
SJM: Do you watch a lot of basketball, like the women's college game?
KK: I watch UConn a lot. I mean, who doesn't? I wouldn't say I watch the NBA very much. I watch Duke men's basketball. I like Grayson Allen a lot. I watch him and try to learn his moves. My trainer and I watch videos of him and that's what we try to do.
SJM: Just don't go tripping anybody like he does.
KK: [Laughs] I won't. That's [my teammate] Shannon Mulroy, not me.
SJM: What other hobbies do you have aside from basketball?
KK: I like to hang out with friends, I like to read and listen to music. I like books that are real, that could actually happen in life. I don't like science fiction or anything like that, but I like love stories.
SJM: Where do you see yourself in 10 years?
KK: Hopefully I graduate from USciences and I want to work in a hospital as a pharmacist. I think it would be a lot of fun to coach basketball at a high school. I'll always be playing basketball. I'm definitely not going pro, but I'll be playing in a women's league somewhere.
Joe Manchio
SENECA WRESTLING
A senior, Manchio's outstanding career already includes three district and region titles and the first state championship in program history, which he won as a sophomore. He has recovered from a torn ACL suffered at last year's state tournament and is hoping for a huge senior season.
SOUTH JERSEY MAGAZINE: How are you feeling physically? Do you feel like you're back to normal after your injury last year?
JOE MANCHIO: Almost. I'm getting better every day and I just have to take it one step at a time.
SJM: What was it like mentally to get hurt at states?
JM: Devastating. Like, why did it have to happen at states? Anywhere else would have been better. You work your butt off the whole entire year just for that one tournament, and to have it ruined by something you can't control is just awful.
SJM: Can you put into words what it was like the year before, when you walked off the mat a state champion?
JM: I worked my whole life for that. All the hours I put into the sport and all the sacrifices I had to make paid off for that one moment. It was the greatest feeling in the world and nothing can replicate it.
SJM: Are you confident you can get back there again this year?
JM: Yeah. I'm feeling good and I have a new fire; a new motivation coming off that year of injury. I want to get back out there and show everyone I'm one of the best.
SJM: What made you pick Columbia to continue your academic and wrestling career?
JM: I love the coach there and it just has a great vibe. It's not so wrestling-focused. My whole year isn't going to be spent just wrestling. Obviously at an Ivy League school I have to be focused on my schoolwork too. I also love New York City. I'm from the sticks, but I love New York and I can't wait to live there.
SJM: Do you have a favorite teacher at Seneca?
JM: My coach [Greg Bauer]. I have him for environmental science this year and we have a good time. I make it so he's not tough on me in the classroom. I keep my grades up. He's a tough dude at practice though. Just don't get him angry and do what he says, that's what you have to learn.
Kiley Gelston
WASHINGTON TOWNSHIP GIRLS BASKETBALL
A four-year varsity player, Gelston emerged as the Minutemaids' leader as a junior and averaged 12.5 points. The senior small forward is also a strong rebounder and defender.
SOUTH JERSEY MAGAZINE: Has basketball always been your favorite sport?
KILEY GELSTON: When I was growing up I played soccer, softball and basketball and it was hectic, because I used to juggle two sports in one season. I decided to stick with basketball because I just love it. I love when the games are really close. Last year against Cherry Hill East we went to four overtimes and that was my favorite game ever. I love when it goes back and forth and you never know what's going to happen.
SJM: Do you want to play in college?
KG: Yes. I don't know where I'm going yet, but my top two choices are Stockton and Montclair because their education programs are really good and I want to be a teacher.
SJM: D o you want to stay involved in basketball?
KG: Yeah, I can see myself coaching someday. My dad was my travel coach from fourth to Á eighth grade and he coached me in Little League too. So I think it's something I would like to do. Both my parents have done it and I feel like it's in my blood.
SJM: Is it true that you got to study abroad last summer?
KG: Yes, I went to Portugal and it was awesome. It was for three weeks and we studied marine biology and the ocean and conservation. I had so much fun. I went with 30 kids from all over the country and we still Snapchat every day. There were people from California, Texas, Chicago. There was a kid from Vineland who I had never met before and now we talk all the time.
SJM: W hat is your pregame ritual?
KG: Our team brings a speaker wherever we go and we just jam out to the music. Then before every game we do the "I believe we will win" chant and bang on the lockers. We mostly listen to rap. Our coaches don't really like it, but it gets us pumped up.
Dean Noll
SHAWNEE BOYS BASKETBALL
A three-year starter at point guard, Noll is not only an elite scorer but also excels at running the offense and setting up his team- mates. He helped the Renegades claim a sectional championship and reach the state final last year.
South Jersey Magazine: You recently scored your 1,000th career point. What did that mean to you?
Dean Noll: It's definitely been a goal of mine since freshman year. I did it on a 3pointer and they stopped the game and gave me the ball. It was nice, but we just want to win games, that's our main goal.
SJM: Last year was a special one for the team. What sticks out as the best memory?
DN: The sectional final was a crazy game. It went to triple overtime and we were all really excited after that game. The game after that, the state semifinals against Hunterdon Central was another really fun game. We just want to get back to Rutgers this year [for the state final].
SJM: How is the recruiting process going?
DN: It's going good. I have a few Division II offers, but I'm talking to Delaware, Cornell and American too. That's the ultimate goal, to play in college.
SJM: Obviously there is a Shawnee connection at Cornell, since former Renegades star Brian Earl is the head coach. Have you gotten to know him at all?
DN: Yeah, he's been to a few of our games. [Shawnee coach Joe] Kessler always brings those teams up from the '90s. He talks about how they won the Tournament of Champions and everything.
SJM: Is it meaningful to you to be part of a program with such great tradition?
DN: Yeah, it's awesome. The tradition is great. Kessler is a really good coach and he always prepares us well for our games and teaches us the right way to play.
SJM: Who is the funniest guy on your team?
DN: Probably Sean Heine, even though he's hurt right now. He always lightens the mood and he's a really funny guy. He still comes to every practice.
Chris Bolletino
HADDONFIELD WRESTLING
A senior 170-pounder, Bolletino won a district championship last year and finished second in the region for the second straight season. He hopes to qualify for the state championships in Atlantic City for the third time this March and reach the podium.
South Jersey Magazine: What are your goals for your final season at Haddonfield?
Chris Bolletino: For the team, I really hope we can win the South Jersey Group II title and wrestle for a state championship in Toms River. Individually, I want to win districts again, because that's always the first step. Then I want to get a region title and I want to medal at states. I really want a region title because I've been in the finals twice and came up short, but the state medal is my main goal. I want to be in the top eight in the state.
SJM: What is it like to compete at states?
CB: It's awesome. The first time out there I was a little star-struck. But you start to build your confidence up. You think to yourself, 'I'm here, so I can compete with the best.'
SJM: What are your college plans?
CB: I just decided a couple of days ago that I'm going to Franklin & Marshall to wrestle Division I. I went up there on an official visit in September or October. I met the coaches again, I met the guys on the team, I watched practice and stayed over. I loved the campus. It's not a crazy big school and the guys on the team are awesome. I felt like I could fit in well. The school itself is a prestigious school and the ultimate goal is to go to a good school, get a degree and move on to better things after college. My whole focus wasn't going to the best wrestling school, but going to the school where I would have the chance to succeed and wrestle at the same time.
SJM: What are you going to major in?
CB: I'm not positive yet but I'm leaning toward communications or sports broadcasting, or maybe journalism to become a sports writer. I haven't decided exactly what I want to do yet, but Franklin & Marshall has a really good journalism program so I think that could be a good option.
SJM: What do you like to do when you're not playing or watching sports?
CB: I love to play Xbox; I've been doing that a lot lately. I play with my brother a lot and we play a lot of sports games. I love hanging out with my friends and playing pickup street hockey or pickup football. Then we go get food. I just love hanging out with my friends; we don't have to be doing anything, we can just be watching TV and making jokes. I also love to go fishing. I'll go saltwater fishing when I'm down the Shore with my dad. I also go bass fishing in the area with my friends. We'll hop in the car, drive 30 minutes and just spend all day fishing.
SJM: What's the biggest fish you ever caught?
CB: The biggest fish I ever caught was probably an amberjack in North Carolina that was about 35 pounds. I also caught 25-pound mahi mahi in Aruba and that was nice. I caught a 35-pound striper in Belmar too.
Troy Edwards
EASTERN BOYS BASKETBALL
One of the top guards in the Olympic Conference, Edwards is a threat from the perimeter, can create his own shot and is also an excellent defender. He was averaging 16 points and three assists through the first half of this season for a team with sectional title hopes.
SOUTH JERSEY MAGAZINE: Are you taking on the role of senior leader?
TROY EDWARDS: Yeah, this is my time. When I was a freshman my brother [Logan] was a senior captain. So now I have to follow in his footsteps.
SJM: What did you learn from watching Logan play?
TE: To stay dedicated and to persevere. He was one to always work hard and never take days off.
SJM: Do you have a favorite professional player?
TE: My favorite player is Devin Booker from the Phoenix Suns. I'm not a Sixers fan, I'm a Suns fan. I didn't really have a favorite player or team until Devin Booker came into the NBA. I followed him when he was at Kentucky and when he was in high school too. I saw him play one time in North Jersey at a showcase. He looks just like me too.
SJM: What are your goals this year?
TE: I want to make first team all-South Jersey and first team all-conference and win a state championship. That's what we're most focused on right now, especially with all of the talent that's coming through Eastern.
SJM: What is your pregame ritual? Do you listen to music to get pumped up?
TE: Yeah, I listen to Playboi Carti and Jay-Z, rappers like that. It just gets me amped up for the game and focused. It gets me in a zone before tipoff. SJM: Where do you see yourself in 10 years? TE: I want to own my own business and work my way up. I want to get married, but not until later in life, like 30 or 40. I'm not focused on that right now.
Grace Yoon
CHERRY HILL EAST GIRLS SWIMMING
In a memorable freshman campaign, Yoon captured an individual state championship in the breaststroke, took third in the state in the individual medley and led the Cougars to a sectional title. She is seeking more personal and team success this year as a sophomore.
SOUTH JERSEY MAGAZINE: Did you surprise yourself last year with all you were able to accomplish as a freshman?
GRACE YOON: I wasn't really sure what to expect, but I knew there were a lot of other fast swimmers. I was happy with the results. [Winning a state title] was really exciting. A lot of my friends from my club team, Wahoos, were there and they were so genuinely happy for me. It made the experience really fun and unforgettable.
SJM: With all of the success you had as a freshman, did that raise the bar for this season? GY: To win states again would be great, but my main goal is to improve my time and to improve myself, especially because there are so many other fast swimmers in New Jersey.
S JM: Is the breaststroke your favorite event?
GY: It's one of my better strokes, but I wouldn't say it's my favorite. My favorite depends on the day. The IM takes a lot of endurance and it's exhilarating.
SJM: What are your goals for the team?
GY: Hopefully we can make it to states. We have a pretty good team this year and we have a strong freshman class. Last year we won sectionals and this year we're hoping to win again and go even farther.
SJM: What do you like about swimming for Wahoos, one of the top clubs in this area?
GY: We go to big meets, which is good, and the training is really hard. It's nice seeing everyone every day, because my teammates are all really nice and I enjoy spending time with them.
SJM: Of course you have plenty of time, but have you thought about swimming in college yet?
GY: I hope to one day swim in college, but it's still preliminary right now. I haven't thought about college too much yet. Next year is when recruiting will start.
SJM: You also had a successful cross country season as a freshman, taking second at states. Why did you decide not to run this year?
GY: I felt like I had to choose between running and swimming so I could focus on one sport, and I chose swimming. I pretty much planned on sticking with swimming from the start, but I do miss running, especially the cross country team. Sometimes I'll still run with my friends, but not to train anymore.
SJM: What do you like about going to school at Cherry Hill East?
GY: It's really big compared to my swim friends' schools, but I like that it's really diverse and there are a lot of opportunities to find something that each individual person likes. There are so many clubs and so many people who are all different.
STAR WATCH
More topflight athletes to keep your eye on this season.
GIRLS BASKETBALL
Azana Baines, Gloucester Catholic, junior guard/forward: Baines is capable at taking over a game at either end of the floor for the Rams with her defense, scoring and passing.
Kate Deutsch, Camden Catholic, senior guard/forward: A potent scorer who can launch from 3-point range or get to the basket, Deutsch is the No. 1 option for the Irish.
Mary Kelly, Haddonfield, senior forward/center: Kelly, who will continue her career at Catholic University, scored her 1,000th career point earlier this season.
Lauren Lewis, Rancocas Valley, senior guard: One of the top 3-point shooters in the area, Lewis is the leading scorer for the Red Devils.
Kate McShea, Bishop Eustace, senior forward: In her first full season at Eustace after transferring from Rancocas Valley, McShea is the Crusaders' leading scorer and rebounder.
Ava Therien, Cherokee, junior forward: After starting last year as a sophomore, Therien has emerged as a key player at both ends of the floor for South Jersey's top team.
BOYS BASKETBALL
Ray Bethea Jr., Atlantic City, senior guard: One of the leading scorers in the state, Bethea is hoping to lead the Vikings to their second sectional title in three years before continuing his career at Howard.
Will Bond, Haddonfield, senior guard: A varsity player since his freshman year, Bond is a terrific shooter and passer who forms a strong backcourt with point guard Mike DePersia.
Dylan Deveney, Shawnee, senior forward: Deveney is a three-year starter who scored his 1,000th career point as a junior and helped the Renegades reach the Group IV state final.
Aaron Estrada, Woodbury, junior guard: A starter at point guard since his freshman year, Estrada has taken over as the No. 1 scoring option this season for the defending South Jersey Group I champs.
Marlon Hargis, St. Augustine, senior guard/forward: The 6-foot-7 Hargis, a three-year starter, has emerged as the Hermits' go-to player this year and is receiving Division I college interest.
Maurice Murray, Timber Creek, senior forward: The 6foot-7 Murray averaged almost 25 points as a junior and is one of the most talented players in the state. He is being recruited by several notable Division I programs.
Andrew Sims, Lenape, senior forward: At 6-foot-6, Sims has the size to make a difference in the paint, but he can also step out and knock down a 3-pointer. Those skills are drawing plenty of attention from college scouts.
WRESTLING
Matt Higgins, Shawnee, senior: A district champion and region runner-up last year at 120 pounds, Higgins is wrestling 126 in his final season and hopes to qualify for states for the third year in a row.
Billy Janzler, Delsea, senior: A Rutgers commit, Janzler went 44-2 and claimed the 170-pound state title as a junior. He is wrestling 182 this season.
Quinn Kinner, Kingsway, senior: Kinner, a 138-pounder, will look to win his second state championship and fourth region crown this year before moving on to Ohio State.
Antonio Mininno, Gateway, senior: Mininno—who became Gateway's second state champion ever last year— has had a profound impact on the program along with his twin brother Dante.
Lucas Revano, Camden Catholic, junior: Already a two-time state place winner, Revano hopes to contend for a state championship at 132 pounds this year.
Devon Starks, Highland, senior: After going 34-3 with a district title and taking second in the region last year, Starks is once again one of South Jersey's top 220pounders.
Collin Wickramaratna, Cherokee, senior: A three-time state qualifier, "Wick" took seventh in the state at 113 pounds last year and expects to reach the podium again now that he has moved up to 126.
GIRLS SWIMMING
Shannon Feeley, Shawnee, senior: A versatile competitor who swims several freestyle events and the breaststroke, Feeley took first in the 500 free at last month's SJISA Coaches Invitational.
Camryn McHugh, Gloucester Catholic, senior: McHugh, who placed seventh in the backstroke and 13th in the butterfly at the 2017 Meet of Champions, was part of the Rams' winning medley relay at this year's SJISA Coaches Invitational.
Mackenzie O'Connor, Bishop Eustace, senior: A Penn State commit, O'Connor placed fourth in the state in the backstroke last year and recently won the event at the SJISA Coaches Invitational.
Colleen Renshaw, Millville, junior: Renshaw placed in the top eight in both the 50 and 100 free at last year's Meet of Champions and won both events at the SJISA Coaches Invitational last month.
Ryann Styer, Ocean City, senior: Last year's state champion in the 50 freestyle, Styer just broke a pair of her own records at the SJISA Coaches Invitational as she won the 50 and 100 free. Emily Wisniewski, Moorestown, sophomore: Fresh off a rookie season in which she placed 11th in the state in the 500 freestyle, Wisniewski is delivering again for the Quakers. She took first in the 100 free at the SJISA Coaches Invitational.
BOYS SWIMMING
Alex Chiu, Washington Township, junior: Chiu placed 14th in the state in the butterfly last year and won the event at this season's SJISA Coaches Invitational. He also broke the meet record in the butterfly at the Gloucester County Championships.
Josh Fong, Moorestown, junior: The youngest of three siblings from a talented family to swim for the Quakers, Fong took third in the state in the butterfly as a sophomore and was the champion in the event at last month's SJISA Coaches Invitational.
Jacob Haines, Lenape, senior: Haines competed at states in the butterfly and breaststroke last year and was the individual medley champion earlier this season at the SJISA Coaches Invitational.
Destin Lasco, Mainland, sophomore: Lasco took the Meet of Champions by storm last year as a rookie, winning state championships in the individual medley and backstroke.
Jacob Narvid, Gloucester Catholic, sophomore: A two-time winner at the SJISA Coaches Invitational—in the 200 free and 500 free—Narvid hopes to make an impact at states as well.
Jack Watson, Cherry Hill East, junior: After placing 13th in the state in the backstroke and 15th in the individual medley, Watson is shining again for one of the premier teams in the area.
Kyle Worrell, Rancocas Valley, senior: Worrell, who took fourth in the 50 free and sixth in the 100 free at last year's Meet of Champions, was a double winner at the recent SJISA Coaches Invitational and will continue his career at Louisville.