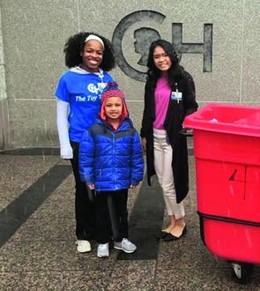 Hot Cocoa for Toys
Southern Exposure: People
When Trinna Wooster's then 5-year-old son wanted to make a difference this past holiday season, she didn't hesitate. Jordan Slippi-Mensah, now 6, simply wanted to raise enough funds to buy gifts for children in need, "just to make the world a better place." The mother-and-son duo ultimately hosted a hot cocoa stand right outside their home in Washington Township in November and raised a total of $1,005.
"We created signs for our hot cocoa stand, so not only friends and family joined, but also people passing by our house," explains Wooster. "People driving by stopped, along with some people walking/running the neighborhood." Additionally, Wooster's husband, Steve, also created a Facebook event page, which helped spread the word.
Those funds quickly turned into an array of toys and gifts for Toys for Tots, CHOP and a local family in need. "Jordan bought gifts for ages 6 months to 14 years old, both girls and boys," explains Wooster. "He picked out a lot of arts and craft supplies, cars, toddler blocks, Nerf items, board games, perfume and cologne sets and many more items."
With plans to continue the fundraiser later this year, Jordan is just happy he was able to make a difference. "I felt marvelous," he exclaims. "I said in my brain, 'Wow, I don't believe it.'"
"We were aiming to get $1 for a cup of hot cocoa and next thing we knew, our donation box was full," adds Wooster. "People were so generous and supportive. I can't wait to see if we can raise even more next year. It will be hard to beat!"
Published (and copyrighted) in South Jersey Magazine, Volume 14, Issue 11 (February 2018).
For more info on South Jersey Magazine, click here.
To subscribe to South Jersey Magazine, click here.
To advertise in South Jersey Magazine, click here.