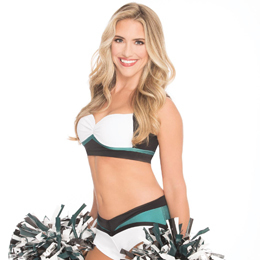 The last 10 months have been quite a whirlwind for Dana Pasqualone, filled with accomplishments on both a personal and professional level. Although she's made it all look easy, she'll be the first to admit that the opposite is true. In fact, it's her failures that have driven her to flourish.
"Throughout my life, I've never gotten anything on the first try," says Pasqualone, a graduate of Washington Township High School and Rowan University. "I've always had to work hard for things, but I think that made me a stronger person."
Never was that more evident than in her dream to become a Philadelphia Eagles cheerleader. A pursuit that started when she was 18—and included several unsuccessful tryouts through the years—finally came to fruition in May, when she was named one of the 35 cheerleaders for this year's squad.
Now the 28-year-old's hectic schedule is busier than ever, and that's just the way she likes it. In addition to cheerleading rehearsals, Pasqualone works full-time for a technology software company, volunteers for several charitable organizations and serves as a Republican councilwoman in her hometown, a position she was elected to last November.
"I've always been this way, even in high school and college," Pasqualone says. "When I was in college, I had two accounting internships, I was on student government, I was part of the accounting society and I was on the dance team. So I'm used to balancing a lot of things. I think it's important to put yourself in different activities and become more well-rounded. I never turn anything down."
We took advantage of some rare down time for Pasqualone to discuss her excitement for football season, her promising political future and the charitable endeavors that have taken her around the world.
Trying out to be an Eagles cheerleader…
It's very tough. … There are a lot of different components to being a cheerleader. It's not just dancing, which is very important, but also philanthropic efforts and being a good representation for the Eagles brand. So they look for the best of the best: the best dancers, the best public speakers. They want an all-around, well-qualified woman and that takes a lot of time and effort to get the top 35 girls. It's a long process, at least the times that I've tried out. Sometimes it's four months, sometimes it's three months and I think there's four rounds of tryouts, with cuts each round.
Having a good feeling this time…
You just learn so much over the years and get more life experience and have more confidence in yourself. At 18, I was very young. Of course it was a dream and I worked hard for it, but I'm a different person now. I felt like more than ever, I put everything on the table. I worked out more, I ate the best that I could and I really trained for months leading up to the tryout. I did everything in my power to perform my best and put my best foot forward so I could accomplish my goal. This year, I just had a feeling. I just got elected to council and it was my first time running, so it's been a really good year for me.
An athletic background…
I cheered and danced a little bit in high school and I danced a little bit in college, but I actually played a lot of different sports. I played co-ed football, I ran track. Compared to some of these other girls who have a wealth of dance experience, I was more into running. … But dance is tough. Even though I run all the time, I find myself out of breath within the first half-hour of rehearsals.
Growing up an Eagles fan…
I'm a huge Eagles fan. I'm one of three girls and I'm like my dad's son, because I always watch football games with him or go to football games. I just love the sport.
Looking forward to game days…
I absolutely can't wait. To be on the field and watch the game and speak to the fans is going to be great. We have very passionate fans who are so enthusiastic about the game and will do anything for the Eagles. It's really exciting to be part of that camaraderie and to experience that with the fans and feel what they feel. It's going to be a surreal experience. The Eagles organization is a great organization that does so much and I'm really excited to be part of it.
Commitment to public service…
I've always been a person who volunteers my time and gives back to my community. I do a City Year mentorship program, where I mentor students who live in poverty-stricken areas and don't have a family life. I help them get to the next step, whether it's college or high school. I also am part of my alumni association at Rowan and I mentor accounting students to help them find accounting jobs. And at the tech company I work at, I serve as the corporate social responsibility ambassador for the entire headquartered office. I had an opportunity through that to travel to Nepal last year and help the earthquake victims rebuild their houses.
Making a difference around the world…
We were in Punta Cana in the Dominican Republic for the Eagles calendar shoot, but on top of that we were allowed to participate in a community service event. So we partnered with Waves for Water, a company that installs water filtration systems using very basic technology, which is easy for the people in the community to use. It lasts for 10 years I believe, or even longer, and they're able to get clean water.
The Nepal trip through work was also a huge opportunity and I was grateful to get it. The application process was pretty tough. Every year, they have two service trips at my company and you have to submit an essay saying why you deserve to go. Last year the trips were Tanzania and Nepal, and I applied for Nepal. I was one of five people selected and the youngest. It was tough, I'm not going to lie. We actually lived with some members of the community and I wasn't able to shower for a few days. At the end of the trip I was very grateful for everything I have in my life and it makes you humble. We were able to build houses to withstand earthquakes, because they're known for that. The overall beauty of the area was breathtaking and that's where Mount Everest is. It was a great trip.
Running for council…
Community service has always been a big part of my life and I've done things near my work and across the world, but I never really did anything in the town I live in. I was actually approached a couple of times to run for office, and surprisingly I turned it down. At that point in my life, I wasn't sure if I was ready for that. But I'm the type of person who, when opportunities are presented to me, I like to capitalize on them, because I think they're brought to me for a reason. So I gave it some more thought and decided to pursue it. I'm very glad that I did. Being on council has been great and I've really enjoyed it. I like working with the residents one-on-one, I like making decisions for the best interests of the town and it's really cool to see improvements made and businesses coming to town because of your vote.
Standing her ground at council meetings…
To be honest, it was tough at first because it's a new job and you really don't get a lot of training. It was a little difficult for me, but at the end of the day, as long as you're making the right decision with integrity and honesty, and you're being true to yourself and your values, you can't go wrong. You just look at the facts, evaluate it and make the decision you feel is right. You're not always going to please everybody, but if you're making decisions with integrity, that's all that matters. I'm standing my ground because I truly believe in doing the right thing. I would not be able to look myself in the mirror if I was making a decision to benefit myself instead of serving others.
Her political future…
People ask me that all the time. I was actually already asked to run for senate in the next election, but I'm not 30 so I'm not eligible to run. I'm still thinking about [the future]. I can see myself going that way, but I can also see myself staying in the private sector because there are a lot of opportunities there as well. I'm still only serving my first term and I have three more terms to go, so that decision will come in the future."
Living in Washington Township…
I sit on the board of education and our school system is great. The programs they've been implementing over the last few years have been really proactive and extraordinary. I think we're working on a lot of economic development and bringing in businesses. I think it's a great place to live and there's a lot to do here and it's a great place to raise a family. And if you like Italian food, we have a lot of Italian restaurants.
Published (and copyrighted) in South Jersey Magazine, Volume 14, Issue 5 (August, 2017).
For more info on South Jersey Magazine, click here.
To subscribe to South Jersey Magazine, click here.
To advertise in South Jersey Magazine, click here.