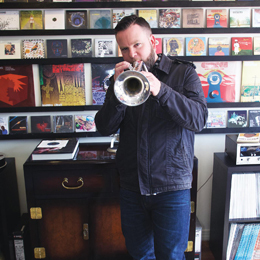 When most people put on their favorite album, they know the names of the major players in the band—the singer, guitarist, drummer— but what about those in the background, keeping the rhythm or sneaking in with a flourish? That album wouldn't be the same without them—musicians like Matt Cappy for instance. You've probably heard him playing the trumpet on some record in your collection without even knowing it. And he hails from right here in South Jersey.
Raised in Berlin and currently residing in Collingswood with his family, Cappy's roots in music started early and people around him immediately recognized a natural talent for his chosen instrument: the trumpet. Cappy continued playing throughout high school at Overbrook and in his senior year was recognized with the New Jersey Governor's Award for the Arts. It became more than a hobby and after high school he obtained a bachelor's in trumpet performance from the University of the Arts Philadelphia and a master's in musical education.
But it's his career as a sideman that has helped build Cappy's impressive résumé. He has recorded on four Grammy- winning albums, including Wake Up from The Roots/John Legend, Sirope by Alejandro Sanz and Fight of my Life from Kirk Franklin. Other artists on whose records he appears are Michael Jackson (the song "Butterflies"), Earth, Wind & Fire, Wyclef Jean and more. He has seen the world on tour with acts like Mary J. Blige, Patti LaBelle and Tony Bennett, and even Jay-Z's Blueprint 3 tour that headlined at the Isle of Wight fest, Bonnaroo and Coachella.
We caught up with Cappy while he's on tour with Philly songstress Jill Scott to find out how he's made a career playing music and why he's so excited about his debut album, Church and State.
Getting involved with the trumpet…
The music program at my elementary school was incredible. I would say 80 percent of the students were in the band, and I knew I wanted to play either the saxophone or trumpet. Ultimately, the trumpet's sound was more my calling. When I started in fourth grade, the musical director told my parents that I should pursue private lessons and that's when I really started growing into it.
Finding a home with the Neo-R&B scene…
I would go to these sit-in sessions at a club in Philly called Wilhelmina's. That's where I met The Roots and Jill Scott, just showing up and playing. At that time, Jill had recorded her first album and was putting together the band for the tour. I made it onto the tour and that's really the start that led to everything else. Two years later I was recording on her live album, 826+, which went gold.
Opportunity knocks…
One tour led to another. Artists like Maxwell and Mary J. [Blige] and again in 2004 I toured with Jill when she opened for Sting—that was 18 months hitting it hard on tour. During this time, Philly was experiencing a reboot and artists wanted to record here, so I built my discography close to home. One of my biggest credits is on Michael Jackson's "Butterflies," which is an amazing ballad. I remember when it came out—back when Tower Records was still around—the album released at midnight so my wife went to buy it. Growing up in the '80s, Michael Jackson was a huge icon and inspiration. He always had amazing horn sections. That was truly a moment when I went, "Wow, this is full circle."
Learning from other artists…
Every artist is different and has their own approach. Maxwell is someone who is a perfectionist; he wants us to play the same thing and perfect it, whereas Jill Scott is more free, and wants each musician to bring their own spirit and energy to the instrument. No concert is the same two nights in a row. It's amazing watching all of these artists and taking a little from every one.
On the artist he'd like to work with most…
Probably Phil Collins. I love him and would love to play with him. Genesis and his solo stuff was always something I gravitated toward as a musical influence.
Keeping busy when not on tour…
I do private lessons and I'm an instructor at The Conservatory of Musical Arts [in Audubon]. It's great to nurture the next generation of musicians. I've also been working in the studio. I did a few songs on DJ Jazzy Jeff's Chasing Goosebumps and I've been in and out of Nashville quite a bit. I worked with Jordan Davis, a new universal country artist. He's going to be big.
On getting the chance to release his own album…
This was a beautiful experience for my art. For my own [album], I just wanted to produce the best music, period. I have some great musicians appearing on this album, too. [Willingboro's] Adam Blackstone, who is Justin Timberlake's bass player, is on the record, and Pablo Bautista, who is Ricky Martin's percussionist. And tons of great Philly musicians, like Steve McKie. I'm very proud of that.
We also have a vocal performance of "Amazing Grace" by Marsha Ambrosius, who co-wrote "Butterflies" and is part of the duo Floetry. I appeared on a bunch of her group's early records. I'm also proud of the opera aria [Nessun dorma] from Giacomo Puccini's Turandot, featuring Stephen Costello, a young opera singer from Northeast Philadelphia who is on top of the opera world right now.
Words of wisdom for aspiring musicians…
I've been in the business since 1998, building that résumé for 20 years, and this album is me trying to move to center stage and figure out the ropes. I followed through since fourth grade band, in the peaks and valleys of the business, and I'm lucky enough to have been all over the world. You have to follow your heart.
Published (and copyrighted) in South Jersey Magazine, Volume 14, Issue 5 (August, 2017).
For more info on South Jersey Magazine, click here.
To subscribe to South Jersey Magazine, click here.
To advertise in South Jersey Magazine, click here.