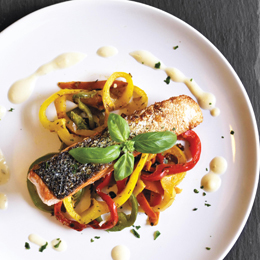 Perfectly cooked filet mignon with a sinfully rich mushroom madeira sauce and roasted asparagus; succulent pork tenderloin with creamy goat cheese-stuffed dates and raspberry chipotle sauce. These mouthwatering dishes sound as if they are straight off the menu of an in-demand restaurant with white tablecloths, immaculate silverware and a polished chef manning the kitchen. However, some South Jersey families have been able to easily replicate this fine dining experience in the comforts of their own home— without even having to lift a finger.
That's because while they are at work and school during the day, hired personal chefs are taking over their kitchen to create gourmet meals that are a far cry from Sunday's leftover lasagna. When they are done, the kitchen is spotless and refrigerators and freezers have been stocked with dinners for the week, taking the guesswork out of the age-old question: What's for dinner tonight?
What was once considered a novelty is now more common among South Jersey households, and the reasons why families and residents choose to have a personal chef are numerous—busy professionals working long hours, kids with never-ending activity schedules or because some folks just simply don't like to or can't cook. Or maybe all of the above. But in today's age of increased self-awareness about what we put into our bodies, personal chefs have filled the void of providing tasty, healthy food without adding to the stress of having to actually find the time to prepare such a meal.
"The biggest driving factor for a lot of people looking for this service is this is something they really value in their life, much like people having a personal trainer or housekeeper," says Fran Davis, personal chef and owner of A Flavorful Fork, based out of Marlton. "It's a priority they put above other priorities and it allows them to come home at the end of the day and not worry [about] what they are going to have to eat."
Although one of her clients is a professional athlete, Davis says people assume personal chefs are solely for the overly wealthy and don't realize these chefs aren't necessarily hired because they can afford it, but because personal chefs provide support that in some cases is needed.
For Ross and Elana Segal of Medford, having a personal chef cook for their family has changed their lives. As an orthodontist, physician and parents of two active children, they work long hours and are always on the go taking their children to various activities, leaving little or no time to cook. When life became too hectic, they reached out to Davis, who has been cooking for the family for the past three years.
"We get home [from work] around 5:30- 6 p.m. and I take my son to wrestling practice; my wife takes my daughter to dance and we all get home close to 9 p.m.," Ross says. "We'd have half hour to eat before heading to practices and it wouldn't be enough time to prepare and make a meal. Because of Fran, not only are we able to eat in a short time span, we are able to stay healthy which is great."
Besides catering to the Segals' busy routine, Davis also makes meals that adhere to their pescatarian diet, which consists of fish and vegetarian meals. Ross says before Davis started cooking for his family, they were constantly eating unhealthy, processed foods on the go.
"We had a hard time sticking to this lifestyle without having to go to the same place over again," he recalls. "Now we have a variety of meals, such as bronzino stuffed with fennel, onions, thyme, orange juice and zest, and scallops with fennel and hummus."
Despite Debra Walsh hating to cook, she cooked meals when her children lived at home. But now that her and her husband Mark are empty nesters and they both work long days that usually have them out of the house for up to 12 hours, she decided it was time to not stress out about dinner anymore. Stephanie Hopkins of Cutting Board Creations, based in Sicklerville, has made their lives much more relaxed and stress-free.
"Finding Stephanie has made such a difference in our evenings," the Deptford resident says. "We have time to do other things or just relax instead of the hectic and hurried evenings we used to have."
When Donata DeVirgiliis' multiple sclerosis forced her to be in a wheelchair, cooking took a backseat. Her husband, Anthony, tried his hand at the stove, but he wasn't exactly a born chef, so they turned to Angela Capana of Eat Your Heart Out Edibles, based in Washington Township.
"[Capana is] very considerate, patient and picks out food we like and makes it the way we like it. We have meals for every day of the week and the portion size [for one person] is enough for two people; it's not skimpy," the Sicklerville resident says.
Capana cooks healthy meals weeks in advance, such as fish and chicken with vegetables to help manage DeVirgiliis' multiple sclerosis, and at the couple's request, Capana keeps the salt and cholesterol to a minimum— something that is not practicable when eating out.
"When you go to a restaurant, there's going to be extra fat and salt, whereas if a personal chef comes to your house, you get exactly what you want and it's made in healthy fashion," says Bobbi Barbarese, owner of Moorestown's Hope You're Hungry Personal Chef Service.
DeVirgiliis thought having a personal chef would be too expensive, but after crunching the numbers from past grocery trips and buying items that eventually ended up going to waste, she was pleasantly surprised.
"I looked at the cost from Angela's cooking and compared it to our shopping trips and cooking the meals, and it's comparable— even a little less expensive at times," she says.
"One thing that always surprises them is when I ask them to estimate how much they spend on groceries, they end up throwing [them] away because they didn't have time to make them into a meal," says Hopkins.
Each chef's style of cooking varies from client to client, with the average menu consisting of budget and high-end items, from Thai chicken stuffed sweet potatoes to seared scallops with pineapple and cucumber salsa—all created with unique sides and flavorful sauces. Capana specifically says she thrives on taking typically unhealthy dishes and reinventing them.
"For example, instead of mashed potatoes that are heavy in simple carbohydrates, I [can create] an herbed carrot and parsnip mash, blended with coconut milk, fresh thyme, lemon juice and zest, garlic and onions," she says.
In addition to creating daily or weekly meals, some of these chefs are also asked to cater dinner and holiday parties, serving high-end appetizers and entrées.
Tracy Ferguson of Moorestown has had Davis cater her holiday party the past four years and loves that she can spend time with her guests instead of being hidden in the kitchen during the party. Bacon-wrapped scallops with Sriracha mayonnaise, sweet potato dumplings with goat cheese, honey and thyme and grilled chorizo with chimichurri dipping sauce are some of the appetizers Davis creates, and the food is so well-received, every year those guests ask in advance if the same food will be served.
"The first time I used her, after the party, I went in the kitchen and there was not a spot of food; it was crazy," Ferguson recalls. "My counter was clean, all of the dishes were clean and put away and she rarely had to use any of mine. She makes it really easy for people."
That level of comfort is why so many in the area have turned to personal chefs. Instead of worrying what to make for dinner late at night after a long day, clients are greeted by the smell of a home-cooked meal as they step through the front door.
"Time is money, and perhaps best of all is that I'm really saving a lot of aggravation, which is priceless," Walsh says.
Published (and copyrighted) in South Jersey Magazine, Volume 14, Issue 5 (August, 2017).
For more info on South Jersey Magazine, click here.
To subscribe to South Jersey Magazine, click here.
To advertise in South Jersey Magazine, click here.