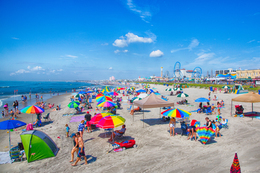 Best of the Shore
The smell of the sea air. The sound of the joyful screams coming from the rollercoaster on the Boardwalk. The waves crashing into the surf. The lines at the ice cream shop. All this can only mean one thing: Summertime has arrived and if you're looking for us, you'll find us down the Shore. We rode the current from Long Beach Island down to Cape May to bring you our annual Best of the Shore, a comprehensive guide to the best food, drinks and more in our favorite Shore towns. From fudge to fine dining, pancakes to pizza, hot dogs to hot spots, we've got you covered. In addition, we also took a look around to find out what new and exciting things will be taking shape this summer, what concerts are sure to heat up Atlantic City and found out where our readers like to hit the beach.
We'll see you on the sand!
Avalon

SEAFOOD
The Diving Horse
It's easy to see why this always-bustling restaurant has some of the more coveted tables in town, thanks to its focused menu that highlights the true taste of the Shore: seafood. Fresh, seasonal fish are carefully chosen and skillfully prepared before being showcased on the plate alongside high-end ingredients to create dishes that will linger in your mind all summer.
2109 Dune Drive, (609) 368-5000, TheDivingHorseAvalon.com

STEAK
The Whitebrier
With a new chef in the kitchen, we were excited to check out some of his creations at one of our favorite spots in Avalon. The Gaucho steak first appeared in the spring and we couldn't be happier that it will be sticking around. A flatiron steak is grilled perfectly and topped with a chimichurri sauce (an ode to its Argentinian namesake) and served with onions, carrots and potatoes.
260 20th St., (609) 967-5225, TheWhitebrier.com

SANDWICH
Kudos American Grille
The roast beef sandwich you grew up eating is magnified at Kudos with Swiss cheese, horseradish and applewood bacon. And a ciabatta roll provides the support that the typical Kaiser variety could never do, allowing the bread to soak up the gravy without turning overly soggy.
2619 Dune Drive, (609) 368-7422, KudosAmericanGrille.com

DINNER
Shimmers Bistro
Housed inside the Golden Inn, this fine dining spot produces some of the most well-crafted and aesthetically pleasing dishes on the island. From start to finish, your meal is a culinary journey that rewards on many levels. Past favorites have included the Roasted Beet Carpaccio with fried goat cheese or the Maine lobster with a tasso ham carbonara.
7849 Dune Drive, (609) 796-2901, ShimmersBistro.com

DOUGHNUTS
Duck Donuts
This made-to-order doughnut shop lets you take control by choosing your coating (how about peanut butter icing?), then adding your choice of topping (how about some bacon?) and finish with a drizzle of your choice (we're thinking both hot fudge and salted caramel). While the possibilities may seem endless, the doughnuts are not, so best to order at least a half a dozen or you'll be sorry.
3246 Dune Drive, (609) 830-3202, DuckDonuts.com

PANINI
Isabel's Bakery
Known for scrumptious baked goods and hearty breads, Isabel's also serves up quite the lunch menu. Our favorite is the grilled yellowfin tuna and bacon Panini, where the fish is slightly kissed by the grill and served with lettuce, tomatoes and a roasted garlic mayonnaise on a baguette baked on the premises.
2285 Dune Drive, (609) 967-5776, IsabelsInAvalon.com
SCALLOPS
Café Loren
Timing is everything when it comes to cooking scallops, and a few seconds here or there can make or break a dish. Thankfully this standout eatery knows how to knock them out of the park, from the appetizer of pan-seared scallops with smoked bacon and a tantalizing potato and green apple hash to the entrée portion served on a bed of yellow corn and edamame.
2288 Dune Drive, (609) 967-8228, CafeLoren.com
PRETZEL
Shorebreak Pizza Grille
How do you take a summertime staple like a jumbo soft pretzel and give it a Shore-like twist? Top it with jumbo lump crab dip, melted cheese and a few pinches of Old Bay. You can continue eating those fries if you want, this actually has crab and we'll take it any day of the week.
2259 Dune Drive, (609) 967-3020, ShorebreakPizzaGrille.com
FRIES
Concord Café
The appealing menu here is sure to please all the eaters in your family with an array of familiar favorites from sandwiches and burgers to pizza and pasta. Our goto starter is always the Buffalo french fries with chicken. Fresh-cut fries with just the right amount of hot sauce and blue cheese make this one messy, if not mouthwatering, appetizer.
7800 Dune Drive, (609) 368-5505, ConcordCafe.net
ICE CREAM
Sundae Best
From the usual suspects like cookie dough or vanilla fudge to more exciting, exotic offerings like blueberry chip and cinnamon crumb, this ice cream shop has folks lining up early at the risk of ruining their dinner plans. The waffle cones are made fresh and the menu changes daily, but if that's not enough to keep you coming back, perhaps their version of a cream doughnut—a Kohler's powdered piped full of ice cream—will.
2900 Dune Drive, (609) 368-1121, SundaeBestAvalon.com
APPETIZER
La Vecchia Fontana
Meaty, grilled octopus is the star of this dish that is brilliantly balanced with artichokes, red onions and served with an emulsion of lemon-flavored pesto. It's bright, vibrant and the ideal way to kick off a summer meal.
700 First Ave., (609) 967-7708, LaVecchiaFontana.net
COCKTAILS
The Windrift
We love that The Windrift has adopted the modern technique of creating some of their signature drinks using a French press—who said it was just for coffee? The Farm to Cup Gin Detox was created in collaboration with The Juice Girl in Stone Harbor and combines ingredients like kale, cucumber, ginger, lemon and apple with Bulldog Gin for a semiguiltless libation.
105 80th St., (609) 368-5175, WindriftHotel.com
WOMEN'S CLOTHING
Closet Boutique
With stylish offerings from the likes of J Brand and Yumi Kim, this shop has the means to give you the look you want, from casually chic to refined sophistication. And with a full line of accessories from bags to jewelry, this truly is a one-stop shop for any discerning fashionista.
2509 Dune Drive, (609) 368-7400, ClosetBoutiqueAvalon.com
AVALON
EVENTS

7 Mile Restaurant Week
June 5-11
Thursdays on Dune
June 29 through Aug. 4,
5:30 to 7 p.m.
Avalon's Beach Movies:
Secret Life of Pets
July 18, 9 p.m.
Bay-Atlantic
Symphony Concert
Aug. 19, 7 p.m.
Cape May

FISH TACOS
The Rusty Nail
The perfect ending to a beach day in Cape May is happy hour at "The Nail." We recommend a cold craft beer and their famous fish tacos, which combine grilled mahi with toppings like fresh corn, cheddar cheese and black beans. Fourlegged friends are also welcome on the patio, with live music every day from 4:30 to 8:30 p.m.
205 Beach Ave., (609) 884-0017, CapeResorts.com
FARM TO TABLE DINING
The Ebbitt Room
When your vacation calls for an upscale-yet casual dining experience, look no further than The Ebbitt Room. A firm believer in the farm-to-table philosophy, The Ebbitt Room features the freshest vegetables and pork from its own Beach Plum Farm in Cape May, and of course, local seafood. Chef Matt Crist's menu is constantly being modified to fit the season.
25 Jackson St., (609) 884-5700, CapeResorts.com
BRICK OVEN PIZZA
The Boiler Room
This rollicking spot in the basement of Congress Hall—an underground music club and pizzeria— always promises an energetic vibe. Enjoy classic Shore bands with a cocktail and their renowned brick oven artisan pizza, with varieties like the Smokey Pulled BBQ, Beach Plum Farm Vegetable or Soppressata and Capicola.
200 Congress Place, (609) 884-6507, CapeResorts.com
BAKED STUFFED FLOUNDER
The Lobster House
Sometimes, "tourist traps" in a given town don't live up to the hype. That's not the case at The Lobster House, which always attracts large crowds, and for good reason. You can't go wrong with any of the wide selection of seafood dishes, but we're partial to the fresh flounder stuffed with crab imperial and scallops and topped with shrimp.
906 Shellengers Landing Road, (609) 884-8296, TheLobsterHouse.com
GRILLED PORK CHOP
Lucky Bones Backwater Grille
When the wait is too long at The Lobster House, head across the street to Lucky Bones, a favorite lunch and dinner spot of the locals. While the menu contains plenty of steak and seafood options, our go-to is the Cuban-spiced pork chop, which uses all-natural duroc pork in red wine jus and comes with whipped sweet potatoes.
1200 Route 109 S., (609) 884-2663, LuckyBones.com
BREAKFAST
The Mad Batter
An enjoyable spot for lunch, dinner or happy hour, we especially like to start our vacation days with breakfast at The Mad Batter, located in the historic Carroll Villa Hotel. The menu has all the traditional items as well as creative dishes like the Morgan Rostie, an open-faced sandwich filled with eggs, jumbo lump crab, sundried tomatoes, fried potatoes and Swiss cheese.
19 Jackson St., (609) 884-5970, MadBatter.com
DOUGHNUTS
RSK Doughnuts
A long-time staple of farmers markets at the Shore, RSK opened its own shop behind the Washington Street Mall last year to rave reviews. Hot, fresh mini doughnuts are made while you wait, and now large doughnuts are available too. Although all of the varieties are can't-miss, we dare you to resist their cinnamon sugar.
505 Carpenter Lane, (609) 536-8868
APPETIZERS
5 West Pub
Since opening in North Cape May in the summer of 2013, 5 West Pub has offered an extensive selection of craft beers, cocktails and food options. That includes its eclectic list of appetizers, where traditional favorites like mussels and calamari are found alongside creative plates such as barbecue pork quesadillas. Our favorite app is the crab nachos, piled high with lump crabmeat, tomato relish, scallions, pepper mayo and wasabi cream.
3729 Bayshore Road, (609) 889- 7000, 5WestPub.com
FUDGE
The Original Fudge Kitchen
No trip to the Jersey Shore is complete without indulging your sweet tooth with a box of fudge—preferably peanut butter—and The Original Fudge Kitchen has been sending customers home happy for more than 40 years. With locations on the Promenade and the Washington Street Mall, you can watch your fudge being made on the premises and also fill up on salt water taffy, chocolate and Swedish fish.
513 Washington St., (609) 884-2834; 738 Beach Drive, (609) 884-4287, FudgeKitchens.com
NIGHTLIFE
Carney's
This Cape May institution is located right across the street from the Promenade, so drop the kids off at the arcade and head over for a cocktail or two. Outstanding live music helps Carney's stand out, with a range of acts that includes wellknown local bands and dueling pianos.
411 Beach Ave., (609) 884-4424, CarneysNJ.com
SPECIALTY BREW
Cape May Brewing Co.
Churning out delicious local beers at the Cape May Airport since 2011, Cape May Brewing is constantly wowing its customers with creative varieties. One of their newest is the Paradise 160 IPA, a collaboration with Weyerbacher Brewery of Easton, Pa. The two breweries—located 160 miles apart—participated in a hops swap to come up with this unique flavor.
1288 Hornet Road, (609) 849-9933, CapeMayBrewery.com
MARTINIS
Aleathea's Restaurant
Nothing says "relaxing" like rocking in a chair on Aleathea's porch, looking out at the Atlantic with a signature martini in your hand. The choices vary from the Cape May Mariner to the Chocolate Tornado to the Caribbean Sunset.
7 Ocean St., (609) 884-5555, InnOfCapeMay.com/Aleatheas
ICE CREAM
Uncle Charley's Ice Cream
This old-fashioned ice cream parlor understands that beachgoers have plenty of options when it comes to dessert, which is why they pay so much attention to detail. The ice cream is made fresh every day with ingredients like fruit and hand-stirred fudge, and the flavors include everything from Snickers and Peanut Butter Pie to Cinnamon Bun.
310 Washington St., (609) 408-4751
WINE
Cape May Winery
Wineries have emerged as a major part of the Shore's allure in recent years, and Cape May Winery is right at the top of the list. Plan a tour and enjoy their variety of whites and reds, including the Cape May Barrel Fermented Chardonnay— their signature white wine.
711 Townbank Road, (609) 884-1169
CAPE MAY
EVENTS

West Cape May Strawberry Festival
June 3
Cape May Restaurant Week
June 4-June 8
6th Annual Craft Beer & Crab Festival
Aug. 5
Movies on the Beach
Thursdays in July and August
Long Beach Island

FINE DINING
The Gables
This Beach Haven gem is off the main drag of Long Beach Boulevard and for good reason. The bed and breakfast is located within a charming Victorian house surrounded by lush gardens and vibrant flowers and serves fine dining that is hard to find on the island. Their seasonal menu features an array of dishes from bisques to savory meats and fish using fresh and local ingredients worth the reservation.
212 Centre St. Beach Haven, (609) 492-3553, GablesLBI.com
LOBSTER ROLL
The Triton Craft Beer & Oyster Bar
Lobster is easy to come by down the Shore, but when it comes to lobster rolls, it's a rare find. Thankfully, this Beach Haven spot, which doubles as a unique craft beer and wine store, serves its lobster roll with an overflowing amount of fresh lobster meat cooked in butter and served atop a warm and crispy roll.
308 Centre St., Beach Haven, (609) 492-7308, MarlinKetch.com
CRONUTS
The Local
In its second season, this market serves an array of prepared lunches, salads, breakfast sandwiches, coffee and baked goods—specifically their cronuts. Known as a croissant-doughnut hybrid, these round and slightly sugared pastries are made fresh every morning, but famously sell out before the lunch rush. It's best to stop by in the early hours, grab a coffee—which they also serve on a nitro tap— and a cronut or two before they're all gone.
604 Central Ave., Ship Bottom, (609) 342-0061, LocalMarketLBI.com
CHARRED OCTOPUS
Daymark Bar & Restaurant
Formally known as Rick's American Cafe, Daymark offers Barnegat Light a resurgence of freshly prepared seafood as seen with their Charred Octopus, which is grilled to a perfect crisp and served alongside pickled mushrooms and a flourish of orange Turmeric sauce. The completely refurbished venue stays true to Rick's thanks to their full-service bar and, of course, live music on Saturdays.
404 Broadway, Barnegat Light, (609) 494-2100, DaymarkLBI.com
COCKTAILS
The Arlington
Ship Bottom's newest restaurant serves up expertly crafted cocktails that are worth sipping, like the Mother of Dragons, made with Espolon Tequila, simple syrup, Strega, lemon, egg white and angostura bitters. Their indulgent "snacks" also make for the perfect accompaniment, which include bacon mac and cheese, shrimp tacos or a Bavarian pretzel.
1302 Long Beach Blvd., Ship Bottom, (609) 494-8848, ArlingtonLBI.com
BRICK-OVEN PIZZA
MKT Eatery
When it comes to brickoven pizza, our stomachs are hooked on MKT Eatery, previously known as Market LBI. This Surf City hot spot doles out pizza ranging from the classic margherita, a fungi and truffle cheese pie or the "Hangover Pie," a prosciutto, ricotta and egg pizza. While they're no longer serving prepared lunches, you'll find additional made-toorder dishes like burgers, paninis and more.
600 Long Beach Blvd., Surf City, (609) 494-3400, MarketLBI.com
CALIFORNIA BURRITO
La Bamba Mexican Restaurant
Load up on authentic Mexican food at La Bamba, which serves breakfast, lunch and dinner. Aside from their traditional offerings including tacos, enchiladas, quesadillas and entrées, their California Burrito takes the "guac." It's made with grilled skirt steak, pico de gallo, guacamole and fried potato.
3200 Long Beach Blvd., Brant Beach, (609) 342-1775, LaBambaNJ.com
WINGS
The Chicken or the Egg
Beach Haven has quickly become synonymous with The Chicken or the Egg, as it's the go-to, 24/7 eatery, but it's their wings that are the talk of the town. You can choose between their bone-in buffalo wings, boneless buffalo fingers, buffalo shrimp or veggie wings, which come in one of their 17 sauces, ranging from sweet to "obscenely" hot, so choose wisely.
207 North Bay Ave., Beach Haven, (609) 492-3695, 492Fowl.com
TUNA PIZZA
Yellowfin
We love treating ourselves to a meal that has the approval of Robert De Niro, whose former executive sous chef from his Layla restaurant in New York City helms the kitchen at this intimate Surf City establishment. The seafoodheavy American menu features Asian accents, as seen in the tuna pizza, featuring soft tuna tartare served with grilled lavash bread, avocado and fried capers, with a surprising kick of wasabi crème fraîche.
104 N. 24th St., Surf City, (609) 494-7001, YellowfinLBI.com
PANCAKES
Greenhouse Café
If you're looking for a healthy breakfast, this menu has heart-smart, low-sodium and sugarand gluten-free options—without compromising taste. When it comes to pancakes, we go for the Whole Grain & Granola hot cakes, which are grilled and made with a wholegrain batter mixed with all-natural, cholesteroland trans fat-free granola. And since it's healthy, why not go for a tall stack?
Corner of 6th St. and Long Beach Blvd., Ship Bottom, (609) 494-7333, GreenhouseCafeLBI.com
DOLE WHIP PINEAPPLE SOFT SERVE
Skipper Dipper
Aside from their specialty flavors, we can't wait to get our hands on a serving of the Dole Whip Pineapple Soft Serve. Additionally, it can be ordered as a Dole Whip Pineapple Float, which comes with pineapple juice topped with the soft serve and whipped cream, making it the perfect beach treat.
9305 Long Beach Blvd., Beach Haven, (609) 492-9680, SkipperDipper.com
CLAM CHOWDER
The Gateway Restaurant & Lounge
Located right on the outbound causeway, The Gateway is home to the island's best chowder, as it won LBI's Chowderfest eight years in a row. Whether you're a New England or Manhattan Clam Chowder fan, make it worth your while by ordering it in a bread bowl, which, of course, we advise you eat as well.
227 W. 8th St., Ship Bottom, (609) 494-2816, GatewayLBI.com
RETAIL
Sur La Plage
This boutique is every shopper's dream, carrying numerous brands matching any personal style. Whether you're looking for a sleek swimsuit, a Kate Spade bag, a Lilly Pulitzer cover up, or the latest in jewelry and sandals, it's hard to leave without buying a little something. What's more, next door is their accompanying café, making it a sweet trip in the end.
1102 North Bay Ave., Beach Haven, (609) 492-4440, SurLaPlageNJ.com
LONG BEACH ISLAND
EVENTS

Hop Sauce Festival
June 3, 11 a.m. to 7 p.m.
Art & Craft Show at Viking Village
July 9
Hairspray! At Surflight Theatre
Aug. 22 at 8 p.m.

Maragate/Ventnor

SEAFOOD
Sofia Restaurant
Those in search of the quintessential date night after a sun-filled beachside day will be hardpressed to turn down this Greco-Mediterranean establishment. This restaurant not only captures the essence of Greek and Mediterranean culture throughout its elaborate décor and detailed architecture, but through each meticulously crafted dish served to its patrons. We recommend the Seafood Plaki, which marries the finest in Greek and coastal cuisine.
9314 Amherst Ave., (609) 822-9111, SofiaOfMargate.com
PIZZA
Bocca Coal Fired Bistro
What's a trip to the beach without indulging in one of the area's best slices? Whether you're stopping in for a quick bite or gathering the family for a casual night of dining, Bocca Coal Fired Bistro continues to boast some of the best in the game— including the "Saltim- Bocca" Pizza, featuring coal fire roasted chicken breast, and toppings aplenty of spinach, portabella mushrooms, prosciutto, fresh mozzarella and a hint of sage.
7805 Ventnor Ave., (609) 823-3663, BoccaNJ.com
ENTRÉE
Steve and Cookies by the Bay
A renowned Margate Staple, Steve and Cookies consistently serves up some of the most delectable entrées residents of Margate, Ventnor and beyond have ever had the pleasure of tasting. The Warner's Bouillabaisse is among these dishes that does not disappoint. A melody of shrimp, scallops, crabmeat, fish, whole clams and pernod, patrons are sure to leave with nothing less than a full, contented belly.
9700 Amherst Ave., (609) 823-1163, SteveAndCookies.com
CASUAL EATS
Downbeach Deli
This Jewish delicatessen has been a coveted (and convenient) eatery by local residents since its origination in 1982. One visit and sandwich devoured later, it's easy to see why Downbeach Deli remains nearly irresistible. For starters, we'd choose the sweet and tender Hot Hawaiian Corned Beef, served with a juicy grilled pineapple slice—but we can't guarantee that's the only thing you'll leave with.
8 South Essex Ave., (609) 823-4005, DownbeachDeli.net
SANDWICH
Margate Food Truck
While sandwiches remain a beach day essential for eager visitors and seasoned Shore residents, the Pork Belly Patacon from Margate Food Truck is a far cry from your ordinary sandwich. If the building's truck-shaped structure wasn't enough to grab your attention, this unique eat of marinated pork belly, cotija cheese, lettuce, tomato and onion piled high between two fried plantains will surely do the trick.
7903 Ventnor Ave., (609) 350-6525, TheMargateFoodTruck.com
DINNER MENU
Cardinal Bistro
With Chef Michael Brennan's recent accolade of Food Network 2017 Cooks vs. Conswinner, diners can rest assured they've chosen the right spot for their dinner destination. Patrons are not short on selections, and can choose any entrée from "the garden," "the sea," or from "the farm." Our recommendation happens to come from the farm—the Rohan Duck Breast, accented with black pepper Roman-style gnocchi, cherry, butter and poached radish and parsnip purée.
6525 Ventnor Ave., (609) 541-4633, CardinalBistro.com
LUNCH
Hannah G's
The easiest and quickest lunches make for the best ones while roaming the Jersey Shore, and we couldn't think of a better spot than Hannah G's. One look at the menu and it's evident why this quaint eatery has remained a popular destination for travelers and residents alike. Lunch menu items include Kevin's Hot and Sweet Sandwich— a grilled chicken sandwich with spinach, cheese, honey mustard and hot peppers, nestled atop of a fluffy Kaiser roll.
7310 Ventnor Ave., (609) 823-1466, HannahGs.com
DATE NIGHT
Stella
Those seeking a relaxing yet elegant night (or meal) to remember will find exactly what they're looking for in both the atmosphere and the food at this lively Ventnor hot spot. Among their diverse menu is the Lemon Sole and Crab, which includes a sautéed sole fillet and hearty jumbo lump crabmeat.
7303 Ventnor Ave., (609) 350-6493, StellaVentnor. Com
ICE CREAM
Carisbrooke Ice
While an abundance of flavors can be sought out along the Shore's coastline, the Spumoni Ice Cream Cookie Sandwich from Carisbrooke Ice won our vote. A hearty scoop of this three-layered pastel ice cream wedged between two chocolate chip cookies is the perfect ending to any meal.
5304 Ventnor Ave., (609) 487-7560, CarisbrookeIce. Com
HEALTHY TREAT
Greens and Grains
The vibrant pink hues of Pitaya bowls swept over thousands of beach-inspired social media accounts during summer 2016, and with summer 2017 on the horizon, there's no doubt we'll be seeing pink again thanks to Margate's very own Greens and Grains. If the name alone sounds intimidating, we recommend starting with The Classic Bowl, featuring Pitaya or Acai, blended with banana, berries and almond milk, and topped with granola, seasonally fresh blueberries and banana, coconutt and maple drizzle.
7801 Ventnor Ave., (609) 246-6991, GreensAndGrainsNJ.com
MARGATE/VENTNOR
EVENTS

Le Tour de Downbeach
June 4 from 9 a.m. to 1 p.m.
Beachstock
June 24 from 8:30 a.m. to noon
Ventnor City Farmers Market
open until Sept. 1

Ocean City

APPETIZER
Jay's Crab Shack
This laid-back spot off the OC boards has a personality— and a menu— all its own. Although some of the dishes have funny names, they pack serious flavor, like their Wa Wiki Warm Crab dip, made with warm crabmeat, cheese and spices served with homemade tortillas fried until golden. It's the perfect starter for a quintessential Shore meal.
737B Asbury Ave., (609) 399-4022, JaysCrabShack.com
COFFEE AND DOUGHNUTS
Drip N Scoop
After just one season in business this coffee and doughnut bar left an impression. You may come in for the caffeine offerings, including cold brew or even a nitro variety poured so thick you'd think it was Guinness, but you won't be able to resist their specialty cider doughnuts, topped with frosting, jimmies, candy and more. Take it up a notch with an ice cream doughnut sandwich if you dare, but we recommend a knife, fork and a friend.
960 Asbury Ave., (609) 938-6758, DripNScoop.com
SCONES
Barefoot Market
If scones are art then the ones at Barefoot Market are masterpieces. Made by hand every morning, the buttery scones have a perfectly crunchy shell with a moist center. Flavors rotate daily— favorites include butterscotch, Mexican chocolate or raspberry— meaning you'll want to keep stopping in all summer long to get your fix.
214 West Ave., (609) 399-0221
VIETNAMESE
Ivy Pho
Don't get us wrong, we love the Shore's indulgent fried and sweet foods as much as the next person, but sometimes you just need to switch it up. Vietnamese food is hard to come by, but this inviting eatery offers all of the authentic classics, like pho: a giant bowl of well-seasoned beef broth base and with your choice of seafood, brisket or chicken. It's one hot dish you won't mind having when temperatures rise.
403 E. 14th St., (609) 938-4292, IvyPho.com.
JUICE
Starfish Café
A few hours on the sand or dodging waves has us looking for something to quench our thirst. The just-squeezed options at this fledgling cafe are not only refreshing, but packed with nutrition you might otherwise be missing during your vacation. Go for their custom combinations, like the Pink Elephant with beets, kale, carrot and apple, or take a shot of ginger or wheatgrass for an extra boost to get back on the beach.
822 E. 9th St., (609) 432-2686, Starfish-Cafe.com
WAFFLES
Augie's Omelette House
When you want the perfect Belgian waffle then you've got to go to Augie's. Golden on the outside and fluffy on the inside, they are perfect on their own, but they get even better. Top them with fruit, nuts and whipped cream or try them stuffed—yes stuffed—with chocolate and peanut butter cups or walnuts and raisins (topped with apples) for a breakfast that's as sinful as it is satisfying.
709 E. 9th St., (609) 391-0222, AugiesOCNJ.com
PEANUT BUTTER FIX
Steve's Grilled Cheese & Quesadilla Co.
When it comes to peanut butter, there are some who could take it or leave it, and then there are those who can't live without it. (That's us!) Scrolling through the list of grilled specialties at this growing South Jersey chain is enough to make our stomachs growl, but it's the grilled peanut butter sandwiches that make our mouths water. You could play it safe with the PB and Nutella, or live a little with the Elvis (PB, bacon and bananas) or Thai Peanut Chicken (PB, grilled chicken, pineapple and sriracha). One bite will convert even the biggest peanut butter skeptic.
617 8th St., (609) 938-4534, StevesGrilledCheese.com
DINNER
D'Caribbean Bistro
Although you might physically be in Ocean City, one meal here will have your taste buds thinking you're on a Caribbean island, and that's no surprise considering the owners hail from the Dominican Republic. You'll find all of the traditional savory dishes here—paella, mofongo, chicharrones, yucca fries—and even the sweet ones, like tres leches cake. Every plate is another reminder that you're on vacation.
825 A Asbury Ave., (609) 545-2705
HANDHELD MEAL
Cone Appetit
Eating a meal while walking doesn't really lend itself to a knife and fork which is why this concept fits perfectly into the Shore vibe. These bread cones come stuffed with breakfast, lunch, dinner or snackfriendly fillings, like Buffalo Chicken Mac & Cheese or fresh Lobster Salad, that are as delicious as they are fun to eat. Grab one on your way up the Boardwalk and we won't judge you if you stop for another on the way back down.
1136 Boardwalk, (609) 938-1417, ConeAppetit.com
MEATBALLS
Amici's Homemade Specialties
Meatballs might not be the first thing you crave when it comes to a summery treat, but after stopping into this cozy Somers Point eatery, we'll make any excuse to cross the bridge. Made with a recipe passed down from the owner's aunt (who is in her 90s), these meatballs are a blend of beef, pork and veal, rolled by hand daily and pan fried for a crusty exterior, giving way to a finished product that just melts in your mouth.
307 Shore Road, Somers Point, (609) 904-5500, AmicisHomemade.com
BIKINI BUSTER
Monkey Bread
You've been working all year to look good in that bathing suit so why not treat yourself to the ultimate in Shore indulgence? This summertime staple, with its warm cinnamon pull-apart dough and sweet frosting, is something we just can't duplicate in our own kitchen. Choosing between the varieties, like the salted caramel pretzel or one topped with shredded coconut is not easy, but you can never go wrong with the original.
972 Boardwalk, (609) 391-0113; 955 Asbury Ave., (609) 391-2081, Monkey-Bread.com
OCEAN CITY
EVENTS

Miss New Jersey Pageant
June 14-17
Vanessa Williams with the Ocean City Pops
June 25
Night in Venice
July 22
The Beach Boys
Aug. 21 and 22
Sea Isle City

ITALIAN
Basilicos Ristorante
Open year-round, this family-owned and operated spot opened in 1999 and is still a popular choice. One taste of their housemade salad dressing will be enough to get you hooked before diving into a menu that includes classic pizzas and pastas alongside innovative creations like the costolette di agnello, pan-seared lamb "lollichops" served with polenta and a mustard vinaigrette. Be sure to save room for dessert, which is made fresh each morning.
27 43rd St., (609) 263-1010, BasilicosRistorante.com
SEAFOOD
Sunset Pier Restaurant
The bayside BYO offers seaside dining for breakfast lunch and dinner and, of course, a spectacular view of the sunset each evening. Pull right into one of their boat slips if you're on the water and you can replenish your bait box as well as your gas tank while you enjoy a sandwich, salad or fresh seafood.
86th St., (609) 263-5200, SunsetPierSIC.com
PASTRIES
Frog Hollow Bakery
If you blink en route to this bakery, you just might miss it! The small shop looks like your typical Shore house, but inside, you'll find some of the best doughnuts in the area. We also highly recommend the sticky buns, which are soft and chewy on the inside with a slightly crispy exterior for the perfect bite. But be sure to get there early. Once the morning's baked goods are sold, they close up for the day.
140 Route 50, Ocean View, (609) 390-1549
CRABS
Marie's Seafood
Two Italian immigrants moved to Sea Isle in 1949 and opened this small fish market, which expanded with the neighborhood and added a deck dining restaurant in the 1970s. The result was a onestop shop for seafood lovers, where you can purchase fresh fish to put on the grill, cooked seafood takeout or enjoy homemade specialties overlooking the 43rd Street lagoon. The owners' grandson is still on site daily, keeping this family tradition alive.
4304 Park Road, (609) 263-8812, MariesSeafood.com
PASTA
A Modo Mio Ristorante
You'd do best to make dinner reservations here as Shore goers routinely line up outside this bright and bustling BYO eager to fill up on signature dishes that pay homage to Italian favorites, but with a modern twist. Try their signature Pasta a Modo Mio, which pairs fresh made pappardelle, earthy mushrooms and a creamy short rib ragú.
5900 Landis Ave., (609) 486-5455, AModoMioRistorante.org
OYSTERS
Doc Magrogan's Oyster House
This new addition to the Sea Isle scene opened last year after constructing a classic 1900s oyster house just as they did with their first location in Delaware. They boast a huge seafood selection which includes signature seafood dishes along with an extensive raw bar and traditional steamer pots teaming with items like crab, mussels, shrimp and clams simmered in a tasty broth. The bar also offers hand-crafted cocktails, brews and premium wines.
8600 Landis Ave., (609) 263-3627, DocMagrogans.com/Sea-Isle-NJ/
ICE CREAM
Sundaze Ice Cream
Don't let the line outside dissuade you, the friendly, well-trained staff keep it moving quickly so you and the little ones won't have to wait long. You can also use the time to make your selections from the many ice cream flavors available every day, from classic options like cookies and cream to elevated choices like sea salt caramel espresso. Hand-dipped or soft serve, we suggest ordering the waffle cone, which is made on the premises. If you're feeling especially hungry, try the Sky's The Limit Challenge with 20 scoops of ice cream, 12 different toppings, two sauces, whipped cream and cherries.
3708 Landis Ave., (609) 263-0742
PIZZA
Fratelli's Wood- Fired Pizzeria
The owners of Sea Isle mainstay La Fontana Coast opened this bright, airy pizzeria as the sister location to its Strathmere restaurant. It features a wood-fired grill and offers up fresh pies with the finest ingredients. For the carnivore, try the Vecchia, topped with proscuitto, capicola, salami and buffalo mozzarella. Follow the savory slices with a scoop of homemade gelato—or two.
35 50th St., (609) 478-6800, FratellisPizzeria.net
MEXICAN
Taco Shells By The Sea
Walk right off the beach and into this casual establishment to get your fix for fresh Mexican fare. They make all of their salsas and dressings from scratch each morning and grate the cheese by hand. Whether you choose one of their tacos, quesadillas or burritos—like the Tough it Out Burrito made with jalapeños, pico de gallo, pepper jack cheese and spicy rice with a side of mango chipotle vinaigrette— you can use their hot sauce bar to top any one of them with six different flavors.
5006 Landis Ave., (609) 263-1223, TacoShellsByTheSea.com
SEA ISLE CITY
EVENTS

Restaurant Week
June 5-11
Skimmer Weekend
June 17
Food Truck Festival
June 23
Stone Harbor
PASTA DISH
Spiaggetta
If you're missing Sunday Italian dinners back home, Spiaggetta will fill that void with handmade pasta and simple, yet elegant dishes. We can't stop eating (and looking) at the colorful plate of Farmhouse Pasta with paglia and fieno tonnarelli (yellow and green noodles), roasted eggplant and zucchini, toasted breadcrumbs, roasted garlic and topped with fresh ricotta. Bon appétit!
9800 Third Ave., (609) 368-9400, SpiaggettaNJ.com
BAKED GOODS
Donna's Place
This popular seafood restaurant has been serving Stone Harbor for almost 40 years, but the bakery is their best kept secret with fresh doughnuts and pastries made every day before they open at 7 a.m. Our favorite is the Key Lime Fish—a pastry shaped like a fish with an abundance of delicious key lime filling on top to make it the perfect summer treat.
10700 Third Ave., (609) 368-7100, DonnasPlaceStoneHarbor.com
BREAKFAST
Fishin' Pier Grille South
Savory and sweet fans alike can rejoice at this sister location of the original Fishin' Pier Grille in Avalon, which offers a plethora of options for everyone's particular taste. The menu boasts over 20 omelets, eggs Benedict five different ways and a variety of french toasts, including peach and raspberry that taste more like dessert. We can't think of a better way to start our day.
9700 Third Ave., (609) 368-0111
ANYTIME TREAT
Bread & Cheese Cupboard
Cheesecake may not be the first thing that comes to mind when you think of the Shore, but the dark chocolate covered cheesecake on a stick made here will satisfy your sweet tooth and melt in your mouth— no forks required. Eat this treat quickly before it melts on your fingers, too.
246 96th St., (609) 368-1135, BreadAndCheeseCupboard.com
COCKTAILS
The Water Star Grille
Located right on the bay with stunning views of the sunset, we can't think of a better place to sip a cocktail and enjoy those warm, summer nights. Our preferred drink is the 3rd Avenue Ol' Fashioned— a twist on the typical Old Fashioned with Heritage brown sugar bourbon bitters, orange and amarena black cherry and a splash of club soda.
9601 Third Ave., (609) 368-0100, ReedsAtShelterHaven.com
CRAB CAKES
Back Bay Seafood
Crab cakes are a staple on many menus, but few compare to these made with lump crabmeat and no fillers. Make sure to call ahead and place your order at this takeout- only restaurant where they prepare the crab cakes cooked and uncooked. We recommend ordering them cooked, walking down the street and enjoying your dinner as you watch the sunset over the bay.
8305 Third Ave., (609) 368-2022, BackBaySeafood.net
SEAFOOD
Quahog's Seafood Shack
A trip down the Shore isn't complete without seafood, and the Moqueca Stew from this popular restaurant has a unique twist. The dish has everything from the Atlantic Ocean—clams, mussels, shrimp, scallops and bacalao (salted cod)—in a creamy, coconut milk broth with chorizo, achiote oil, green rice and edamame. All those flavors make it a party in your mouth and a dish you won't forget.
206 97th St., (609) 368-6300, QuahogsShack.com
BURGER
Harbor Burger Bar
When you can't decide between meat and seafood, Harbor Burger Bar makes the decision for you with their mouthwatering Surf-NTurf Burger. It delivers the best of both worlds, topped with jumbo lump crabmeat, goat cheese and a housemade remoulade sauce. Pair it with one of their 14 beers on tap, including local breweries 7 Mile Brewery, Cape May Brewing Company and Slack Tide Brewing Company.
281 96th St., (609) 796-5669, HarborBurgerBar.com
LIGHT BITES
The Watering Hull
Overlooking 96th Street and The Walk at Harbor Square, this colorful, casual spot is the ideal place to relax after a day at the beach with Caribbean-style cuisine, refreshing cocktails and live music. You'll be transported to the Bahamas when you bite into the Conch Fritters and the Caribbean Chicken Wings smothered in jerk spice with mango aioli.
261 96th St., (609) 830-3106, The- WateringHull.com
PANINI
Stone Harbor Panini Company
You'll almost feel like you're in the French Quarter when you take a bite into the Muffaletta, filled with parma prosciutto, soppressata, mortadella, Asiago cheese, artichokes and an olive tapenade spread. If you're craving this panini but don't feel like leaving the sand in the middle of lunchtime, have no worries—they'll deliver right to your beach chair.
9808 Third Ave., (609) 368-9300, StoneHarborPanini.com
DINNER
Borghi's By the Bay
This gem is a few blocks away from the hustle and bustle of downtown and delivers with fresh, seasonal plates such as the Mixed Grille with salmon, scallops, grilled shrimp, lump crab bruschetta and grilled asparagus, and the succulent "Mom's" pound cake with chocolate ganache for dessert— Chef Dino Borghi's mother's recipe. That's not all—the hospitality is second to none, as Borghi is known to deliver dinner right to your table and make sure your experience is nothing but superb.
8128 Third Ave., (609) 961-3899, BorghisByTheBay.com
ICE CREAM
Springer's Homemade Ice Cream
Summer days and nights aren't the same without ice cream and Springer's churns out the best year after year. With over 50 flavors, it was hard to choose our favorite until we tasted Prohibition Tradition, a take on Springer's opening during the Prohibition era. This Kahlúabased ice cream with a caramel swirl and brownie chunks is smooth and creamy, and you taste every flavor in every bite. The long line is worth it, we promise.
9420 Third Ave., (609) 368-4631, SpringersIceCream.com
STONE HARBOR
EVENTS

Independence Day Celebration
July 2
55th Annual Stone Harbor Al Cunard Baby Parade
July 10
Stone Harbor National Night Out
Aug. 1
Arts and Crafts Festival
Aug. 5-6
Wildwood
COCKTAILS
Bungalow No. 7 Beach Bar
Is there anything better than having drinks with a view? At Bungalow No. 7 Beach Bar, they provide an "authentic island resort experience" while mixing up freshly made cocktails right on the beach. Part of the Icona Diamond Beach Resort, the bar serves up drinks like Bungalow Punch (Cruzan Rum, pineapple, orange and cranberry juices) and Tea-to's Tornade (Tito's Handmade Vodka, triple sec, lemonade and cranberry juice).
402 E. Rochester Ave., (609) 447-5300, Icona.com/Bungalow-No-7
FINE DINING
Marie Nicole's Grill
With an award-winning wine list and handcrafted cocktails to boot, fine dining at Marie Nicole's is complete with elegant dishes like their 10-ounce Black Angus Filet Mignon that is mushroom dusted and black pepper-crusted with Yukon whipped potatoes, sautéed greens and a house-made onion ring garnish in a red wine demi glace. Or try the Pasta Gorgonzola— fresh cavatelli pasta with jumbo lump crabmeat, crispy prosciutto and sweet peas in a gorgonzola cream sauce.
9510 Pacific Ave., (609) 522-5425, MarieNicoles.com
HAPPY HOUR
North End American Grill
Perfect for post-beach and pre-dinner drinks and snacks, no one does happy hour quite like North End. From 4 to 7 p.m. you can munch on $6 appetizers like their tailgate fries, steamers and North End wings and enjoy discounted drink specials on signature drinks, beers and wine. If you want to hear live music with your cold beverage, it starts at 6 p.m. and runs well after happy hour.
Chestnut & Olde New Jersey Avenues, (609) 435-5691, NorthEndAmericanGrill.com
BOARDWALK FRIES
Curley's Fries
A staple on the Boardwalk since 1974, no trip to Wildwood is complete without a bucket of fries from Curley's. With two locations front and center on Surfside and Mariner's Landing Piers, the fries can be customized with your favorite seasonings. Choose Old Bay, Sea Salt or Cuban Spice and wash it down with a lemonade shakeup.
2701 and 3501 Boardwalk, (609) 729-3131, MoreysPiers.com
PANCAKES
Samuel's Pancake House
There's something about having cake for breakfast that is both rebellious and tantalizing to our sweet tooth and Samuel's takes it a step further with their Carrot Cake pancakes. Carrots, pecans and coconut are baked inside buttermilk pancakes then topped with cream cheese icing and finished with powdered sugar. We could eat these all summer long.
1610 Surf Ave., (609) 522-6446, SamuelsPancakeHouse.com
SUNDAE
Cool Scoops Ice Cream Parlor
If the '50s style décor doesn't draw you in— complete with a '59 Caddy, '57 Chevy Bel Air and '57 Ford Fairlane booth for you to slide into and enjoy your ice cream—this sundae should. The Happy Daze gives you a warm brownie topped with Death by Chocolate and their Chocolate Chip Cookie Dough ice creams, smothered in hot fudge and whipped cream and then topped with a cherry.
1111 New Jersey Ave., (609) 729-2665, CoolScoops.com
SEAFOOD
Boathouse Restaurant & Marina Deck
If you are the type of person that likes a nice seafood dinner with a side of salt air, the Boathouse should be your next venture. With an extensive menu and deck dining on the marina, we suggest trying the Blueberry Balsamic Glaze Salmon: a wild Canadian salmon filet that is broiled to perfection and then drizzled with the sweet and sticky glaze.
506 W. Rio Grande Ave., (609) 729-5301, BoathouseOnline.net
CRAFT BEER
Goodnight Irene's Pub
Every beach town has a go-to beer bar. For Wildwood, it's Goodnight Irene's. Boasting the town's largest craft beer selection, Goodnight Irene's has over 90 different selections of brews to choose from, so no matter your preference you won't leave thirsty. Showing some Shore town solidarity, the bar always features two taps dedicated to Cape May Brewing Company favorites.
2708 Pacific Ave., (609) 729-3861, GoodnightIrenes.com
HOT DOG
Maui's Doghouse
If you are like us, grabbing a hot dog in the middle of a beach day counts as lunch. Lucky for us, we found Maui's Doghouse with a long list of franks you'd want to dig in to. Try the Cheesy Drunk, a hot dog topped with Maui's spicy mustard, globs of Wisconsin Cheese and then laid in a bed of sauerkraut cooked in locally brewed beer. Maybe we will have two …
8th & New Jersey Avenues, (609) 846-0444, MauisDoghouse.com
BRUNCH
The Establishment
If we know anything about spending the summer down the Shore, it's that some days we wake up long after breakfast. Luckily, The Establishment's brunch menu is perfect for us. Try their House Granola made with yogurt, strawberries and honey and bee pollen or their popular Smoked Pork Hash complete with peppers, onions, asparagus, herbs and a cilantro hollandaise. The cocktails will help wake you up too. The Bite the Dog features coconut and hibiscus rum, Kahlúa, Bailey's and espresso while the Mondaze has Milagro Silver tequila, lime juice, agave nectar and a finishing touch of prosseco.
100 Olde New Jersey Ave., (609) 523-8100, TheEstablishmentAt100.com Pizza
PIZZA
Poppi's Brick Oven
In Wildwood, Poppi's is our pizzeria of choice. We are always partial to the Fig pizza, bursting with homemade mozzarella, gorgonzola, figs, sautéed onions and prosciutto di Parma. Another favorite, the Scampi, comes as a white pizza with sautéed shrimp, roasted grape tomatoes, roasted garlic with pesto sauce, homemade mozzarella and ricotta.
4709 New Jersey Ave., (609) 600-3964, PoppisBrickOven.com
BYOB
One Fish, Two Fish Restaurant
Looking to have a romantic dinner with your significant other? Grab a bottle—or two— and start off with the Shrimp and Grits appetizer with grilled Gulf shrimp, creamy cheddar grits and Cajun stoneground honey mustard butter. For dinner, order the Pan-Seared Atlantic Salmon in a citrus ginger sauce with spring couscous and asparagus. Dessert is a must with their Campfire Pot De Crèmewhere homemade vanilla custard is topped with graham cracker crumbles, roasted marshmallow and Nutella.
5209 Pacific Ave., (609) 522-5223, OneFishTwoFishRestaurant.net
PANINI
Dogtooth Bar & Grille
Sometimes a low-maintenance dinner is exactly what everyone wants after a day in the sand. Grab a drink at Dogtooth Bar & Grille and order their Five Mile Panini. Sliced prosciutto is topped with roasted red peppers, grilled portabella mushrooms, sautéed spinach, diced pepperoncini peppers and melted provolone cheese with a garlic herb mayonnaise on focaccia bread. Our stomachs are already growling.
100 E. Taylor Ave., (609) 522-8383, DogtoothBar.com
WILDWOOD
EVENTS

Wildwood Beer Fest
June 6, two sessions Noon-4 p.m. or 6-10 p.m.
NJ State BBQ Championship & Anglesea Blues Festival
July 7-9
Wildwood Tattoo Beach Bash
Aug. 11-13