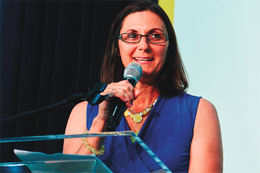 A Great Mission
A lot of good has come from the late Alexandra Scott's determination to sell lemonade to raise funds to find a cure for childhood cancer. Just after her death in 2004 at the age of 8, her famous lemonade stand turned into a foundation, thanks to her parents Liz and Jay Scott, her family and the encouragement from supporters. Today, Alex's Lemonade Stand Foundation has raised over $140 million, helping fund research and offering support to childhood cancer families.
Locally, Philadelphia chef Marc Vetri and his business partner Jeff Benjamin, a Cherry Hill resident, were inspired by Alex's mission and in 2006, hosted The Great Chefs Event—with its 12th annual event taking place on June 20—which now benefits both the foundation and Vetri Community Partnership. The event, in fact, has even spurred on additional iterations, hosted by fellow renowned chefs across the country including Los Angeles, Chicago and New York City to further aid Alex's Lemonade Stand. What's more, it inspired a new cookbook, Alex's Table, featuring recipes from world-class chefs, researchers and childhood cancer families alike.
South Jersey Magazine recently spoke with Liz Scott about the event, the foundation's accomplishments and how our area rallied behind her family.
How the Great Chefs Event started...
[Marc and Jeff] hosted a dinner at Vetri [in Philadelphia] on what would have been [Alex's] 10th birthday and they donated a generous portion of the sales to Alex's Lemonade Stand, but [Jeff] said that was just the beginning. Shortly after, he wanted to do this food event and talked about [bringing] Philly chefs together, [putting on] an event and people would pay to come and walk through.
The first year was at The Restaurant School [and] we knew it was something special. … People came in, they met the chefs and talked to them about what they were doing, there was great wine and we made money the first year. … It's really because of Jeff and Marc's vision that this is something that people would be really interested in coming to.
On seeing the foundation grow...
When Alex said she wanted to have a lemonade stand to raise money, I thought it was cute and sweet, I just didn't think it would raise very much money. I told her it would raise $5 or $10, so you can imagine that I'm pretty shocked to see that we've raised over $140 million. I think what surprised me the most was the way other people responded and how generous they were—not just coming to her stand, but sending donations and then some people having their own events and their own stands, just giving their time and talent to keep it going. It's really just beyond anything I ever could have imagined or hoped for.
Community support…
It's hard to even answer that because I feel like [when] we moved [to the Greater Philadelphia Area] in 2001 [from Con - necticut], my fear when Alex wanted to set up a lemonade stand here—not knowing anybody because our family and lifetime friends were up there—was that it would be really hard to raise as much money because we didn't have all those people that we knew. But the opposite happened. People just embraced it and offered to help and after she passed, it was people from the Philly area, people we knew, acquaintances, friends and supporters, who really encouraged us to start a nonprofit and to grow it. I feel like it almost couldn't have happened anywhere else and, I'm sure it probably could have, but there was something special about being here and the community just coming together and supporting it. Even when we have [Alex's Lemonade Days] in June, just going around the city and all around the area, and seeing how many people are supporting, is probably why I think that it's pretty special.
On making the decision to start the foundation…
Before [Alex] died, she had a goal of raising a million dollars and she reached it. After she passed away, in my mind, that was the end of it because she had reached the goal, it was her stand and she was really the spokesperson for it, but the first thing that inspired us to keep it going was the fact that other people were continuing it, without us asking them to. … After talking to different people and weighing the options, we knew that starting our own nonprofit was an option ... [and] the more people we talked to, the more it just felt right. ... I would say the thing that convinced me the most was hearing from other parents ... one mom in particular, who I'm still in touch with. Her son was diagnosed within two weeks of Alex dying with the same cancer, and she emailed me saying how sorry she was, but she was so grateful that Alex had given us the opportunity to change it for other kids. I thought, you know what, she's right. This is an opportunity, it's not a chore. It's not something we're burdened with, it's something we're lucky to be able to do and from that point on, I was definitely willing to give it a try.
On what the foundation has accomplished so far…
The numbers don't tell the whole story because behind the numbers are people's lives. I would say the most exciting thing supporters of Alex's Lemonade Stand and Alex, of course, [has been raising] significant money at a time where it could really have an impact because of technology, the way they're studying cancer and what they know about cancer now, compared to 20 years ago when Alex was diagnosed. We were able to fill a lot of those gaps that were really stopping points for [making] progress. … [The] information now is so much more than when Alex started her lemonade stand and that's not because of Alex's lemonade, that's because of the way everybody gets their information now. We've been able to fill in a lot of gaps that have really made a huge difference, so it was a combination of timing, being right for investing in it and being fortunate that Alex left us a platform to raise significant funds and to raise new money that previously wasn't being raised for the cause.
On what's next…
As much progress as we've made, it's not even close to being where it needs to be. We feel like we need to raise significantly more money to accomplish everything we want to accomplish and to have the chance for all children who have cancer be cured. We're continuing to grow, we always have a wishlist of projects and things we want to do for the cause when we raise money, so our growth is really driven by the needs that are out there.
For more information or to purchase The Great Chefs Event tickets, visit AlexsLemonade.org and VetriCommunity.org.
Published (and copyrighted) in South Jersey Magazine, Volume 14, Issue 3 (June, 2017).
For more info on South Jersey Magazine, click here.
To subscribe to South Jersey Magazine, click here.
To advertise in South Jersey Magazine, click here.