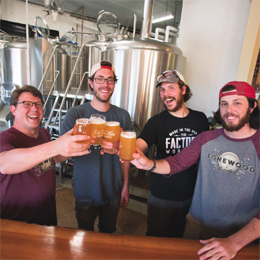 Hoppy Days
New Jersey may be the Garden State, but if the push to bring new microbreweries into the state continues at its rapid pace, we may need to rethink the moniker. After all, it was just a few short years ago when Gov. Christie signed a bill into law that allowed limited license breweries to operate without some of the restraints that kept New Jersey's now burgeoning craft beer scene under the radar. Small towns, big towns—even dry towns—are seeing old warehouses and storefronts be converted into small-batch breweries and tasting rooms. In 2015, according to the Brewers Association, New Jersey ranked 45th in the country with 51 craft breweries. Today there are more than 80 and the state has leapfrogged to 19th. In places like Medford, Pitman and Hammonton, breweries are within a stone's throw from one another, and are seen less as competitors, but rather allies in an effort to put South Jersey squarely on the map of the craft beer scene.
While there are rules to follow—no paid food service and must close doors by 10 p.m. for example—these breweries are finding an audience in South Jersey where consuming beer inside these tasting rooms offers a communal feel, not to mention some civic pride. Some have even begun experimenting with low-level events like open mic nights or comedy showcases in an effort to liven up the atmosphere. Despite that many of these upstart breweries are still in their infancy stages and are working out the kinks, that hasn't deterred others from wanting to join in the fray. A new brewery is slated to come to Marlton in the near future and Haddonfield has just given the green light to another.
South Jersey Magazine spent weeks visiting all the local breweries and despite the growing number in place, the scene has definitely not become watered down. In fact, each offers its own unique vibe to match their brews and the folks we talked to behind the scenes spoke of passion before profit. What the future holds is anyone's guess, but in this moment we are certainly reaping the benefits of an evolving and exciting time to be a craft beer lover in South Jersey.
BERLIN BREWING COMPANY
Berlin
Head brewer Tony Alfano has been making handcrafted beer since 2008 and traveled the country participating in national competitions before opening his own brewery in 2015. Located at the site of an old bus terminal on the White Horse Pike, Alfano kept the rustic feel and made the bar out of recycled wood. The "Pastime Taproom" is filled with his love for old school baseball and he customized the room to the historical themes, including past memorabilia of icons such as Babe Ruth and Pete Rose. All the beer selections knocked it out of the park, especially their newly released summer beer, Blood Orange Shandy, and Boro Kölsch, the best German beer we've tasted in a while. Other rotating and seasonal beers we couldn't put down include Insolent IPA and The Grey Earle with Bergamot with a smooth, hint of Earle Grey tea.
Taps: Typically 9 beers on tap
Pours: Beers are offered in 4 or 16 ounces
Growler/Crowler fills: Yes
Merchandise: Hats, shirts, sweatshirts and glassware
Packaged goods: Cans available starting this month
Events: Past events have raised money for local and national charities, including breast cancer awareness, SPCA and the Haiti Relief Fund
DOUBLE NICKEL BREWING COMPANY
Pennsauken
To say that this is one of the largest taprooms we have visited in South Jersey would be an understatement. With the capacity to hold 426 patrons at any given time, the brewhouse has a main taproom with a long L-shaped bar and more than enough tables, a back room for lawn games and an upstairs lounge complete with a TV and couch—and more tables—where patrons can play N64. Head brewer and co-founder Drew Perry has brewed beer his whole life with the goal to get back to N.J. and start his own brewery with his own recipes, and that's exactly what he has done. It's no question that their beer is good. Their Vienna Lager—a 5.3 percent ABV brew with a rich amber brown pour and bready backbone with a variety of German-style hops—was voted Best Lager at the 2017 AC Beer Fest. And what's more, their Lawn Surfer Juicy IPA is available throughout the summer at BB&T Pavilion in Camden and Festival Pier in Philadelphia.
Taps: 20 total, 16-18 taps are different brews at all times
Pours: Beers are offered in 4 or 13 ounces as well as in flights
Growler/Crowler fills: Growler fills available, crowler fills coming soon
Merchandise: Shirts, sweatshirts, hats, bar accessories, glassware, travel dog bowls and collars
Packaged goods: Bottles and cans
Events: Future events will include trivia and live music
EIGHT & SAND BEER CO.
Woodbury
This brewery's proximity to the city's rail lines is evident from the name (an ode to the phrase once used to wish train crews a safe trip) to the "arrivals" board (taplist) and the "rails" (flights). The tasting room is a bit bigger than it appears from the outside with a lengthy bar area and several tables along with high tops with plenty of board games to go around. The beers tend to stay on the sessionable side of things—during one recent visit 11 out of 14 beers on tap were 5.5 percent or less ABV. The vanilla and chocolate notes in the Bad Hombre were pleasant while their Blonde Ale was one of the more quaffable brews we've tasted in a while.
Taps: As many as 20
Pours: Beers are offered in pints or "rails" (four 4-ounce pours)
Growler/Crowler fills: Ye
Merchandise: Hats, shirts and glassware
Packaged goods: Sixtels and half-kegs
Events: Past events have included standup comedy nights and yoga classes
FLYING FISH BREWING CO.
Somerdale
The longest established microbrewery in South Jersey, Flying Fish started out as the world's first virtual microbrewery in 1995. Drawing attention from investors and banks, founder Gene Muller was able to turn the idea into a real brewery based out of Cherry Hill in 1996. Fast forward to present day, Flying Fish is the largest brewery in the state in their newest location in Somerdale. The brewery is highly sustainable as they have recycled, reused and conserved almost every aspect of their business. As for their beers, Flying Fish is a 10-time medal winner at the Great American Beer Festival for beers like the Abbey Dubbel and the American Trippel. Not to mention The Exit Series—a nod to the Turnpike featuring different beer styles for each exit. And if you see a small dachshund/ chihuahua mixed dog running around, his name is Lewis Garcia.
Taps: 15
Pours: Beers are offered in 10 and 14 ounces and flights of four 5-ounce pours.
Growler/Crowler fills: Yes
Merchandise: Shirts, sweatshirts, hats, bar accessories, glassware, home décor, travel dog bowls, leashes and collars
Packaged goods: Bottles and cans
Events: The brewery holds Power Ale Yoga every third Sunday of the month
FORGOTTEN BOARDWALK BREWING CO.
Cherry Hill
It's no surprise that a Jersey Shore native would create a Boardwalk-inspired brewery, complete with skeeball machines, funhouse mirrors, a carousel horse and other curiosities. Jamie Queli took over the former Flying Fish Cherry Hill location and transformed it into a playground for adults. Board games, decks of cards and even a giant Connect 4 make this a place where kids of all ages can play, easily passing a couple of hours. The inside tasting room is expansive, but the bright Adirondack chairs outside are the perfect respite when the weather's nice enough. There are a few signature brews here, like the Funnel Cake Boardwalk Ale, also available on nitro, which is creamy with vanilla notes, and What the Butler Saw, a spicey wit that comes in different variants in the "Lady #" series. Both are on the lower end of the ABV spectrum at 5.5 percent and 5.0 percent, respectively, but their limited releases often pack a bigger punch for those who are curious, such as Pocket Trick, an imperial IPA with fruity hints of peach and mango that pours a dark copper color with an 8.5 percent ABV.
Taps: 8, including one for nitro
Pours: Flights of four 5-ounce pours, 5-ounce samples, other pours in 10, 13 and 16-ounce (depending on the beer)
Growler/Crowler fills: Growlers
Merchandise: Glassware, tees, hoodies and a tote bag
Packaged goods: Four- and six-pack cans, and kegs
Events: Special bottle and can releases, and Adopt-a-Cat events featuring adoptable cats and kittens on site
HUMAN VILLAGE BREWING CO.
Pitman
Located in the former Bus Stop Music Café space on Pitman's main drag, this brewery leans traditional in its European styles but surely puts their own spin on things. Owned by friends Megan Myers and Emily Barnes, Human Village is the product of their shared passion for brewing beer. The tasting room is surprisingly large, with tables and chairs and stools lined up around the perimeter with a handy shelf for resting your beer—if you can manage to put it down for a minute—and the owners have paid homage to the former tenant with decorative rock 'n' roll memorabilia that won't fail to strike up a few conversations. Keeping with that theme, several beers feature musically inspired names, like Abbey Rd., an IPA made with West Coast hops fermented with Belgian Abbey Yeast, or Fade to Black, a Cascadian Dark Ale—or more commonly called a Black IPA—that is malty but with a fruity finish we expect from an IPA. Sour fans will want to check out Boom Gose the Dynamite, the brewery's first foray into the style with more promised to come.
Taps: Up to 10
Pours: Offered in four 4-ounce tasting flights or 12-ounce pours
Growler/Crowler fills: Growlers
Merchandise: Glasses, shirts (including a woman's fitted tee), hoodies and cozies
Packaged goods: No
Events: Open mic night every second and fourth Thursday
KELLY GREEN BREWING CO.
Pitman
The first brewery to open its doors in Pitman— and all of Gloucester County—started out as just a hobby among beer lovers Justin Fleming, his wife Jeannette and his best friend Dave Domanski. After making tasty beers out of their home for themselves and friends for a few years, they decided to open a small shop in the bustling downtown district of their beloved hometown in May 2016. The cozy space has a friendly, neighborhood vibe, just like the small town it resides in, with Philadelphia Eagles memorabilia hanging on the walls and a small blackboard next to the bar that offers up the beer fact of the day. All of the beer is brewed on the premises and includes a variety of stouts, IPAs, wheats and porters, such as the Endgrain Coffee Porter that stood out on a recent visit.
Taps: Eight to 10
Pours: Beers are offered in 5-ounce samples or pints and flights are available.
Growler/Crowler fills: Yes, 32-ounce and 64-ounce growlers.
Merchandise: Hats, shirts, glassware and beer soap
Packaged goods: No
Events: The taproom is available to rent for private parties.
LOWER FORGE BREWERY
Medford
This three-barrel brewhouse is as close as family gets as its brewers are a mother-son duo: assistant brewer Pola Galie and head brewer Sean Galie. Having opened in May 2016, Lower Forge has quickly become part of the Main Street community thanks to relationships with neighboring restaurants and nearby farms, like Shamong's Whalen Farms, which supplies blueberries used in the Lower Forge Blueberry Fields brew. The refreshing 5.6 percent ABV wheat ale features a light hoppiness that's easy to sip. As for its counter specialty beers, the Lower Forge Squeeze the Day, is another light hoppy beer featuring sparkling grapefruit juice. When it comes to dark beers, The Major Irish Stout is served from a nitro tap, giving it a smooth and creamier finish. After just celebrating their one-year anniversary, Lower Forge has been celebrated for its sustainability, as 100 percent of grains are reused as animal feed and composting.
Taps: Typically at least 8 beers on tap, plus two on nitro.
Pours: Beers are offered in 12 and 14 ounces, with sample sizes available. Flights of four in 5-ounce pours.
Growler/Crowler fills: Yes, and will soon have 16-ounce "crowlettes"
Merchandise: Shirts, glass-ware, growlers and bottle openers
Packaged goods: Limited canning is set to start.
Events: Live music by local bands in addition to monthly open mic nights
NALE HOUSE BREWERY COMPANY
Medford
Located right off Main Street, Nale House is a 2.5 barrel brew house, whose atmosphere lends itself to a communal environment where patrons can try brews that are made with a quality-over-quantity methodology. With an ever-rotating tap list, co-founder, managing partner and head brewer, Eric Leiner, aims to keep palates fresh and interested with its small batch artisan concept brews. Favorites include the Teabag Bourbon Oaked Porter, a 7.4 percent ABV beer, which is only served on nitro, and the Cow Tippin' chocolate coffee milk stout, a dark beer brewed in collaboration with Medford's Harvest Coffee Roastery. Recently, Nale House opened their outdoor seating area, which comfortably seats 16 and looks out onto Main Street.
Taps: Always rotating at least 6-8 beers on taps
Pours: There's a specific glass for each beer and varies between 7, 14.5 or 16 ounces. Flights of four 4-ounce pours.
Growler/Crowler fills: Growlers based on availability
Merchandise: T-shirts, hoodies, wool hats and glassware
Packaged goods: No
Events: Occasional live music by local artists and supports every Medford Main Street event.
SPELLBOUND BREWING
Mount Holly
One of the more recognizable names in South Jersey—due in large part to their canning abilities and availability in local liquor stores— Spellbound has deliciously dependable beers, but is also willing to test the boundaries of brewing with their pilot batch offerings (think: Jalapeno Ghost Pepper IPA). Year-round, you can count on their flagship IPA, made with six different American hops coming in at a manageable 6.5 percent ABV, and the awardwinning Porter Aged on Palo Santo Wood, with a strong chocolate flavor revealing hints of vanilla and anise. On a recent visit we sampled their Blueberry Pale Ale, which was so refreshing we took a growler to-go. Tucked a bit out of plain sight, Spellbound's 1,000- square-foot tasting room has a bar area where regulars cozy up, but besides a few hightops, you're more likely to find seating at the outside picnic tables. Beer enthusiasts will love a behind-the-scenes look at their inhouse canning line, which pumps out 36 cans per minute. There's always something new on tap here, making this a spot we'd keep in regular rotation.
Taps: Up to 16, including two reserved for Nitro
Pours: Flights offered in four 4.5 ounce pours, and glasses available in 8, 10 or 16 ounces (depending on the beer)
Growler/Crowler fills: Growlers
Merchandise: Glassware, shirts and Hoodies
Packaged goods: Six-packs and cases (all cans)
Events: Regularly feature live acoustic musical acts in the tasting room and is also host to the Spellbound Century, a charity bike ride benefitting local police funds.
THREE 3'S BREWING CO.
Hammonton
The name Tomasello is well known in Hammonton thanks to the winery, however Three 3's owner Dave Tomasello—no relation—is doing his part to put the town on the craft beer radar as well. IPA lovers have come to know that Three 3's is the place to quench their thirst for hop-forward beers. While the brewery does offer other styles like stouts, blond ales and saisons, the majority of their taplist at any given time is dedicated to craft beer's most popular style. While appealing to the masses doesn't hurt, the real impressive aspect of their IPAs are that they each have unique characteristics and styles (West Coast, New England, etc.) making this brewery far from one-note. Mason jars of pretzel nuggets line the fairly sizable bar area, while two large communal tables and a small seating area with couches round out the space, which was once a film processing lab.
Taps: 12
Pours: Beers are offered in pints or "trips" (flight of three 6-ounce pours)
Growler/Crowler fills: Growlers
Merchandise: Hats, shirts, tap handles and glassware
Packaged goods: No
Events: Trivia nights
TOMFOOLERY BREWERY
Hammonton
Shawn Grigus and his wife Gayle D'Abate are the brains behind this upstart brewery, and we do mean the brains—Grigus is a biochemist and D'Abate an electrical engineer. That level of knowhow provided the foundation for the couple to open up Tomfoolery after years running Brew Jersey, a local homebrew club as well as the supply shop Tap It Homebrew. Like any good academics, they continue to tinker with their recipes, having just produced a new batch of Shawn and Gayle's Pale Ale and featuring styles that range from a very respectable pilsner to potent barleywines. The modest warehouse tasting room that was once a brewery bottling plant will soon be undergoing a renovation that will include relocating the bar area to allow for air conditioning. And the couple plans to continue to can and bottle certain releases, which have been known to be available in select liquor stores as well.
Taps: As many as 14, typically at least 8 to 12 on at all times
Pours: Beers are offered in pints or flights (four 4-ounce pours), single taster
Growler/Crowler fills: Growlers
Merchandise: Hats, shirts and glassware
Packaged goods: Occasional cans and bottle releases
Events: Tap it Thursdays features a new small-batch brew tapped every week
TONEWOOD BREWING
Oaklyn
After honing his beer-making skills in Colorado, head brewer Eli Facchinei returned home to open Tonewood in June of last year and the 15-barrel brewhouse has been buzzing ever since. The space is on the smaller side, but even during some of our visits when the crowd ballooned, we never felt uncomfortable. The bar naturally fills up first, but the communal areas along with some sidewalk seating make this a great place to grab a pint and make some new friends. The rotating list of beers ranges from potent Belgian strong ales to easy-drinking lagers and sessionable IPAs. Recently, the facility started canning some of its more popular offerings, including their beloved Fuego IPA, a golden hazy number that is in line with the New England-style IPAs that have captivated beer drinkers of late. As they make these releases a more regular occurrence, expect to start seeing some limited one-off beers hitting the canning line.
Taps: Typically at least 8 beers on tap
Pours: Beers are offered in 4, 12 or 16 ounces. No flights
Growler/Crowler fills: Yes
Merchandise: Hats, shirts and glassware
Packaged goods: Cans available upon Release
Events: Bluegrass jam session on the second Wednesday of the month
Another Round
more South Jersey breweries to fill your glass

Atco Brewing Company, Atco
This brewery recently celebrated its one-year anniversary and its selection consists of several IPAs including rye and black, and our favorite, #SuperSwell–a double IPA that's "big brother" to the less intense Swell Head.
Devil's Creek Brewery, Collingswood
With 12 beers on tap, this husband-and-wife owned brewery specializes in classic styles highlighted by their take on a German Kölsch.
Eclipse Brewing, Merchantville
This brewery once created a beer that was a whopping 18 percent ABV. Chances are you'll find some tamer options amongst their 18 taps.
Lunacy Brewing Company, Magnolia
Lunacy is in the process of moving to a new location in Haddon Heights this summer which will boost their taplist from eight to 20 beers.
Third State Brewing, Burlington
Like a lot of the local brewers in South Jersey, the folks behind Third State all met while being part of a local homebrew club.
Village Idiot, Mount Holly
The first brewery to enter the scene in Mount Holly, Village Idiot's brews have recently begun to appear in local establishments, but nothing beats a fresh pint poured at the source.
Published (and copyrighted) in South Jersey Magazine, Volume 14, Issue 3 (June, 2017).
For more info on South Jersey Magazine, click here.
To subscribe to South Jersey Magazine, click here.
To advertise in South Jersey Magazine, click here.