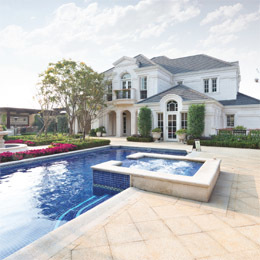 The Outdoors are Calling
Outdoor living is a sizzling hot trend that isn't going away. From finished patio areas, to outdoor kitchens, pools and other outdoor amenities, homeowners are creating extensions of their homes by utilizing their outdoor spaces to the fullest. Whether you have a large yard with a lot of space to work with or just a small piece of property, adding finished spaces and entertaining areas truly allows you to get the most out of it. It's an investment that homeowners say adds value in many ways.
One of the factors driving the popularity of outdoor living areas has been the fact that many homeowners are staying put. Real estate trends show that many people are choosing to stay in their existing homes longer. Rather than moving to a new home or a new location, they're transforming their existing property into what they want or need. For many, that has meant extending living space to the outside.
People are also taking fewer vacations, adds Dan Young, owner and president of Young's Landscape Management, serving everywhere from the Delaware Valley to the Jersey Shore. Instead they're choosing to take "staycations," and take time off work but enjoy it at home.
"With more and more families continuing to choose to vacation at home, outdoor living environments remain the rage," Young says. "The number of complete home exterior renovations has more than tripled each season over the past few years."
Creating memories
There's no question that outdoor living areas make great "staycation" destinations. But they also allow homeowners to build everyday memories with their family and friends. As soon as kids get home from school, the first place they want to go is outside to enjoy the pool or the other outdoor amenities. And suddenly everyone wants to stay home on the weekends.
Ed Swietanski, sales manager for Gill's Landscaping in Mullica Hill, says that adding outdoor living spaces obviously adds usable square footage as well as increased property value but perhaps its greatest ability is to create "a communal space for family and friends to gather—away from electronics, video games and other distractions."
Swietanski says it's that added value of having a space to create memories where outdoor living areas really shine. Whether it's sitting around a fire, spending time in the pool or sharing a meal outdoors, outdoor living areas allow for these memorable opportunities.
"Anyone with kids knows how difficult it is to get them outside," Swietanski says. "Adding a comfortable space to interact with family can help."
Craig Sharkey, of Swim-Mor Pools and Spas, says that a pool goes a long way in adding enjoyment to one's back- yard. Instead of having to pack the kids up and drive somewhere to go swimming, the pool is right there. It's the difference between packing everything—and everyone—up in the car or just walking out your back door, Sharkey says.
"As kids get older that becomes even more valuable to parents because the kids are staying home on the weekends," says Sharkey. "Instead of going to friends' houses, they're bringing friends home."
All the amenities
When it comes to exactly what to add to your outdoor living area, you must put some thought into how you plan to use the space, says Swietanski. There are so many options when it comes to amenities and the cost can really run the gamut depending upon what you decide to add.
While exactly what you should do with your outdoor living space depends on your lifestyle, there are certainly some hot trends right now. Young says that there has been a shift toward tiered patios, designed to create a multi-room effect. This might include a main level for the outdoor kitchen as well as a dining area complemented with a sub- level seating area with seating walls that form intimate nooks.
"Since not all families are the same, it's important to discuss family size, activities and how the space is to be used as part of the planning process," Young recommends.
Roof structures are also a hot trend right now as they not only cast shade but add some interest to a property. While adding a complete roof to your deck or patio will provide protection from the elements, a pergola will cast some shade and also provide a lot of aesthetic appeal.
"To add a bit of charm, some outdoor living environments are highlighted with an ornamental pergola," Young says. "These wooden structures generally consist of open cross beams supported by pillars. Often these lattices can be adorned with shadow boards or customized awnings."
Swietanski says some of the unique features he has seen gaining popularity include items like outdoor pizza ovens and high-efficiency fire pits. With a high-efficiency fire pit, smoke is reduced and homeowners can add accessories like griddles, rotisseries, or even kettles— "to bring out your inner ranch hand," jokes Swietanski.
He says that adding sound and lighting systems complete with Bluetooth technology is truly bringing outdoor living spaces to the next level.
Young also emphasizes the value of a properly designed and installed lighting system, adding that it can enhance and extend visual beauty and nighttime entertaining. After investing in an outdoor living area, it only makes sense to be able to enjoy it at night as well.
"Softly lit trees, gardens and pathways will create a simple yet eloquent ambience whether you are in the space or viewing the space from a distance," Young says.
Today outdoor lighting has come incredibly far and new LED systems are the "green" alternative that use only 25 percent of the electricity of regular low wattage bulbs. While the initial investment in LED is greater, the long-term savings make LED the most cost-efficient option available today.
In terms of pool amenities, adding features can add both entertainment value and visual appeal. Sharkey says that sun shelves are wildly popular right now. Not only do these ledges provide a space for little ones to splash and play next to their parents, but they are also great to add an umbrella or a lounge chair. A feature like this truly takes a backyard pool and makes it feel like one from a resort.
"Color-changing LED lighting can also set the scene for the backyard, adding a lot of visual interest," Sharkey adds. "And water features make a nice addition not only for their looks but also for the tranquil sound they provide."
In fact, with the addition of amenities like lighting and water features, Sharkey says that homeowners might open their pool early in the season—before it's actually comfortable to be in it—just to restore that attractive look and tranquil sound to their backyard.
With the addition of some of these features and finished spaces, you'll be spending more time outside with your friends and family than ever before. That equates to lifelong memories that are truly invaluable.
Published (and copyrighted) in South Jersey Magazine, Volume 14, Issue 1 (April, 2017).
For more info on South Jersey Magazine, click here.
To subscribe to South Jersey Magazine, click here.
To advertise in South Jersey Magazine, click here.