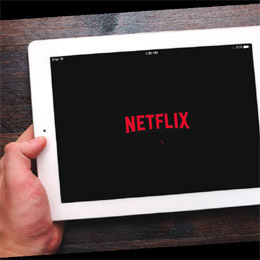 The New Age of TV
There was once a time when your remote control acted like a lightsaber, about to take on Darth Vader in Star Wars Episode V: The Empire Strikes Back, or your ticket to watch the Philadelphia Phillies win the World Series in 2008. For years, cable television gave viewers access to their favorite films, the best seat for all local sporting events and, of course, an ear to national and local news. However, like most things, it's susceptible to change.
Some of the big changes were On Demand and TiVo, giving viewers the option to record or watch their favorite television shows at their own leisure—not to mention the pleasure of skipping through commercials via TiVo—and in the early 2000s, Redbox, an automated kiosk for DVD rentals, was introduced.
Fast-forward to 2007, Netflix launched streaming video and what happened next was an onslaught of additional companies popping up including Hulu, another online subscription service giving access to TV shows and movies.
As these offerings began to evolve, they soon replaced traditional movie rental stores, like Blockbuster, which eventually closed in 2013. That same year, Netflix introduced its very first original series, House of Cards, whose first season earned nine Emmy nominations, becoming the first original online-only show to receive such recognition. This gave net- works and buyers fresh eyes as to how they could create new and interesting television shows on different platforms and more importantly, put the viewer in control.
"There are now more net- works or more buyers in terms of streaming services than ever before," explains TV critic and Rowan University professor of TV and film, David Bianculli. "People who want to create, direct or star in quality television have more places to ship their wares than they ever have in TV history. It's at a time where coincidentally these networks and streaming services are all trying to distinguish themselves quickly and right now, the template for doing that is by taking a chance on something different.
"So you have this climate, where you have Netflix, Hulu, Amazon and Crackle, all doing risky things and generally being rewarded for those efforts with both audiences and media attention. It's not going to end ... although, we are at a glut with more scripted programming being produced per year for TV than ever before."
Those "risky" ventures include Jerry Seinfeld's Comedians In Cars Getting Coffee on Crackle (now moving to Netflix), a talk show with a specific scope and void of an audience; Amazon's Goliath, Z: The Beginning of Everything, Good Girls Revolt and Transparent, which garnered Emmy and Golden Globe wins, and Netflix's slew of original programing like Orange Is the New Black, Stranger Things, The Crown and last year's revival of Gilmore GirlsThe Mindy Project, which now lives on Hulu.
In turn, these streaming platforms have given way to the phenomenon of "binge-watching," allowing a viewer to watch an entire season or more in either one weekend or at their own pace. It also gives them a chance to catch up with current shows, attracting new viewership.
"Streaming services [and On Demand] have changed the game by having old episodes of new and old series available," says Bianculli. "In the last few years, [the technology has] allowed viewers to come into a series in mid-stream or after it's completely over and discover it or get up to speed. It somehow allowed the word of mouth to build up and catch up with a show that then gathers momentum in season two or three as a result. That never happened before.
"[For example,] I think more people have seen The Wire after it was off HBO than when it was on HBO," adds Bianculli. "People are catching up on things like Netflix's Jessica Jones, probably more people have seen it since it was unveiled, than when it was unveiled. It's just a way for people to grab onto something and then go back. Certainly if you're watching Better Call Saul now and you've never seen Breaking Bad, you have a chance to go back and do your homework."
Today, cable companies and providers are adapting to TV's new landscape—especially since some viewers are considering cutting the cord now that most shows can be streamed via devices like Amazon's Fire TV Stick, Roku, Apple TV or Google Chromecast.
For one, Comcast has integrated Netflix within Xfinity X1, giving users the ability to sync their Netflix subscriptions, while offering various options. "It's a great option for customers who were intimidated by the length you had to go through to use Netflix before as a streaming option," explains Comcast Vice President of Communications Jennifer Bilotta. "Whether that's changing inputs or having another remote, that was enough of a barrier to some people."
As far as packages, Bilotta explains Netflix is also an added luxury. "Some customers might want to choose a skinnier TV package with Netflix and still enjoy local broadcast stations and live sporting events, while other super users will be able to have it all: Netflix, local stations, live sporting events and networks like ESPN, AMC, HBO, Showtime and more, all in one place."
What's more, Xfinity X1 recently announced it's integrating the YouTube app into its arsenal, which will become available later this year. "YouTube has even more content than Netflix and almost an impossible amount of con- tent to be able to catalog so not all of it will come up," Bilotta explains. "If you launch YouTube, everything that is available on YouTube is going to be available on your TV and on top of that, a lot of this stuff will be brought up in your search results when you're in the normal X1 experience and you can also use the remote."
Additionally, recent reports revealed Comcast is rolling out yet another incentive for its customers who only have a high-speed internet package. What's being called Xfinity Instant TV, it offers a $15 per month charge for a bundle that includes local channels, HBO and DVR storage of up to 20 hours.
This new idea of cable is an example of cable companies evolving with clients' preferences. In fact, Verizon now offers custom TV bundles to allow consumers to curate their TV content. "It's no secret that the 300-channel bundle is becoming a thing of the past," explains Verizon spokesman, Ray McConville. "Customers are tired of having their TV provider dictate to them what content they can purchase and how it's packaged.
"Our Custom TV bundles are a step in that direction— these 'skinny bundles' as people like to call them—give more choice and flexibility in the types of channels customers can order and at lower prices."
Additionally, Verizon is also integrating streaming services into subscription packages. "Whether the customer wants to purchase only Internet from us and pair it with a streaming service, or use that streaming service to supplement their Fios TV package, we think we provide the options that make it easy for all types of customers to do business with us," McConville adds.
With cable providers adjusting their services in light of the new streaming options, the idea of "cord-cutting" is quickly becoming a myth— especially when consumers begin to compare costs. "There's certainly some people doing it ... but a lot of people would find that once they cob- bled together all the different services they need to get all of the content that they want, they're spending just as much money and having more of a hassle," explains Bilotta.
"What we're finding is that people do want internet con- tent, they do want content like Netflix so what X1 allows us to do is put anything that you want potentially, aggregate what exactly we're going to have available on X1, but making that internet content avail- able to you on the biggest screen in your house, in the easiest way possible and in a way that is searchable."
Thanks to all of these changes, Comcast has man- aged to retain its customers given the current climate of cable and in 2016 alone, added 161,000 video customers. With Verizon, they continue to see strong growth in their custom TV offerings, with 5.7 million Fios Internet connections and 4.7 million Fios Video connections made at the year's end.
On a more local level, some South Jersey residents are see- ing it's just not worth cutting cable. Take Tony Dappolone of Cherry Hill, for example. He and his wife have considered canceling their cable subscriptions and even tapped into streaming options like Chromecast and Roku to watch Netflix- or Amazon-specific shows, but they ultimately deemed it unnecessary."The conclusion I came to [is] if you're one of these people [who] only use their TV to watch maybe movies on Netflix or they have an add-on like HBO, then the advantage of cutting the cord is worthwhile," he says.
"If you want the whole broad spectrum and you're going to have HBO, Cinemax and everything else just through streaming, there doesn't seem to be any real advantage. You may as well just get them from cable because the other disadvantage is if you're streaming, you don't get any of the over-the-air channels either. You'll have to do either an antenna or TiVo or whatever to get that. ...We've got a variety of people and kids [here], so it doesn't seem like there's any real advantage to cutting the cord for us."
As for Washington Township's Helen Hall, her family uses Roku boxes and streaming services including Netflix, Hulu and Amazon Prime. She decided to part ways with cable over three years ago based on her family's TV-watching habits, but still considers cable as a viable option.
"The benefits of cable are that you can watch live games or shows and you can DVR shows that you like that you might not be able to watch during their regularly scheduled time slot," she says. "There tends to be more available to you in any given moment. For me, football is a big reason to want a full cable subscription; ESPN for Monday Night Football and NFL Network for Thursday Night Football.
"Being able to watch shows that I enjoy at my pace is something I appreciate," she counters. "I can watch one or two episodes at a time, or binge-watch an entire season over the course of one weekend."
Despite the current trends in streaming, there still remains a quality of cable that you just can't get from streaming: national communal shared- viewing, as Bianculli calls it. It's hard to deny there's something fascinating about the entire nation watching the season premiere of AMC's The Walking Dead before spoilers hit the Web, or watching your favorite team win the game.
Like most changes, cable is morphing into something new and consumers are adjusting at their own pace and control. "It used to be only a generation or so ago that it was three networks, one public TV station and two or three independent stations," recounts Bianculli. "Those were your viewing choices [and] it was only what they were showing you at the time. It's remarkable how much power the viewer has gotten in this current century.
"What I hope does not vanish entirely as more people cut their cords and go for just the individual niche service they want," he adds, "[is] that there is still some sort of national viewing experience." With the current evolution of cable, it just might seem that experience isn't going anywhere.
Published (and copyrighted) in South Jersey Magazine, Volume 14, Issue 1 (April, 2017).
For more info on South Jersey Magazine, click here.
To subscribe to South Jersey Magazine, click here.
To advertise in South Jersey Magazine, click here.