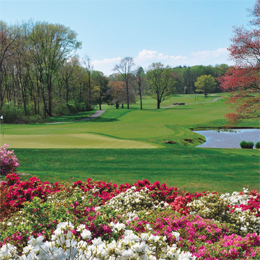 Up to Par
PRIVATE
Burlington Country Club
What's new: The 14th and 15th fairways have been regraded and new sod has been laid to help improve the drainage on the course's two lowest holes.
"It's about fun and keeping the membership friendly," says head professional Mike Mack. "A new member can get into any group, get a game any- time. ... We are accommodating."
Laurel Creek Country Club
What's new: A renovation of the clubhouse began in the spring and a pool renovation will also follow.
"We offer a unique social experience, outstanding golf, a dynamic family environment and superior service to our members and guests," says John DiMarco, head professional.
Little Mill Country Club
What's new: The club has welcomed the addition of Chef Jeff Burke and now offers a private dining membership for non-golfers. Also, a new men's locker room has opened that includes a bar and lounge area.
Pro George Frake says it's easy to think of what helps separate Little Mill from the pack. "Twenty-seven holes with great playing conditions sets us apart from the rest."
Medford Lakes Country Club
What's new: The new-look Bar & Grill Room now offers expanded seating along with a Wine and Dine Membership at $100 for the year.
"Any day, all day, one of the best walking courses in South Jersey. Challenging yet approachable, this beautiful course has fantastic conditions year after year," says new GM Rob Mondelli.
Medford Village Country Club
What's new: Late last year the club began renovation on the clubhouse façade, raising the roof line and giving an overall updated look. Bob Doria joins the club as its new PGA head professional. Doria has established the Bob Doria Golf Academy to work with players to help improve their game.
"Medford Village Country Club is the only full- service facility in the Medford area. The combination of championship golf, tennis, pool and fine dining makes it the perfect family-friendly country club in the area," says Doria.
Merchantville Country Club
What's new: The club marks its 125th anniversary this year and will be celebrating with a series of special events including the Quasquicentennial Classic—a members-only tournament which will be played with vintage hickory shafted golf clubs. Membership involvement and enthusiasm, according to MCC Golf Professional Ethan Pauxtis, is what sets Merchantville apart. "Since we are the closest private club to Center City Philadelphia, people come to Merchantville for the convenience and the exceptional condition of the golf course. ... Our motto is '9-holes in 90 minutes.' Once they are here, however, they realize that we have something really special—a wide variety of activities and a fun, welcoming membership."
Moorestown Field Club
What's new: Marking its 125th anniversary, the club welcomes new pro Cavan Birmingham, formerly a pro for a decade at Fox Meadow Golf Center. It's his first head pro position. In the spring the club began a full renovation that will include the addition of a new pro shop, a new lounge area and a golf studio with teaching equipment.
"We are starting a great new club within a club," says Birmingham. "We'll have a group of 50-plus guys in the club run weekly leagues and tournaments with FedEx Cup-style points for the entire year." He also adds: "The most you'll ever have to wait is 15 minutes, we are a no tee-time facility."
Old York Country Club
"One of the best features of the course is that there are no houses on the course, a rarity in today's age of course communities. Members get to experience golf with nature and not barbecue grills and swing sets," says course pro Jim Vernon.
The Riverton Country Club
What's new: The club recently finished a complete bar and dining room renovation said to enhance the social experience. They've also hired a new executive chef, April Hyres.
"Riverton Country Club is a fun and friendly club focused on providing unique experiences for our active membership to enjoy. Our facilities provide a great platform for all of our events, including competitive golf tournaments, Wine Society and even Little Linksters Clinics, introducing kids as young as 3 years old to the game of golf," says head pro Kevin Duffy.
Tavistock Country Club
What's new: Over the winter, Tavistock started the first phase of a long-range plan. This included a fully renovated kitchen and ladies locker room. A men's winter lounge was added and they dredged the pond on the 16th hole.
Trump national Golf Club
What's new: A multi-million dollar irrigation upgrade project is ongoing and the club plans on completing another four holes prior to the start of summer. "Unplayable areas" were also worked on in the off- season by clearing underbrush and shrubbery.
"We strive on providing a family atmosphere at the club. With the addition of the pool a couple of years ago, we have created programs that cater to the junior and beginner golfers that get them involved at the club. The socially based programs get those who don't play golf on the course in an environment that caters to learning," says David Cartwright, head golf professional.
PUBLIC
Deerwood Country Club
What's new: Brandon Perrine is the new club superintendent. Perrine is a graduate of Rutgers Turf Management School.
Golden Pheasant Golf Club
"Most South Jersey courses are relatively flat, where our golf holes are anything but," says pro Brian Feldschneider. "From hitting tee shots down the hill on holes 4 and 6, or trying to drive the green on hole 17 where there is out of bounds along the entire right side for a risk/reward style shot, Golden Pheasant has it all."
Indian spring Country Club
What's new: Indian Spring has hired Rees Jones to develop and implement a long-term renovation plan that will begin in the fall of 2017 and run five to 10 years. "Last year we started our junior instruction program, Operation 36," which focuses on the goal of shooting par or better for 9 holes, according to head golf pro Curtis Kirkpatrick. "Indian Spring is the only course in our area to offer" the nationally recognized program.
Pitman Golf Course
What's new: The course has two new tees open- ing at the 5th and 9th holes and more than 40 new trees have been planted throughout the course. Some new cart path work will also begin in 2017.
"What makes the Pitman Golf Course so popular is the fact that we truly are golfer friendly," says Orist Wells, head pro and course manager. "Our course layout offers every golfer the opportunity to have fun playing golf and the chance to shoot their low round of the year."
Ramblewood Country Club
What's new: The 2017 season brings new carts to Ramblewood and the recently renovated clubhouse also includes an upgrade to the menu.
"We are constantly improving the conditioning of the greens in particular," says GM John Goodwin. "We'll be rolling the greens to make them more smooth and compact and really paying attention to all the details on the course."
Rancocas Golf Club
What's new: Rancocas is continuing with work on drainage to improve the green complexes. The staff is planning to complete putting in new drains on holes 3 and 12 and resodding the collars and rough around both putting surfaces. They have also done some extensive tree work during the winter season, removing in excess of 40 trees to improve turf conditions on the golf course.
"The development of The Players' Club (which offers free greens fees, free access to clinics and daily access to range facilities) in 2015 has been a tremendous success at Rancocas. Our main objective with this program is to get golfers to play more golf, practice and enjoy accessing the facility at an affordable price," says head professional Wally Tittelmayer.
Scotland Run Golf Club
What's new: Scotland Run just finished up a complete renovation of all greenside and fairway bunkers on the course, nearly 100 in total. This spring they also opened the Chester J. Ottinger Conservatory, a new cocktail room off the Grand Ballroom that overlooks the course. Seating in the main bar has been more than doubled as well.
"Built in and around an old sand quarry, Scot- land Run offers a distinctive blend of wooded, quarry and links-style holes. The most unique characteristics include expansive waste areas and an imposing display of cliffs not normally found in Southern New Jersey," according to PGA pro and general manager Nick Borro.
White Oaks Country Club
What's new: The clubhouse is getting a makeover and during the off-season the majority of the bunkers were renovated.
"Our signature hole is the par 4, 9th. A great drive is important to set up the second shot, especially if you are playing to the lower green on the right. The approach shot to the green on the left is pretty straightforward and plays to the yardage. The approach shot to the green on the right is more difficult and plays a little shorter. Both greens slope back to front and the green to the right requires 100 percent carry over the pond," offers head professional Chris Hutchinson.
Woodcrest Country Club
What's new: In addition to some tree work and bunkering, Woodcrest is also announcing a full schedule of social events for the season that includes live entertainment every Friday evening on the patio.
"Built in 1929 by William Flynn, [Woodcrest] is one of the true traditional golf courses," says Bill Torlucci, director of golf. "Flynn was the first superintendent at Merion Golf Club, so you'll find some of the nuances of Merion here. The green complexes and bunker complexes are traditional, very subtle and the green speeds during the summer are usually between 11 and 13 on the stimpmeter."
Published (and copyrighted) in South Jersey Magazine, Volume 14, Issue 1 (April, 2017).
For more info on South Jersey Magazine, click here.
To subscribe to South Jersey Magazine, click here.
To advertise in South Jersey Magazine, click here.