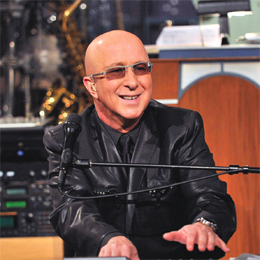 Getting His Groove Back
Paul Shaffer was depressed. His enviable dream job of serving as David Letterman's sidekick and thus forming the most iconic 1-2 comedic punch on late-night television since Johnny Carson and Ed McMahon was over. And while his good friend and former boss had taken advantage of retirement to grow a grizzly beard and slide out of public view, Shaffer was desperate to fill the void. He turned to his other good friend all these years, the piano, and started working on a new album, his first in 24 years.
"Coming off [The Late Show], I mean how are you going to top that experience?" asks Shaffer. "Initially, I said my work is done, that was great, let me slow down. That's when I got depressed. As soon as I started to work on the record it was clear to me that I needed to keep playing the piano. It was laid out in front of me, you don't want to slow down, it's not in your nature."
Long before Shaffer was ad-libbing his way through Letterman's shtick, he was a studio session musician from Canada who was drawn to the bright lights of New York City. Thanks to the relationships he formed with many comedians from the likes of Martin Short and Gilda Radner, he found his way to the television world almost by happenstance.
Over the course of his career, Shaffer has tickled his keys of ivory and ebony alongside some of music's biggest names. He was a one-time member of the Saturday Night Live house band. Since 1986, he has served as the musical director and producer of the Rock & Roll Hall of Fame induction ceremony. He co-wrote "It's Raining Men." He helped turn the Blues Brothers from a sketch on SNL to a full-fledged group.
Now, he's released Paul Shaffer & TheWorld's Most Dangerous Band, an album that features an eclectic list of guest collaborators like Dion and Jenny Lewis to Valerie Simpson and longtime pal Bill Murray. And he will be hitting the road for the first time in his career, reuniting his backing band for a string of dates that includes a stop at the Borgata on April 8. We spoke to Shaffer during a break in preparation for the tour to discuss the new music, his relationship with Letterman and to find out if there's anyone he hasn't worked with yet.
SOUTH JERSEY MAGAZINE: You just released a new album, your first in some time. How excited are you about that, and what can fans expect to hear?
PAUL SHAFFER: I'm very excited about it because the record is a lot of fun to listen to. I got the old band, The World's Most Dangerous Band and we are back together after a hiatus. This is the band that was in the trenches with me all those years. We have guest artists like Shaggy, who did a brilliant dancehall treatment over a classic '60s instrumental ... there's Jenny Lewis, Bill Murray …we had a lot of fun doing it and it sounds that way.
SJM: And you're going on tour, what are you looking forward to the most?
PS: Being in a theater with an audience and trying to entertain them, that is what this business is about. You talk about the legends: The Springsteens, the U2s; they know how to entertain just like Frank Sinatra did in his day. I can't wait to interact with an audience. This is the first time I'm getting a crack at it.
SJM: What was it like working with David Letterman for so long? What made it work so well between you two do you think?
PS: His generosity and spirit, and I realize that more and more as our friendship has continued since the show has ended. I was a person he went on camera with every day. There were no kinks in our relationship. If I screwed up and I apologized, he would say there was no need. The only time he would correct my performance would be live on the air. [The show] lasted so long and he made the show so interesting by making it different every night. It really was kind of a dream job.
SJM: You mentioned some of the unique collaborators you have on the record, how did they come about?
PS: They weren't exactly clamoring! It was mostly me and my producer; we put together some songs that would be appropriate for an album and I have a special relationship with everyone I asked. Bill I knew before Saturday Night Live, we were doing things for The National Lampoon Radio Hour in the '70s. Valerie Simpson, besides being this queen of soul, she used to do [studio] sessions [similar to what] I was doing and we bonded back then. Same with Dion. And Jenny Lewis is a new friend I met through Bill. We did his Christmas special together. Shaggy was just the perfect guy to ask. All in all, it was just a pleasant experience.
SJM: You've worked with so many tremendous artists over the years, is there anyone left on your wish list?
PS: Well, I missed Elvis, I missed Sinatra, but otherwise, I did pretty well. I used to say Aretha [Franklin] would be on that list, then I got to play with her a number of times and produced "Respect" for the Blues Brothers 2000 soundtrack.
SJM: Television was not something that you set out to pursue in your career, but do you think you're better off because of it happening that way or do you still wonder what may have transpired had you just stuck to the music business?
PS: It may not have been meant to be, I sort of gravitated there. Events conspired to bring me to television. I still love— and you can see it on YouTube—Shindig, the greatest rock 'n' roll TV show when I was 14 and watching in Canada. On Letterman, I got to do numbers like they did on Shindig.
SJM: What kind of synergy exists between music and comedy? Is it a shared bond of being in front of people and performing, keeping them entertained, etc.?
PS: Maybe what is shared is the timing, the sense of timing that both of these disciplines employ. It's musical timing for both ... I've had the honor to do both and I've always found if you could time your line to the other people and the audience, it's a musical experience.
SJM: If you could've written any song or been a part of any band, what or who would you choose?
PS: What an interesting question. Certainly, if I could have written any song ... well my favorite song of the rock 'n' roll era is "My Girl" by The Temptations. Imagine writing that one, and it was Smokey Robinson who wrote it. And The Funk Brothers, cutting all those Motown records, that would have been a band I would have liked [to be a member of ].
SJM: So you have the new album, the tour, what else is on the horizon for you?
PS: After that it's summertime, so I'll get a tan but do it safely. I've never had a plan, but I'll keep playing the piano.
Published (and copyrighted) in South Jersey Magazine, Volume 14, Issue 1 (April, 2017).
For more info on South Jersey Magazine, click here.
To subscribe to South Jersey Magazine, click here.
To advertise in South Jersey Magazine, click here.