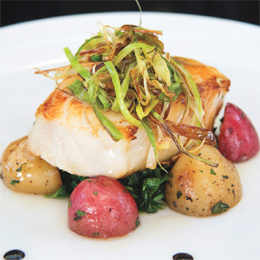 A Year of Yum
Here at South Jersey Magazine, we eat well; really well. Our regularly scheduled Palate reviews take us to some of the best new restaurants and most beloved, established eateries our area has to offer. And while plenty of dishes have left us with happy hearts and full bellies, there are always those occasional dishes that stick in our minds all year long.
These 12 dishes—listed chronologically, based on the time we visited—represent a full year of extraordinary eating: Plates that are worth making a reservation for and seeking out, whether they be in your backyard or over the river and through the woods. These perfect bites serve as our nod to an- other wonderful year of dynamic dining. With meals this good, we can't wait to see what 2017 has in store.
BUTTER POACHED LOBSTER TAILS
Fleming's Prime Steakhouse, Marlton
Visited: January 2016
Trust me, we know that something as indulgent as a lobster tail may seem like a cop-out. But Fleming's plate of two North Atlantic lobster tails was poached to perfection, cooked in butter without becoming too oily or salty and served in their shell only to be de-shelled tableside and topped with more butter and lemon. There's something to be said about flawless preparation, an attention to presentation and a confident, no-frills finish
PAN-SEARED CHILEAN SEA BASS
Caffe Aldo Lamberti, Cherry Hill
Visited: April 2016
When visiting Caffe Aldo Lamberti, we usually opt for the unique and fresh assortment of seasonal fish they bring in year-round, but this menu regular proved that there really is no disappointing seafood coming out of the talented kitchen. A massive filet of white fish was seared and served with a citrus, leek and wine sauce that brightened up the fish while adding just the right amount of fat from the butter.
LAMB CHETTINAD
Tiffin Indian Cuisine, Voorhees
Visited: April 2016
Our neighborhood spice lovers steered us toward this plate, but don't worry; Tiffin customizes each curry to the spice level of your choosing. Large, meaty chunks of lamb leg transformed the brown sauce they were swimming in, creating a savory and sweet balance with the help of vibrant spices like dried fennel seed and tamarind, all finished with a scoop of white basmati rice.
CEVICHE TRIO
El Sitio, Collingswood
Visited: June 2016
We were feeling the spirit of the Rio de Janeiro Olympics this summer, and El Sitio's South American-inspired ceviche only helped get us more excited. The appetizer comes with three varieties: a Peruvian blend with white fish, corn and cubed sweet potato, tossed in a bright and tangy lemon sauce; a shrimp ceviche with chopped shrimp, rich tomato sauce and deep fried, crispy corn kernels; and the tropical ceviche, which marries the shrimp and fish from the first two with calamari, mango and creamy avocado in a zesty lime marinade.
PAPPARDELLE CON RAGU DI CINGHIALE
ITA101, Medford
Visited: June 2016
ITA101's dishes were all fabulous, and stayed with us so much that we named it Best New Restaurant for 2016 in our annual Best of the Best issue this past summer. This particular ragu came complete with handmade pappardelle pasta, tossed in a slow-cooked sauce with boar meat that added a lean and slightly gamey touch, transforming the pasta into a rustic-but-elegant plate.
PAN-STEAMED MUSSELS
Sanook Thai Cuisine, Haddonfield
Visited: July 2016
When diners envision steamed mussels they typically picture a huge pot of mini morsels, served in the traditional Italian red or white sauces. Sanook turned this perception on its head, plating six monstrous mussels quite beautifully atop a sauté of chopped onions, sweet Thai basil, scallions and peppers swimming in a bright yellow, creamy tamarind curry. It was more than just a broth for savoring; this was a true, cohesive plate that we found both unique and admirable.
RIBEYE
Chubby's 1 1⁄2 Hearth, Gloucester City
Visited: August 2016
The return of the Chubby's 1 1⁄2 Hearth name to South Jersey had everyone we knew excited and ready for some steak. The new owners—not affiliated with previous management—added a bit of a modern twist to the setting, but played it close to the original when it came to steaks. Their ribeye wasn't just one of the best steaks we had this year, it was one of the best steaks we've had in South Jersey: prepared thin-cut and seared quickly, so the inside wasn't overcooked and the outside was crackling. A stack of crispy onion rings and a slathering of rich, onion gravy weren't even necessary, but added another bit of texture and flavor that were equally as unforgettable.
FILET MIGNON
Giumarello's, Haddon Township
Visited: August 2016
This perfectly cooked, thick-cut filet mignon was elevated with the help of perfect seasoning and the toppings you can add to it. In our case, we finished with the Full Monty, adding chopped mushrooms, caramelized onions and a heaping pile of crumbled gorgonzola cheese. The cheese, mushrooms and onions ensured that no bite was ever boring or one-note, and the addition of a side of veggies and layered dauphinoise potatoes were the perfect finishing touches.
SEAFOOD MANICOTTI
Toscana, Cherry Hill
Visited: September 2016
Sometimes the best dishes are also the most indulgent, like this pasta dish that packs on the flavor and a few extra worthwhile calories. House-made pasta was filled with a combination of fresh shrimp, scallops and lump crab meat, all of which were tossed in ricotta cheese before being baked in a besciamella cream sauce. The whole dish was a delicate balancing act of creamy, gooey and rich flavors.
WHITE BARBECUE-GRILLED HALF-CHICKEN
Cooper House, Pennsauken
Visited: September 2016
The Cooper River's brand-new and long-awaited eatery was another must-visit on our list this year, and along with impressive cocktails and desserts, the entrée of grilled chicken in a white, mayonnaise-based sauce proved that the wait was well worth it. The chicken was hit with just enough heat to get a bit of char on its exterior, which vibed with the heavier mayonnaise and vinegar sauce it was coated in. The sides of beer-braised collards and black-eyed peas and a slice of crispy fried spoon bread transported us to the tastes and feels of the South.
BBQ BRISKET PLATE
Robin's Nest, Mount Holly
Visited: October 2016
This brisket isn't the traditional open flame, outdoor grill style you may be familiar with. Instead, chef-owner Robin Winzinger slow-stews her brisket in barbecue sauce, slicing the tender meat and serving it over a pile of buttery garlic mashed potatoes. The pool of sauce turned the plate into more of a rich, hearty and sinfully flavorful stew, with brisket meat that crumbled at the touch of a fork and some of the best mashed potatoes you'll find in the area.
SCALLOPS MARINARA
Chianti Ristorante, Mullica Hill
Visited: October 2016
Another newcomer, the family behind Tarantella Ristorante in Medford took Chianti as an opportunity to create a new menu that established them as a family-friendly eatery to watch in Gloucester County. This simple plate takes an abundance of diver scallops, lightly sautés them and serves them on a mound of al dente linguine, all tossed in a bright and sweet marinara sauce with burst grape tomatoes. The marinara sauce itself—which makes an appearance on several of the restaurant's dishes—is worth tasting alone, as it stands as proof of one classic family recipe perfected with decades of care.
Published (and copyrighted) in South Jersey Magazine, Volume 13, Issue 10 (January, 2017).
For more info on South Jersey Magazine, click here.
To subscribe to South Jersey Magazine, click here.
To advertise in South Jersey Magazine, click here.