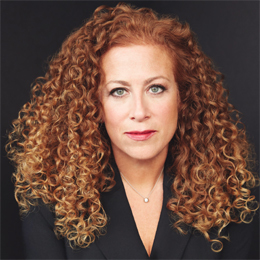 More Than Words
Jodi Picoult simply cannot imagine running out of stories to tell. Each new idea finds its way into an already overstuffed box she keeps at her home in an idyllic tract of New Hampshire, just waiting to be fleshed out and shaped into a bestseller, one well-crafted sentence, and one richly drawn character, at a time. Her latest good idea is Small Great Things, a novel in which Picoult tackles some of the thorniest and most complex issues facing modern America—namely, racial equality, prejudice and social justice. The book's title, which Picoult did not choose herself, suggests a quote attributed to Martin Luther King Jr.: "If I cannot do great things, I can do small things in a great way."
"I thought [the title] was such a beautiful sentiment for the book," says Picoult, a graduate of Princeton University, class of 1987. "Although racism is institutionalized and systemic, it's contributed to and dismantled with individual acts. I think people tend to forget that."
Picoult has never shied away from diving headfirst into controversial subject matter. In her more than 20 previously published books, she has touched on everything from suicide and gun violence to child abuse and the death penalty. Even though she researches each book methodically, even exhaustively, she says Small Great Things— "the most difficult book I've written," as she calls it—stands in a class by itself. She wrote the book to entertain, of course, but also to challenge readers and contribute to a delicate conversation many people prefer not to have.
Aside from dreaming up future bestsellers, Picoult maintains a packed schedule. She is currently doing the "back and forth" from her home in New Hampshire to New York City, where she has been working with a team to adapt Between the Lines—the novel she penned with her daughter, Samantha van Leer—into a Broadway musical. Farther-afield travel was a part of her life and last year, she crisscrossed the country—Australia, Canada and the U.K., too—to promote Small Great Things.
When we caught up with Picoult, she talked about everything from inequality to her family to the less than modest bustier worn by the iconic DC Comics character, Wonder Woman, whose comic book Picoult penned for a brief run.
Q&A
Small Great Things certainly seems timely considering the headlines and a lot of the noise we heard surrounding the presidential election. What made issues of race an interesting terri- tory for you to plumb?
When I write, I'm not looking at taking anything from the headlines. It usually begins with something I am concerned or worried about. Writing about it is my way of thrashing through so I can understand it. Twenty years ago, I started a novel [about race and prejudice] and wound up abandoning it because I didn't feel as if I had the right to write about it because I was not part of the oppressed group. ... I write all the time in the point of view of a being I'm not. It's what fiction writers do. Race is different, and racism is different. We often don't talk about it at all.
Your books touch on a lot of delicate subjects—suicide, child abuse, gun violence, etc.—in other words, the worst of people. How much research do you do before sitting down to the blank screen?
I'm a research junkie. I never make things up. In this case it was even more critical because it gets back to the issue of who has the right to write. With the effects of racism, that's not my story to tell, so I couldn't illuminate it unless I had a character of color. That would have been incredibly insensitive of me. So I went to my sources, including social justice workshops, and learned a lot from social justice educators. ... Everything Ruth—my main character [in Small Great Things]—became was because of these women, because of their lives and their experiences.
I'm not a social justice educator, but what I would like to do is get people to question themselves and their beliefs. Most people are not skinheads, but you could ship every skinhead off to Mars and still have racism in the world. Through fiction, I wanted to try to give people a way to start talking about this. One of the main things I took away from my research is that there are headwinds and tailwinds [of racism]. It's easy to see the headwinds, but it's a lot harder to see the tailwinds. There are opportunities in the world designed to make us succeed, but people of color are not always granted the same opportunity. It's really important to remember that there is a big difference between equal and equitable. For a lot of people, the American dream is not so dreamy.
For all those reasons, I really hope the book ... causes a sea change among white readers by encouraging them to look at their own implicit biases. It could be as simple as asking yourself: What was the last book I read? How many black authors have I read as opposed to white authors? If the answer is not equal, why is that? The easiest way to open up your world is to be exposed to voices that are rich and full and different from our own.
For a lot of your characters who endure horrible tragedies, family gets them through it or at least helps them cope. Did your family provide the model for that kind of love and support?
I definitely think so. They were terrific about me wanting to be a writer. They are fantastic people, but they're also human. Again, to go back to the research I did for this book, I had to rethink my childhood. There are things I heard my parents say I never would have considered racist, but now I recognize [those things] as pretty dang racist. It was incredibly eye opening.
I think a lot of people would be surprised to know that you wrote the comic book Wonder Woman for a time. Did you have to do much research in terms of style and tim- ing, or was it a fairly natural transition from novels to comic books?
It was a real honor to be asked. I was the second woman to be asked [to write the character] in Wonder Woman's 40- year history. I had grown up reading comic books, but I was more of a fan of Marvel because I thought they were more interesting. When DC called, my first instinct was to say no because I just didn't have time. Then my kids said, "Mom, you have to write Wonder Woman."
For me, it was a great learning experience in terms of pushing boundaries. I had never worked collaboratively with an editor, an inker and a penciller before, so it was unique for me. Also, it was incredibly hard to put my fingerprint on the character, with a lot of readers not wanting her to change. My first question was: "Can this woman not get straps on her bustier? She can't fight crime that way." The answer was absolutely not, but she did wind up getting a jacket.
As a woman, there were two things I thought would make Wonder Woman more relatable: She is not human but loves humans so much, so I wanted to explore that idea of being on the outside looking in, being part of the group but knowing she's never going to be one of them; and another is that there is no woman on earth who doesn't have issues with her mom, so we developed a whole story line around that idea.
Published (and copyrighted) in South Jersey Magazine, Volume 13, Issue 10 (January, 2017).
For more info on South Jersey Magazine, click here.
To subscribe to South Jersey Magazine, click here.
To advertise in South Jersey Magazine, click here.