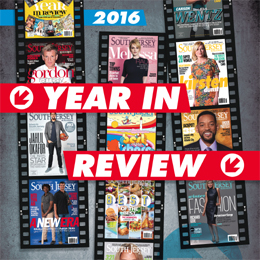 2016 Year in Review
What an amazing year. From the stars of the sports and entertainment worlds who graced several of our covers to the pointed stories on subjects that struck a chord with our readers, every month of 2016 brought new excitement with the arrival of each issue. We ate our way across South Jersey in search of the best food and revealed the doctors, dentists, attorneys and more you need to keep in mind when the time arises. So, take a trip with us back in time as we revisit the year that was. We hope you had as much fun as we did.
REMEMBER THE TIME
A look at some of the events that made headlines around South Jersey in 2016.
Actress Jane Seymour visited Pitman in March to personally donate $5,000 to Angels of God Clothing Closet, a nonprofit that allows referred clients to shop for clothes at no cost. The organization and founder Katelyn Darrow were recognized by Seymour's Celebrating Open Hearts Contest, which honors those who show philanthropic spirit.
After nearly a week-long manhunt in May, an inmate who escaped from Ancora was apprehended near the Garden State Parkway in Ocean County.
Marlton native Christina Grimmie, a star contestant on The Voice, was shot and killed following a concert in Orlando in June.
One lucky winner bought a Pick-6 lottery ticket from Buck Road Mini-Mart in Gloucester Conty that hit for $8.3 million in July.
Several South Jersey athletes made the trek to Rio for the Summer Olympics in August. Moorestown native Lauren Schmetterling helped the U.S. women's eight rowing team bring home gold. Westampton's Kelsi Worrell was part of the women's 4X100 relay swim team that captured gold. And though wrestler Jordan Burroughs, a former gold medalist, failed to medal in Rio, his alma mater Winslow Township High School renamed their gymnasium in his honor.
In late September the Philadelphia 76ers officially unveiled their new training complex in the heart of Camden.
Rowan alumni Jean and Ric Edelman pledged $25 million in October to expand and preserve the Rowan University Fossil Park in Mantua. It was the largest gift by alumni in the school's history.
Jon Bon Jovi filmed a music video in October inside Camden High School. Bon Jovi has Camden ties, having received an honorary degree from Rutgers University—Camden for the work he has done with various nonprofits in the city.
In November, letters a woman wrote to her husband while he was serving in World War II were discovered in a Medford home.
THEY SAID IT
Memorable quotes from our best interviews in 2016.
"The main, main character of the book is Portia Kane and she grows up across from the Acme in Westmont, a place where my mom took me many times shopping as a kid. And I grew up in Oaklyn, and I could walk from Portia's house to my house in Oaklyn. ... Jumping into Portia's mind was [also] very much like going home. [She's] the type of person with whom I would have grown up with and I could relate to. Even just the silly things, like her being obsessed with '80s rock metal—that's what was around in South Jersey when you grew up in the '80s and you listened to Guns N' Roses, Whitesnake and Motley Crue."
—Matthew Quick, best-selling author and Oaklyn native
"I remember back in the mid-'80s, Axl Rose came to one of our shows and he hung out with us. He said his favorite album was Whole Oats, the first album we did in 1972. That was a very folky, quiet, acoustic album, and here's this guy who was the heavy metal god at the moment telling us that his favorite album was this folky thing we made on acoustic guitars. It's always surprising what people like and you never know what appeals to people. We just made the music we thought was the best music we could make and it's amazing what people pick up on."
—John Oates, Hall & Oates
"I feel like I don't actually write great sing-along [songs]. I went to see [Bruce] Springsteen at Madison Square Garden and everyone was singing along to his stuff and I found myself wishing I would have written more like that."
—Adam Duritz, Counting Crows lead singer
"I've been up and down the Jersey Shore many times. The west and east coast of Scotland are just like the Jersey Shore and we grew up going to similar seasonal seashore resorts there. For me, [the Jersey Shore] is far more akin to my upbringing than the beach in Miami or L.A."
—Gordon Ramsay, celebrity chef
"I love jumping—I've always jumped into things with both feet whether it was an Aerosmith album or this thing. ... And I love that place. It's scary. It was risky. It was, 'Let's just do it.' And I started writing with people and within two months I got five of some of the greatest songs, I think, I've ever written or I've ever been part of in writing."
—Steven Tyler, Aerosmith lead singer
"It affected everything. It was just very quick and unexpected. I was just a 9-year-old kid, living every day and playing basketball on the streets and at school. I was home one day watching TV with [my mom] and my older sister. That's when [my mom] passed. Being there and thinking if I would have called 9-1-1 faster ... me and my sister blamed ourselves for a while."
—Jahlil Okafor, Philadelphia 76er
"My film decisions are mostly mine, but I'm very careful about not being away from my son for very long. So, if I have to be away for long I talk to him about it, and if there is a problem, I don't take the project. I have walked away. My family is clearly more important than anything else in my life."
—Richard Gere, actor
"I still have a lot of family in Philadelphia. I know that my roots make me who I am. ... What do I love most about Philly? That's easy to answer: everything. Philly is who I am. It is my heart and my home, and it always will be."
—Will Smith, actor
"I know the arts change lives, period. It certainly changed mine. I felt sort of singular in my love for musical theater. Now there is a theater with my name on it in my hometown. That comes with responsibilities of inspiring young people. And then of course, they inspire me. It's my legacy and my greatest pleasure to see the growth."
—Kristin Chenoweth, actress and Broadway performer
BIG WINNERS
Our contest winners throughout 2016.
Published (and copyrighted) in South Jersey Magazine, Volume 13, Issue 10 (January, 2017).
For more info on South Jersey Magazine, click here.
To subscribe to South Jersey Magazine, click here.
To advertise in South Jersey Magazine, click here.