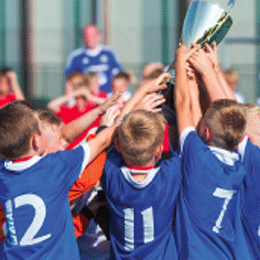 Eyes on the Prize
There's a familiar scene that plays out every weekend across South Jersey's countless ball fields and gymnasiums. Parents sitting on chairs or in the bleachers, cup of coffee in hand, cheering on their little ones as games come down to the wire.
It's been said that youth sports are important because they teach kids valuable lessons they can take forward in life. Teamwork. Organization. Leadership. How to win with class and how to lose with dignity, to name a few.
But what if everyone's a winner? How can they enjoy the taste of victory without also knowing the agony of defeat?
In this day and age, youth sport leagues have changed, and now both teams are being praise for merely taking part in the contest.
On game shows they are called consolation prizes or parting gifts; in youth sports they are called participation trophies.
While the idea has been a topic of contention between coaches, respective associations' boards of directors and parents, it has also made headlines thanks to pro football player James Harrison of the Pittsburgh Steelers. Just last year, Harrison sparked controversy when he took to Instagram announcing he returned his kids' participation trophies since they didn't "earn" them. Former NFL quarterback Kurt Warner, who will be inducted into the Hall of Fame this year, sided with Harrison, stating that kids don't get to pass their classes just for attending.
So where do local South Jersey athletic organizations stand? Currently, they're straddling a line that sits right between the pros and cons of handing out participation trophies, and parents either share their philosophy or are against them. However, it all comes down to the kids and their drive to continue playing sports. And believe it or not, the trophies have a small part in it.
POSITIVE REINFORCEMENT
While some associations and recreational organizations have either done away with the trophies in order to keep costs down or put a hard stop at what age kids receive trophies, there have been continual conversations amongst board members on whether the process works.
In an effort to solve the debate, most clubs have an age restriction with a cap on players under the age of 8. Once a player enters a traveling division or competes with other towns in playoffs or championships, that's when most organizations cease distributing participation trophies.
For the Cherry Hill Youth Athletic Association (CHYAA), which only offers baseball and softball, they have instituted that rule in order to keep the heated argument over participation trophies at bay. "I would say there [comes] an age where it does become about hard work and winning, and then there is [an age that it's] just about learning the game and practicing great sportsmanship," says Dan Market, CHYAA's president. "There has to be an age where that happens and sports are competitive."
The idea of "winning" is different to everyone, however, and as Market explains, that could just be showing up to learn how to play. "They come to practice every day, they show up to play or they're learning the game of baseball, that's winning in some people's eyes."
Drawing that age line rings true for other local organizations spanning most counties in the South Jersey area. Dave Ciliberti, baseball director and treasurer of the Indian Mills Athletic Association, echoes Market's sentiments, explaining the organization only hands out participation trophies in youth tee ball and other baseball teams up to the age of 7. "We just give it to the younger kids, who it's probably their first time getting any sort of award. It's just to get them psyched to keep on playing.
"If they enjoyed the experience and they're happy with it and they'll want to come back … anything we can do to keep kids coming back, it would be something we'd be interested in," Ciliberti adds.
That mentality also syncs up with Gibbsboro-Voorhees Athletic Association Youth Baseball, where president and player agent, Scott H. Brandt, Esq., explains participation trophies are only handed out to their youngest levels in pre-K to second grade. "Our goal is to make sure the kids have fun and enjoy the experience of playing baseball and I think giving 5- and 6-year-olds trophies helps us achieve that goal," he explains.
Brandt is quick to add that on a personal level, he doesn't view participation trophies as a necessity, however, he—like many of the aforementioned heads of local organizations—doesn't see the harm in handing them out toyounger kids.
"As a board member, if giving a trophy to a 5-year-old enhances [their] baseball experience, then I don't see any harm in giving that kid a trophy," he explains. "We want kids to have good memories about playing youth sports. I'm not sure how giving a young child hurts that experience."
FALSE HOPE
The positive to all of this is that most organizations haven't received much parental backlash on participation trophies based on age restrictions, however, there are some associations that are wary about the trophies.
Take Seneca Youth Football for instance. While vice president Tom Besser agrees that the awards aren't an issue when it comes to earliest levels of sports, he feels the next level up—especially in football—should be stripped of that privilege.
"Our 60-pound level is mostly an instructional level. There [are] no playoffs, no championship, they aren't even supposed to keep score. Right after that level, our 85 pounds on up is a high level of competition; playoffs and championships. From there on out we want these kids to succeed, earn that trophy," he explains. "We want them to have an understanding that life can be difficult and life is not always fair and you are not entitled—you must achieve."
Mount Laurel United Soccer Association's president, Adam Friedman, is also hesitant about these participation trophies and what they're teaching players. "If we create a society where everyone is rewarded just for participating, I don't know if that creates a strong competitive culture. ... I don't know if that is the right expectation we should be building into our kids. Part of that is a club view and some part of it is a parenting view, but if we look at it and try to decide what's best for the youth and their development and expectations as they grow older, that's kind of why and what we're looking at."
With that said, Friedman explains his organization has moved away from trophies and has since distributed medals, but they've been toiling with the idea of forgoing them all together. Instead, they'd invest in their youth players by handing out a soccer ball at the end of the season, so the kids can continue practicing at home.
"We're looking at ways to try to encourage participation and learning how to have fun in soccer, and giving out a Size One soccer ball, which would probably cost about the same, maybe more than a trophy," he explains. "Some people would appreciate it and [we'd] get a bit of backlash from others. If we do that, we would have to be sure to explain to parents that that's happening up front so kids have the right expectations."
Indian Mills' Ciliberti also notes that taking a side on the matter is tough—especially when the lines of right and wrong are so blurry. "It's good for the younger kids and it's bad for the older kids," he says. "That's why I don't do it for the older kids, because they're getting praised for doing nothing."
Friedman agrees—especially when it comes down to deciding on the age cap. "We live in the society now that that's the balance. ... It's where kids are just doing it to get a trophy or they expect to get a trophy regardless of how they performed, which is why we haven't walked away from it. At what age is the right age to do that?
"You want to encourage sports, you want to encourage participation and having fun and then at some point, there needs to be a balance of when trophies become earned, what's the right mixture and are all sports the same?" he says.
PARENTAL POINT-OF-VIEW
While most directors and coaches in the area's youth athletic organizations have a lot to say on the matter, parents have a more weighted say on participation trophies.
West Deptford's Pamela Duncan, a mother of two athletically active kids, stands on the side of anti-participation trophies and believes it's inappropriate at any age.
"You should have to work hard and accomplish something to receive a trophy. When they get older, they are going to expect to get a trophy for doing nothing. It actually hurts the kids in the long run. No age is right," she vouches.
Duncan also brings up a good point on the debate: Participation trophies are a thing of the new generation. They didn't exist way back when.
Ciliberti—who is also a father to two active children—addresses that by saying, "Once you get something started and you take it away, it's probably more hassle than it's worth. Buying a [trophy for] $1.25 for each kid isn't such a big thing because I think you'll get a lot more flack if it stopped."
As for the age restriction, some parents are also unsure of where they stand.
"I do think they are fine for younger ages (under 7) as a way to make them excited about sports," says Cherry Hill's Debbie Quarry, who is a mother of two in her own right.
"I think it's important for children to learn that they will not always win a trophy and when they don't win, they need to be a good sport about it," she says. "It's a good life lesson for the future when they need to work hard to make things happen in their lives."
Other parents, like Gloucester Township's mother of three, Justine McGinley, say players need to learn good sportsmanship and that doesn't come in the shape of a trophy. "Sportsmanship happens on the field when kids play fair. I see sportsmanship happening when my kids stop play if another teammate or opponent gets hurt. I see sportsmanship when parents cheer on both teams for scoring goals or making great plays."
As for McGinley's stance on trophies, she too is stuck in the middle. "I do not disapprove of them, however, I do not feel that they are necessary. My husband and I initially registered our kids for sports to develop a sense of teamwork, to be more active and to be able to handle losing and celebrate winning," she says.
West Deptford's William Byrne—who often steps in as a head or assistant coach for his town's youth teams—is also uncertain.
"I know they're young, but they should start to learn they have to earn things and that's the world we live in. It's more competitive every day, unfortunately, but they're allowed to be kids. They should know, if you want to put the work in, you'll get a trophy, if not, then work harder next time."
With parents on opposing sides of their children receiving participation trophies, most explain that their kids eventually learn the difference between these pro forma awards versus the real deal.
"My kids never took it as a sign of any winning achievement as they got older," Jeannette Amodeo, Esq. of Shamong, a mother of two, says. "Maybe that's because of how we treated it in our household. It was just a reminder of that particular season. The trophies are dust collectors and the team photos are still waiting for frames."
The debate can continue to go back and forth between the parents and youth sports organizers as they decide on whether they'll continue the act of handing out participation trophies.
However, at the end of the day, the players themselves will ultimately have to learn that when it comes to sports, they will have to participate to win or lose—with or without a trophy to show for it. And maybe, just maybe, having these trophies is helping them decipher the difference between trying and not trying at all.
Published (and copyrighted) in South Jersey Magazine, Volume 12, Issue 11 (February, 2016).
For more info on South Jersey Magazine, click here.
To subscribe to South Jersey Magazine, click here.
To advertise in South Jersey Magazine, click here.