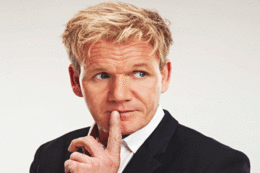 A Taste for Success
To say Gordon Ramsay is a busy man would be putting it lightly. After all, the renowned chef has 30 restaurants in his culinary empire in desirable destinations around the globe from London to Las Vegas. You'll also find him in Italy and in France. Headed to Singapore or Dubai? You'll be able to chow down on his palatable plates there as well. And as of last year, he's found a home in our area with Gordon Ramsay Pub & Grill, a 206-seat dining room at Caesars in Atlantic City.
On this particular day, however, he is in Ohio—Columbus to be exact—where he's filming an upcoming episode of his Fox show Hotel Hell. Oh yeah, he knows something about hotels, too. Long before he ever learned about French cooking techniques or earned his first of many Michelin stars, Ramsay was attending college studying hotel management. It wasn't until his dreams of becoming a professional soccer player were derailed that he began to gain a tremendous love for food and cooking.
Ramsay would go on to train in kitchens headed up by some of the most revered pioneers in the food world and in 1993, took on his first head chef job in London. By the time he was 31 he had opened his first wholly-owned restaurant. Now he inspires the next generation with a mix of culinary know-how and a savvy business mind. To hear him talk about food is intoxicating. He has so much respect for his profession and believes in it so much, he forces you to feel his excitement.
And while food may be Ramsay's true calling, there's no denying he makes for some pretty good television as well. Hotel Hell is the latest primetime show to boost the Scottish-born Ramsay's star power. You'll also find him mentoring home cooks on both MasterChef and Master-Chef Junior and leading professional chefs through a grueling competition on Hell's Kitchen. Formerly, he traveled around the country rescuing flailing restaurants in Kitchen Nightmares and he also is the face of several other shows that air in the U.K. Those shows tend to portray a different, more affable side of Ramsay than the hotheaded, foul-mouthed reputation he seems to play up for Fox and the American audience.
With so much on his plate, so to speak, it's true that Ramsay can't be everywhere at once. But damn him if he doesn't try. He flew into Ohio a few days prior to film the episode of Hotel Hell, but he'll barely stick around long enough for turndown service. Shortly he'll be off to Vegas and Los Angeles to check in with his staffs there before flying home to London for the weekend where he'll spend some much needed family time with his wife and four children. By the time they woke on Monday, he was on a plane headed back to the U.S.
It's a grind that the 49-year-old seems to thrive on, even if it means sometimes going nearly a month before seeing his loved ones. "I love being busy," he readily offers. "This is not a job, it's a passion."
During our engaging conversation, Ramsay talked about balancing his hectic schedule, his role in the glamorization of food and why he not only embraced the opportunity to open shop in a struggling town like A.C., but why he's poised to open up a second restaurant there this year. For a man who is seemingly always on the go, it was probably the closest he comes to slowing down for any given period of time outside of when he sleeps. However, we cannot confirm nor deny that he actually sat still during the interview.
SOUTH JERSEY MAGAZINE: You've been all around the world, how has today's fine dining customer changed over the years, and specifically in the United States?
GORDON RAMSAY: That's a good question really. I think the whole exposure of fine dining has been turned on its head. It's not [high-end] wine cellars and three-inch thick napkins anymore. I've been to Philly, Washington D.C., and Chicago recently and it seems the cutting-edge fine\ dining scene is off the beaten track in isolated areas that have been forgotten about. The restaurants are contemporary without being over the top. The food is the highlight, not $6-7 million [designed spaces].
SJM: As a fan of all your shows, I've especially enjoyed the ones on BBC America such as The F Word and Great Escape. One memorable moment was watching you eat a beating snake's heart in Vietnam. Is there anything you won't try at least once?
GR: It should be an ambition for every chef's palate to never be faced with an ingredient that you don't know what to do with. We need to develop our palates like that. [When I was] living with a tribe in Cambodia eating tarantulas or hunting for amazing king crab on the tip of Norway … you can't buy that type of experience. For me it was about staying away from the tourist attractions to find out what was happening culturally off the radar. That's the most exciting thing for me because I can cultivate those ideas. I hope to bring an F-Word style program to America [in the near future].
SJM: I think your team did a great job of taking the existing space at Caesars and highlighting its amazing features while giving it a completely new look and feel. Can you tell me why you felt Atlantic City was the right place for this concept?
GR: I suppose because no one gave up there. The tenacity and the attitude of the locals is second to none. When I was asked by Caesars if I'd open up in Atlantic City, I immediately said yes. And it's been amazing. It's sad when you see these big buildings empty [around town], but it doesn't stop the city from fighting. I will be opening a second restaurant in Atlantic City and I cannot wait.
SJM: The menu has the pub standards like great burgers and a solid draft list, but you've also incorporated a unique craft cocktail list and given that fine dining touch to the rest of the menu while keeping it approachable for the casual foodie. How important is it to elevate things, even when it's not a white tablecloth, Michelin-star restaurant?
GR: That's a chef's objective; to elevate a gastro pub setting into something more in tune with a destination restaurant. It takes a lot of skill to get it right and the right team on the ground. I'll say it time and time again; I'm only as good as my team.
SJM: During your visits to A.C., have you had the chance to get out and visit any of the other local towns along the Jersey Shore?
GR: Yes, I've been up and down the Jersey Shore many times. The west and east coast of Scotland are just like the Jersey Shore and we grew up going to similar seasonal seashore resorts there. For me, [the Jersey Shore] is far more akin to my upbringing than the beach in Miami or L.A.
SJM: You have two former Hell's Kitchen winners working the kitchen at Caesars, how have they evolved as cooks under your tutelage?
GR: That show is a platform for them. I had a break when I was their age after entering a competition called The National Chef of the Year. I keep it real, Fox runs the show and I run the restaurant. And you get the good and bad side of me, but I only want to make them better because I know that when the competition is over, they need to be a chef and have that gravitas. I have to get them in the best shape ever to enter that world.
SJM: Do you like the term celebrity chef?
GR: No not really, I'm a chef that works on TV. I'm not a TV chef. Even before the shows, I can stand toe to toe with the best chefs of the world. There's a divide between real chefs and celebrity chefs. I know I'm a real chef and I happen to be good at what I'm doing.
SJM: On your shows, when things go wrong you don't pull any punches. For some people, they think you are just this maniacal chef who screams and curses a lot. Is that the biggest misconception about you?
GR: It rubs me the wrong way. There's no B.S. with me, I made that clear since day one. With me you're going to get the real deal. I am one of the few chefs that have the [guts] to be real in front of millions. It's a passion and I made that clear since day one. I am not a two-face who will smile for the camera. It's a hard industry to make it in and the higher I make it, the harder it is.
SJM: On last season of MasterChef Junior you worked closely with a local to our area here, Andrew Zappley of West Deptford. He was pretty impressive on the show, how would you rate his performance?
GR: Andrew did bloody well. He's a talented young man. The guy has passion; he's assertive and isn't scared.
SJM: Are you amazed at the young cooks and how poised they can be—almost more so that some adults?
GR: I've got four kids of my own and all I want is the solution, not problems. [The show] gives them the proper platform for when things hit the fan later on in life. We have time to mentor them and work with them. Give it your best shot and I want to help you make your food even better by dropping in a few ideas, and they are so receptive.
SJM: Your daughter Matilda debuted her own show earlier this year; that had to make you proud.
GR: It's pretty amazing, and not because her dad is Gordon Ramsay, that's B.S. She is a good cook. Out of all the four kids—they all cook—she is naturally good. My job as a father is to teach my son how to respect girls and teach my kids how to go through life with a passion. You can be a vet, a carpenter, whatever you want, just find the passion. I will support you and do whatever I can. Just don't expect to become a chef because I am a chef. My kids know the only help they are going to get from me is maybe help with an apartment.
SJM: You had the chance to consult on the Bradley Cooper film Burnt. Had you done anything like that before and what was the experience like?
GR: No. Everyone thinks acting is easy and it's not. The most important thing I admired about the cast is they were so determined to get it right. Bradley said, "I don't just want you to teach me how to cook, I want to learn how to plate. How can I plate to make it look right?" He was in at 7 a.m., out at midnight, and he'd call me wherever I was and say, "Wow this is incredible." Look at how far food has gone. If you said to me 10 years ago food was going to be on the big screen, I would say never. We struggled to get it on primetime television. I put my head down and kept it real, and there's a big difference from [my shows] and the Food Network or PBS shows. The networks are flooded with food and that is great for American TV.
SJM: You do a lot of work with the Make-a-Wish Foundation and I know along with your wife Tana, you have your own foundation. Can you tell me what giving back means to you?
GR: We're blessed with all healthy kids, and they know they are lucky. When I see letters upon letters from kids who are bedridden with cancer or leukemia, and the only thing that helped through it was Hell's Kitchen and they ask can they meet me and get inside our world, behind the scenes, that's really important for me. That's put a different perspective on my children's faces because they understand how privileged they are. We are all in a position to help others. Make-A-Wish is quite mind-blowing when I see the delight on [the children's] faces and what it does for them. It breaks my heart when I get letters from their parents saying sadly their son and daughter hasn't made it and that visiting Hell's Kitchen was the highlight of their life.
SJM: You've inspired a legion of people from home cooks to chefs in your own kitchens. You have 30 restaurants and six Michelin stars. What do you want your culinary legacy to be?
GR: I'm still building it. We literally just opened in Hong Kong. I'm looking at more in Vegas and Atlantic City. Food is a journey, it's an incredible exciting path when you are faced with ingredients that you touch raw and spend hours prepping them and give individuals two-three minutes of extreme pleasure. Having those lasting impressions, that's pretty unique.
SJM: Between running a culinary empire and juggling a hectic TV and appearance schedule, how often do you get to spend an evening at home with the family?
GR: My first restaurant I never opened on the weekend, I am pretty disciplined in that regard. I don't want to be over helpful; I am not trying to make up for time I'm not spending with them. If you overdo it, they'll bolt. I strike that balance so it's special time not boring time. They have to see the sacrifice to get somewhere in life. We never go longer than three weeks without seeing each other. The job works around me, I don't work around it.
SJM: Do you see yourself slowing down anytime soon?
GR: Peter, please! Someone has to give Bobby Flay a run for the money. What would I do if I didn't have anything to do all day?
Published (and copyrighted) in South Jersey Magazine, Volume 12, Issue 11 (February, 2016).
For more info on South Jersey Magazine, click here.
To subscribe to South Jersey Magazine, click here.
To advertise in South Jersey Magazine, click here.