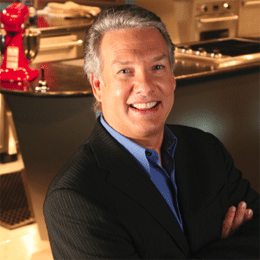 TV Guide
Whether hosting
Double Dare
or producing for Food Network, Marc Summers has carved out an impressive career in television.
Children of the '80s and '90s have an instant connection to Marc Summers' wacky and wild Nickelodeon shows like Double Dare (shot across the river in Philadelphia during its early years) and What Would You Do? Fast forward to more recent times and you may have spotted Summers hosting shows on the Game Show Network and the History Channel, but he's been most recognizable on Food Network programs. He's been a fixture in front of the camera on series like Unwrapped and shown prowess as a producer for a string of successful programs such as Restaurant Impossible, featuring former Absecon resident Robert Irvine, currently filming its 13th season. The latter has filmed a few episodes inside South Jersey eateries.
These days, Summers splits his time between his home in Philadelphia, Food Network offices in New York City and a variety of live performances across the country. We caught up with him to hear about his career evolution, life at home and why he's no stranger to South Jersey.
Transitioning from TV host to producer…
It wasn't my choice. Here's the thing about television: The more time you're there, the less they want you. They want youth. I'm 64 years old and I might be the oldest person on the [Food Network]. I started there 15 years ago and so they love what I do as a producer. I've been producing successful shows for a long time. It's sort of the nature of the business. I was 34 when I started on television and I'm 64 now. At this point I'm sort of a part of pop culture.
Current projects…
We start shooting (in January) Season 13 on Restaurant Impossible, and at this point I'm sort of a chameleon on the Food Network. I'm working on Restaurant Impossible and I've got a part coming up on Cutthroat Kitchen; they still throw me in front of the camera sometimes. I've been there for 15 years and before that I was at Nickelodeon for eight; I never thought I'd be somewhere as long—and even longer— than that again.
Finding a stage presence…
I've always liked live performing, and live TV. I don't like rehearsing, taking multiple shots, over and over again. There [are] no do-overs in live performances. I started as a magician and worked the Magic Castle in L.A. for many years and I still like getting back on stage. I did Jesus Christ Superstar in Chicago this past year. I've known I wanted to get back into live performing, [and] I'm in the middle of launching a one-man show. We open in April; it's called The Life and Slimes of Marc Summers and it's opening in Bloomington, Indiana. The game plan is to launch it off-Broadway. I just hope there's an audience that wants to see this and there seems to be. It's a whole new world for me.
The Double Dare phenomenon…
We put Nickelodeon on the map with Double Dare. All of the sudden there were Double Dare suspenders, shoelaces, pencils, erasers; anything you could put a logo on we did.
Finding a home at Food Network…
I started in 1999. I went in to pitch a show that I just wanted to produce, but the execs wanted me to host. I passed over it, and was hosting a show on Lifetime which got cancelled. The woman at Lifetime became head of programming at Food Network so I reached out to her and she offered me a show called It's a Surprise. The surprise was nobody was watching. We did, like, 26 of those, and in the middle of those we did specials called Unwrapped and turned it into series that they asked me to host.
Being part of a culinary revival…
Emeril [Lagasse] launched the place; he set it on fire. So while Emeril was doing great, Unwrapped was the No. 1 show. It was me, Emeril and Bobby Flay. And one thing you can talk about at Food Network is continuity. Familiar faces are there and the audience is very particular about who they want to watch, but as it becomes bigger that is also changing. In the past audiences didn't want to watch celebrities. Now people want to watch Trisha Yearwood and Valerie Bertinelli. It's hard to predict but it's all exciting.
Fighting cancer…
It's been five years diagnosed, and I got the all-clear about a year ago, but I do have to continue to check back in every year. But University of Pennsylvania saved my life twice. First was the diagnosis and then when I was in the accident and broke every bone in my face. I was in surgery for many hours and my face was a mess, and based on what [they] did my face looks the same as it did before.
Making this area a second home…
This area is an integral part of my life and my career. I love it. I love walking down the street and [meeting] either someone that was at [Double Dare] when they were a kid—since it was filmed at WHYY studios— or were on it, or knew someone who was on it. Now it's interesting because there's almost as much Food Network as there are Nickelodeon fans. [And] it's still the best culinary scene in the country. I brought my whole family in for the holidays and … every night we're in a restaurant that was better than the night before. I like the people, the town, the restaurants, the atmosphere; as opposed to the craziness of New York City. It's my adopted hometown.
Out and about in South Jersey…
I will be there tonight going to my favorite store, Wegmans. It's funny, when I go over there, I always end up shopping or at the Cheesecake Factory or drive over to where L.L. Bean is and grab P.F. Chang's. I'm a big chain guy at times. I love shopping in South Jersey and it's so easy to rent a car for the day and head over
Published (and copyrighted) in South Jersey Magazine, Volume 12, Issue 11 (February, 2016).
For more info on South Jersey Magazine, click here.
To subscribe to South Jersey Magazine, click here.
To advertise in South Jersey Magazine, click here.