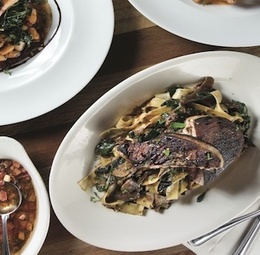 Gold Rush
WHAT MAKES A MEAL UNFORGETTABLE?
We guess it depends on who you ask, but the overriding factors center around top-notch food, service and ambience. They are the keys to differentiating between a good restaurant and a great one. To be certain, there's no shortage of great restaurants in South Jersey, from Italian to Indian to French to farm to table, and we spent the past year dining at all of them. Some are newly discovered; others are tried and true spots that continue to carry the torch for South Jersey fine dining. Collectively, they are 30 restaurants that wow in every sense of the word.
Dream Cuisine Cafe
Cherry Hill
It's not easy to find authentic French cuisine these days, and it's even harder to find it done truly well. Chef Vincent Fanari uses his experiences growing up in Nice to create a French and Mediterranean carte-du-jour that would make Julia Child proud. It includes plenty of fresh greens, perfectly prepared meats and locally caught fish and wines from the local Bellview Winery to match.
Why we love it: Everything here—from the ratatouille to the Nicoise pasta—is positively Provencal.
Must-try dish: A starter of cave-aged raclette cheese imported from France is melted like a fondue and drizzled over top of salty, meaty prosciutto. It's our ultimate guilty pleasure.
Extra bite: Chef Fanari may have gotten his start in the South of France, but he cut his teeth as a young chef in London, cooking at a Michelin star restaurant before coming to the U.S.
Previous mentions: Three-time winner: 2013, 2012, 2011
Allora By Da Soli
Marlton
Our Best New Restaurant for 2015, Allora shows no signs of slowing down. Owned by Mark Berenato, the chef and owner behind fellow Golden Fork winner Da Soli in Haddonfield, Allora continues to put out a new, creative list of Italian plates all served in a modern and clean space with time- less touches. The numerous chicken and veal dishes are noteworthy, but we absolutely love the fresh fish and pasta that Berenato and his team execute so consistently.
Catelli Duo
Voorhees
Tucked away in Voorhees Town Center, Catelli Duo seems to be the full package: a modern, eclectic dining room that features dishes fit to be enjoyed solo or shared amongst friends. Their uno and duo concept gives diners the opportunity to order small, tapas-style plates to sample and share or go big with full entrées for one. And with a sleek bar and even bigger wine list, it's easy to get lost in a menu of possibilities. Be on the lookout for the second location, set to open this winter at the Moorestown Mall in the former Osteria space.
Distrito
Moorestown
Chef Jose Garces' sole South Jersey outpost continues to shine as one of the Moorestown Mall's strongest dining options. From the lunch and happy hour specials—including taco deals, discounted margaritas and their unforgettable guacamole—to a dinner menu that is packed with creative interpretations of classic Mexican dishes, this is a spot that always keeps us coming back for more.
Chophouse
Gibbsboro
Dinner and a view keeps diners returning to this P.J.W. Restaurant Group establishment, thanks to top-quality cuts of beef and a stunning setting over Gibbsboro's Silver Lake. There really is no bad seat in the house, be it at the chef's table where you can experience the hustle and bustle of executive chef Markese Beverly's kitchen while diving into a 28-day, dry-aged sirloin or out on their deck, which sits directly over the water and features its own bar menu and a toasty fireplace.
What customers are saying: "Amazing food, excellent quality, consistently."–Erin Ewasko, via South Jersey Magazine's Facebook
Farm and Fisherman Tavern & Market
Cherry Hill
With a little over two years of service under its belt, chef and co-owner Todd Fuller is providing South Jersey with a farm-to-table, family- friendly setting that's also introducing diners to the food purveyors in their own backyards. Brunch, lunch, dinner, bar bites and even the cocktail and beer list are all inter- changeable and work around the season, partnering with local farmers, fishmongers, brewers and more to create a warm, comfortable and totally unique dining meal.
Why we love it: Not to wax poetic, but the local, seasonal selection is easy to appreciate and long overdue in the Garden State.
Must-try dish: The divinely creamy local burrata is available all year long, but changes up its accompaniments with the season.
Extra bite: Along with a bottle list of over 80 varieties, their craft beer drafts are all locally brewed, with specialty beers coming from Forgotten Boardwalk in Cherry Hill, Cape May Brewing and more.
Previous mentions: One-time winner: 2015
Caffe Aldo Lamberti
Cherry Hill
Super chic and supremely decadent, the Lamberti name has become synonymous with luxury in the area, thanks largely to their 25-year-old Route 70 hot spot. With a steak and seafood menu that is hard to resist— including an annual Florida stone crab special that is brought into the restaurant fresh every day— diners can take their pick amongst a hearty, upscale entrée or house- made pastas. The bar area is equally as sophisticated and a great place for happy hour.
Nunzio Ristorante Rustico
Collingswood
Chef and owner Nunzio Patruno is a constant presence in his Mediterranean dining room, catering to diners still in his chef whites. It's that welcoming atmosphere that has made Nunzio's so well-loved amidst a congested Haddon Avenue, and the expertly prepared menu and attentive service don't hurt either. Be it seafood-heavy pasta plates, hearty grilled meals or classic dishes like meatballs and veal parmigiano, there is something for every taste coming out of this 20-plus-year- old kitchen.
Arugula
Sewell
This Gloucester County staple combines Italian favorites— think mushroom ravioli, spaghetti and mussels in red sauce—with uniquely fresh and unusual ingredients to create dishes that are unlike anything else in South Jersey. Need proof? Look no further than their gnocchi, a traditional potato variety that gets taken to the next level with a slow-cooked short rib ragu, roasted pears and a tangy Gorgonzola fonduta. It's just one of the modern, creative dishes that completely transform your Italian experience. And the always seasonally appropriate menu seems to present something new.
Café Bellavita
Merchantville
Once a pizza shop, this family-owned Italian eatery has evolved its dining space and accompanying fare into something entirely their own. Fresh, Sicilian ingredients like sea urchin, bronzino and whole octopus speckle a menu of all house-made pastas, sauces and plates. The attention to detail and dedication to Sicilian standards does not go unnoticed, as each plate seems more beautiful and flavorful than the next.
Zeppoli
Collingswood
James Beard nominee Joey Baldino's tiny Sicilian restaurant is certainly one of the best restaurants in South Jersey, but chefs across the East Coast also argue that it's one of the best dining rooms in the country. With only 35 seats to its name, Zeppoli is a slow-cooked, artfully crafted eatery, a BYOB that remains comfortable while still presenting an upscale menu. The food remains unprecedented, sticking close to traditional Sicilian ingredients and preparation to create plates that are fresh, indulgent and undoubtedly authentic.
Why we love it: When some of the area's best chefs—including Marc Vetri and Collingswood resident and Top Chef Nick Elmi—can't stop raving about a restaurant, we listen.
Must-try dish: Conglio Pizzaiola, or stewed rabbit, finished with chunky tomatoes, fresh herbs and roasted potatoes.
Extra bite: Baldino has taken more steps to make his eatery more personal and inviting, including refreshing the room with noise insulation paint for a quieter setting.
What customers are saying: "Might be my favorite restaurant anywhere. I've loved all of the food I've had there." –Alex Young, via South Jersey Magazine's Facebook
Previous mentions: Four-time winner: 2015, 2014, 2013, 2012
Estia Greek Taverna
Marlton
Formerly Pietro's Coal Oven Pizzeria, owners Pete and Nick Pashalis and partner John Lois have returned to their Greek roots in fine fashion with Estia. It's a beautiful, clean space with food to match, taking Greek and Mediterranean flavors and enhancing them with quality ingredients and preparations. New to their menu is a prix fixe lunch course, featuring a selection of traditional Greek entrées alongside a first course appetizer and dessert.
Sagami
Collingswood
We love sushi of all kinds, but when we want simple, unbeatable quality, we come to Sagami. This family-run Japanese restaurant has been a part of the South Jersey landscape since the 1970s, long before Japanese was the widely accepted and universally embraced cuisine that it has become. And with good reason: There are few restaurants more welcoming and committed to decades of quality control. The menu hasn't changed much—think simple cuts of sushi and no-frills rolls—but the quality of their product continues to amaze us with each revisit.
Sapori
Collingswood
Chef and owner Franco Lombardo has thrown his blood, sweat and tears into his 13-year-old Italian eatery, and we mean that quite literally. Lombardo built the restaurant himself from the ground up, transforming a former bank into his charming restaurant serving up the freshest seafood, house-made pastas and super savory entrees. New to Sapori is an outdoor, covered dining space, built brick-by- brick by Lombardo.
What customers are saying: "The owner is fantastic as well as the wait staff and their hostesses are always one of a kind. The food is perfect and I've never had a complaint!"–Erica Durham, via South Jersey Magazine's Facebook
Tavro 13
Swedesboro
Since opening its doors in October 2012, Tavro 13 has transformed itself time and time again. First came its neighboring family friendly space, The Red Hen, which took over half of the Tavro dining room, allowing the owners to overhaul the other space. The result of the new Tavro 13 is a cleaner, more focused and elegant menu with a selection of small plates, shellfish and plenty of steaks for the picking.
Why we love it: The fish entrées are some of the best we've had anywhere
Must-try dish: The salmon, which is topped with an orange glacé and basil oil and served alongside sautéed spinach, oven-roasted tomatoes and grilled potatoes
Previous mentions: Three-time winner: 2015, 2014, 2013
Yokohama
Maple Shade
The Sze family operates an eatery unlike any other in the area, paying homage to their classic Japanese roots while featuring the freshest of fresh ingredients in new and inventive ways. Pick between top-quality cuts of fish from the sushi bar, or kitchen selections loaded with warmth and flavor. Or do what we do and splurge on a little bit of everything.
Why we love it: Young and restless co-owner Kenneth Sze uses his determined attitude to really push the envelope on what diners are accustomed to in their Japanese food.
Must-try dish: The green jade roll, which wraps fresh tuna, yellowtail and crabmeat with avocado and cucumber in a green soybean skin before finishing it with a wasabi mayo.
Extra bite: Sze's bar comes complete with an unusual and tasty selection of Japanese-themed cocktails, like the Señor Miyagi, a concoction of tequila, sake and coconut milk.
Previous mentions: Five-time winner: 2015, 2014, 2013, 2012, 2011
Giumarello's
Haddon Township
For a classically upscale evening out, you'll find us at Giumarello's. The winding selection of appetizers, entrées, seafood and sides makes it easy to please even the pickiest eater in your group, while the preparation of their high-quality proteins takes everything up a notch. The level of excellence extends into their modern bar space, which has its own equally impressive bar menu with burgers and dining specials.
The Capital Grille
Cherry Hill
The Capital Grille is exactly what you imagine when picturing an old school, authentic (and classy) steakhouse, with an expert staff, endless wine list—including personalized wine lockers for true oenophiles—and its own meat locker, packed to the brim with beautiful beef that's dry aged for at least 18 days before being seared to the customers' liking. In addition to quality steaks, we've had other great meals here too, like the sea bass with a mushroom soy broth, and the side dishes are every bit as luxurious as the rest of the menu.
Illiano Cucina Mediterranea
Medford
Mediterranean food gets the star treatment at this 25-year-old eatery, with more than enough variety for every member of the family. Pasta lovers will rejoice in their almost 20 varieties, featuring plenty of fresh veggies, shellfish and a variety of sauces for the picking. Meanwhile, the more carb-conscious can enjoy a variety of chicken, veal, shrimp and fish options, sprawled across a multi- page menu that aims to please.
Zaffron
Haddonfield
One of the youngest eateries along Kings Highway's stretch of successful restaurants, Zaffron is proving that it's got some serious staying power with a Greek and Mediterranean menu that's packed with spice. Traditional Greek meals like baba ghanoush, hummus and grilled octopus harmonize with hearty salads to create a selection that is fresh and flavorful but still light and easy to enjoy.
Da Soli
Haddonfield
This Italian eatery has remained on our Golden Forks list since its opening, and for good reason. With two floors of seating and a new and improved menu, Da Soli's goal is to create a comfortable experience for every diner.
Why we love it: Be it a pasta plate, an appetizer or a hearty entrée, the possibilities are really endless, and the menu can be mixed and matched with every visit.
Must-try dish: Carciofi Al Romano, or long-stem Roman artichoke wrapped in San Danielle prosciutto that gets battered, fried and served with a wine sauce
Extra bite: Chef and owner Mark Berenato recently gave the space a facelift, closing off the kitchen and repainting the space.
Previous mentions: Four-time winner: 2015, 2014, 2013, 2012
Fuji
Haddonfield
Owner Masaharu Ito and his son Jesse have long manned this Haddonfield hot spot, largely regarded as one of the quintessential restaurants in the tri-state area. Artful plates that display precision and the utmost respect for ingredients have become the hallmark here. But 2016 brings some changes to Fuji, as longtime sushi chef Chen Zheng takes over the reins. Zheng has been slicing fish alongside the Ito family for 20 years, and plans to maintain the restaurant's integrity and commitment to quality.
Filomena Cucina Rustica
West Berlin
There's a certain warmth to the dining room here, and that feeling of comfort carries over to menu options, like seared scallops in a white-wine garlic sauce topped with baby arugula, marinated tomatoes and freshly shaved cheese. Or there's the osso bucco. Or the chicken Francese. Or the Dijon-rosemary breadcrumb crusted lamb chops. Or the ... you get the point.
Indiya
Collingswood
Chef and owner Vipul Bhasin oversees every aspect of his restaurant's menu, from appetizers all the way to dessert. His dedication to quality shows in every bite, featuring a selection of curries, tandoor-grilled entrées and a slew of vegetarian-friendly dishes that leave a lasting impression. The Haddon Avenue hot spot has also become known for its unbeatable lunch buffet, offered all week long with plenty of variety to pick from.
CHUlicious
Mount Laurel
CHUlicious—a family owned restaurant that got its roots from Philadelphia's Chinatown—serves up a mix of dim sum specialties, Taiwanese dinners and Szechuan options. They also take a turn for the modern with fun takes on traditional Chinese thanks to plates like their CHUlicious sandwich, or sliced beef with scallions and Hoisin sauce on a roll and their CHUlicious hamburger with Chinese bacon.
Speranza
Westville
From the wood-fired pizzas to the house-made sauces and pastas, the details really make the difference in every bite. Executive chef David Strano has cooked his way around South Jersey and Atlantic City, treating guests to cuisine that's exciting and personal. That's made clear in his selection of chef specialties, like a grilled, 12-ounce center-cut pork chop served with a fig balsamic reduction and pea and tomato risotto.
Café Madison
Riverside A truly transformative spot on Riverside's main drag, Café Madison and its accompanying eateries offer a different setting for every mood you may have. But it's their main dining room that truly entices, with a French-inspired à la carte selection of top-quality proteins like New Zealand rack of lamb, Delmonico steak and a veal porterhouse. Chef Jack Connor has managed to keep his food familiar and upscale while still adding excitement and intrigue with creative ingredients.
Why we love it: Along with fantastic cuisine, the dining room is a real stunner, with a professional wait staff to match.
Must-try dish: Nantucket lobster bisque is a soup that you can find on many a menu, but chef Connor takes his rich and creamy recipe to the next level with a vibrant fennel cream.
Extra bite: Once it warms up, you'll want to check out their outdoor bar and grill, complete with its own selection of dishes and its own cooking station.
What customers are saying: "Amazing food, attentive staff, great atmosphere. Perfect for dinner dates and celebrations."–Peggy Rose, via South Jersey Magazine's Facebook
Previous mentions: Five-time winner: 2015, 2014, 2013, 2012, 2011
Fischer's Pelican Tavern
Sewell
With a commercial fisherman also manning the kitchen here, seafood is a priority and the level of its freshness is undeniable. Every plate sings, from the simple flavors of oysters on the half shell and linguini and clams to bolder dishes like the miso- and sesame-crusted Ahi tuna. We also love that we've been able to try several types of fish you don't find on other menus around the area, an obvious nod to Bill Fischer's time spent on the boat.
Tre Famiglia
Haddonfield
Now with over a decade's history in Haddonfield, it's fairly safe to consider Tre Famigilia an Italian institution in South Jersey. With a varied selection of appetizers and entrées, as well as homemade pasta plates, the dishes here are both familiar and flavorful, not to mention inventive.
What customers are saying: "Fabulous food for dinner or a private party!"–Jean Filman Campbell, via South Jersey Magazine's Facebook
Trattoria Figaro
Mount Laurel
Creativity abounds at this new Mount Laurel eatery, which combines Italian flavors with modern technique and seasonal ingredients. What does that mean? Picture traditional meatballs and penne Bolognese alongside kale salads, artisan 12-inch pizzas and unique, alternating specials like their Ahi tuna cannolis.
Why we love it: There is always something new and creative to try, with ingredients that are simply enticing.
Must-try dish: While we always order a bowl of butternut squash soup, the true star of this menu is the clams and Calabrian hot sausage stew, with an anisette tomato broth and cannellini beans.
Extra bite: Owner Candy Penn is also the pastry chef, and puts out a rotating dessert menu that is good enough to stand on its own.
Previous mentions: First-time winner
Published (and copyrighted) in South Jersey Magazine, Volume 12, Issue 11 (February, 2016).
For more info on South Jersey Magazine, click here.
To subscribe to South Jersey Magazine, click here.
To advertise in South Jersey Magazine, click here.