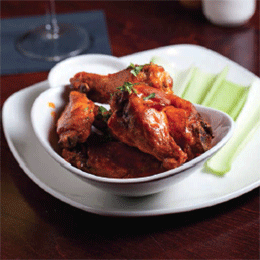 Side Dish
QUICK BITE
Smoked Chicken Wings
Firebirds Wood Fired Grill
Moorestown
We know the debate over the perfect South Jersey chicken wing goes deep, but these crispy beauties are certainly a contender. Fire- birds does not skimp on the smoke, and each bite has a hit of that rustic, warm flavor. They come doused in a house-made sauce that's slightly spicy but not overpowering, and might be a bit difficult to share. May we suggest ordering extras?
KEY INGREDIENT: Butternut Squash
This winter squash has a light yet powerful flavor and can act as a perfect addition to our favorite classics or a standalone star. Check out these meals that are sure to leave your taste buds wanting more.
Porcini-rubbed Pork Tenderloin with Farro Risotto and Butternut Squash Puree
Arugula, Sewell
Curried Butternut Squash Soup
Indiya, Collingswood
Butternut Squash Ravioli Coated in Brown Butter Sage Sauce
Toscano Ristorante, Bordentown
—April Gambardella
THE TOP FIVE
Green Smoothies and Juices
Whether you're looking to kick your New Year's resolution into high gear or you're just trying to fight against flu season, green smoothies come packed with antioxidants, vitamins and nutrients to keep you healthy and full. Check out our five favorite varieties that come chock full of health benefits and plenty of flavor.
Green Goddess?
It's all a little greener on the healthy side with this specialty blend of apple, kale, banana, lime and coconut water. It's a good starter smoothie for those new to juicing, as the familiar flavors of apple and banana help mask the bitterness of the kale.
Local Links Market Café, 533 Station Ave., Haddon Heights
Get Your Greens?
This antioxidant-packed smoothie gets its color from plenty of kale, while lemon, agave and mango add plenty of tangy sweetness. Chia seeds give a bit more omega-3 fatty acids, as does avocado, which forms a creamy texture alongside a splash of milk.
Heart Beet Kitchen, 29 Haddon Ave., Westmont
Carrot Kale Dream?
Carrots and kale pack in the vitamins, while fresh bananas and orange and apple juice come up the rear with lots of sweetness. The smoothie gets finished off with vanilla protein to keep you full and satisfied.
Smoothie King, 4310 Dearborn Circle, Mount Laurel
Greensicle?
You can customize any Animo juice to amplify the nutrients, but start simple with the specialty Greensicle, which mixes carrot and orange with the shop's specialty blend of house greens and your choice of protein powders or extracts.
Animo Juice, 210 Kings Highway E., Haddonfield
#4 Heart?
Be good to your ticker with these heart-healthy ingredients including beets, spinach, orange slices, carrots, cucumber, apple and ginger, which add a nice bit of spice and some serious flu-fighting benefits.
Fruit Sensations, Cherry Hill Mall, Cherry Hill
FAST FOOD
National entertainment publication Time Out has named Zeppoli in Collingswood as the 20th best Italian restaurant in the country.
Haddonfield's MiaMare Ristorante has closed its doors.
Table 8 Bistro in Collingswood has closed. The space was purchased by Philadelphia chef?Alex Boonphaya and will open the first New Jersey location of his contemporary Asian eatery Circles.?
Former Philadelphia fondue chain The Melting Pot has opened in Maple Shade.
Osteria Moorestown has officially closed its doors. Construction on the new Catelli Duo space has begun, with plans to open in March.
Chef and television personality Michael Symon— a host on ABC's The Chew—will open his newest restaurant at The Borgata. The Italian eatery is slated for a fall opening.
Published (and copyrighted) in South Jersey Magazine, Volume 12, Issue 10 (January, 2016).
For more info on South Jersey Magazine, click here.
To subscribe to South Jersey Magazine, click here.