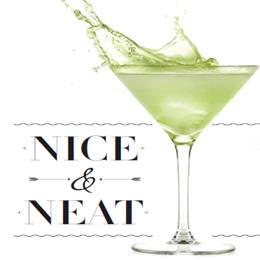 Good Buy: Nice & Neat
Whether you like your gin neat, on the rocks or mixed with tonic, vermouth or whatever goes smoothly over your taste buds, we at
South Jersey Magazine
are interested in finding the most artisanal brands on the market. Known as a "white spirit," gin is flavored with juniper berries and a flurry of herbs and spices, but the ratio differs with each distillery. With a plethora of options to choose from, we highly suggest you go for a spin with a few of these notable gins.
Rare Find
Monkey 47 Schwarzwald Dry Gin is one of a kind—in that its recipe uses 47 ingredients, mostly from India and Germany's Black Forest. The spices and botanicals, like wild hibiscus, spruce shoots, acacia flowers and lingonberries, are steeped in French-made molasses alcohol, distilled, blended with soft water from the Black Forest and aged for three months. The process is completed in small batches, giving it an air of exclusivity. Enjoy it in a martini glass with vermouth on ice and an olive (or two).
$43.99 at Wineworks, 319 Route 70 W., Marlton, (856) 596-3330
A Classic Standard
Nolet's—arguably a standard of dry gin—offers up its classic with the Silver Dry Gin iteration, which marries florals and fruitiness in one simplistic taste. With notes of Turkish rose, peach and raspberry, the quality is not to be taken lightly, as it touts a 47.6 alcohol-by- volume percentage and is 95.2 proof. Bring out Nolet's floral taste in a Negroni by mixing with Aperol and Carpano Antica Sweet Vermouth over ice.
$49.99 at Total Wine & More, 2100 Route 38, Cherry Hill, (856) 667-7100
New York's Best
Greenhook Ginsmiths is the first to commercially release a gin made with whole beach plums—sourced from Long Island as they're only native to the East Coast. The wild plums are soaked with the Brooklyn-based distillery's signature American Dry Gin for seven months with a dash of Turbinado sugar. Try stirring in Beach Plum Gin Liqueur with ginger beer and lime juice for a fresh taste.
$49.99 at Traino's Wine & Spirits, 100 Church Road, Marlton, (856) 983-0056
Internationally Sourced
Bulldog's spiked bottleneck is enough to impress, but how about the fact it's made with 12 exotic botanicals from eight different countries? The London dry gin features Chinese dragon eye fruit, lotus leaves and liquorice from China, Turkish white poppy seeds, Lavender hailing from France, Italian juniper, Moroccan coriander and more. Bulldog is also certified Kosher and vegan-friendly, easily mixable in traditional cocktails and bodes well with something as simple as fresh lemonade and apple cider.
$26.99 at Wegmans Wine, Liquor & Beer, 2110 Route 70, Cherry Hill, (856) 488-8948
Handcrafted in Philly
This American dry gin distilled in Philadelphia gives the rest a run for its money by using organic ingredients. Its mainstay are juniper berries finished off with American citrus peels, natural coriander seeds and angelica root, offering Bluecoat a woodsy and earthy taste. Bring out the best of this dry gin by muddling in fresh fruits like raspberries or blackberries.
$24.99 at Roger Wilco, 1001 Route 73, Pennsauken, (856) 665-3456
Classic as a Cucumber
Hendrick's is a mainstay in the gin world and its hint of cucumber makes a Pimm's Cup all the more cool. The Scottish distilled spirit is infused with Bulgarian Rosa Damascena and cucumber. Other key flavors stem from elderflower, juniper, orange peel, caraway, angelica root, orris root, coriander, cubeb berry and more. Bring out Hendrick's cucumber flavor by shaking it with lemon, simple syrup, cucumbers and ice, topped with sparkling wine.
$38.99 at Hops & Grapes, 810 N. Delsea Drive, Glassboro, (856) 582-8110
Through the Grapevine
G'Vine gin is considered the only grape-based gin on the market and its floral aesthetic is a treat for the palate and nose. It's distilled in individual batches in France's Cognac region and features 10 botanicals including green cardamom, ginger roots, juniper berries and the Ugni Blanc grape variety. Give your classic gin and tonic a floral spin with G'Vine's Floraison variation, which has a 40 percent alcohol-by-volume content.
$31.99 at Maro Brothers Liquors, 1500 Route 38 E. Hainesport, (609) 518-1000
California Dreaming
This botanical gin distilled in California is far from dry and offers a distinctive taste thanks to its all-natural ingredients that can be found in a garden. Aside from juniper, Uncle Val's Botanical Gin is made with cucumber, lemon, sage and lavender, which gives it a smooth finish. Savor this small-batch floral gin with muddled cucumber and mint leaves, Elderflower Liqueur and lime juice.
$26.99 at Rastelli Market Fresh, 710 Route 73 S., Marlton, (856) 334-8074
Published (and copyrighted) in South Jersey Magazine, Volume 12, Issue 10 (January, 2016).
For more info on South Jersey Magazine, click here.
To subscribe to South Jersey Magazine, click here.
To advertise in South Jersey Magazine, click here.