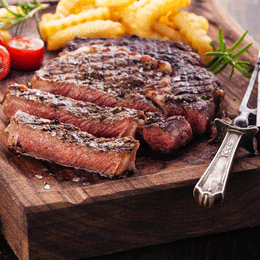 Fleming's Prime Steakhouse
Fleming's Prime Steakhouse
500 Route 73 N. | Marlton
(856) 988-1351
Revisit
One of the ultimate indulgences in South Jersey is Fleming's, a genuine steakhouse with a luxurious feel. Tucked onto Route 73 in the heart of Marlton, it's perfectly placed for office meetings and after-work get- togethers, but still remains an easy escape for anyone looking for a treat.
I've always been a fan of Fleming's unbeatable happy hour, which includes cocktail and wine specials—including one of my favorite martinis in the area— and a burger that topped the list of our Best Burger spread in 2014. But for a real, classic steakhouse meal with a refined feel there are few things better than a seat in the Fleming's dining room. With an open kitchen wafting unbeatable smells into a spacious dining room, the space is lined with booths and filled with tables, diners and a bustling and eager wait staff.
The menu itself is fairly straightforward: a variety of steaks meet a small handful of various other a la carte entrée options, with familiar sides to pick from to accompany your plate. And while appetizers included steakhouse classics like carpaccio, shrimp cocktail and the ever- popular seafood tower, it also had a few unique plates that enticed. The house- made burrata was especially exciting, and arrived sealed in a mini mason jar, which I had never seen done before. Similar to a mozzarella cheese, this particular variety was creamy and smooth, and made better when scooped onto toasty crostini and combined with charred grape tomatoes and arugula, dressed lightly with a hit of tangy balsamic.
Pan-crisped pork belly also stuck out as a creative starter, sliced into bite-size strips and served on a bed of goat cheese grits with a dark cherry and onion chutney. The normally salty and fatty pork belly I'm used to was far leaner than usual, and was a nice addition to the creamy, heavy grits. And while the chutney could have used more of the promised onion flavor, the cherry brightened up each bite.
Unfortunately the star protein of the night—a dry-aged ribeye and 16-ounce New York strip—could have benefited from a bit more attention to detail. While the steaks themselves were prepared to the perfect cooking temperature, they sat a bit too long in the broiler, and arrived blackened with a bitter exterior.
Despite the burn, the ribeye availed from Fleming's 21-day dry aging process, as it was buttery and tender with very little fat to speak of. It was a quality cut of steak that you can't find just anywhere, and when you do it's a true treat. The same applied to the New York strip—which was also available in a Wagyu variety, easily regarded as one of the best quality cuts of beef in the world.
Going off the steak list was a handful of fish and seafood options, as well as several other meat options. A plate of two North Atlantic lobster tails arrived in their shell and were dressed tableside then served with a cup of drawn butter and fresh lemon. Each tail was cooked to perfection, buttery and tender without the least bit of chew to them, and still with a bit of brine from the ocean. When combined with the butter—and freshened up with a squeeze of lemon juice—each bite seemed better than the last.
Sides come in sharing sizes for the table and include plenty of vegetables and potato options to pick from. Despite the options, I suggest always opting for a plate of Fleming's potatoes, a gratin-style dish of thinly sliced potato layered with cream and diced jalapeños and served with Cheddar cheese. It arrived with the cheese still bubbling on top, and the potatoes were rich and creamy. Meanwhile the jalapeño did not provide much heat, but instead added a bit of natural, smoky flavor. A second side of asparagus was grilled and served with just the right bit of seasoning. The char from the grill added a bit of extra flavor that took traditional—sometimes boring—asparagus to new heights.
Desserts are plentiful, and include a house-made vanilla bean crème brûlée that rivals others across South Jersey. But my favorite light end to the evening is a serving of seasonal berries, plated simply with a generous helping of Chantilly— or whipped—cream. The home-made cream and sweet berries round everything out for the evening without adding too much density or heaviness.
The Fleming's draw is unmistakable; from the top-notch service to the sprawl- ing wine and drink list, and of course a menu that is absolutely mouthwatering. With a keen attention to quality it's clear that this dining room has evolved into a place for people of all ages to enjoy and be pampered.
Published (and copyrighted) in South Jersey Magazine, Volume 12, Issue 10 (January, 2016).
For more info on South Jersey Magazine, click here.
To subscribe to South Jersey Magazine, click here.
To advertise in South Jersey Magazine, click here.