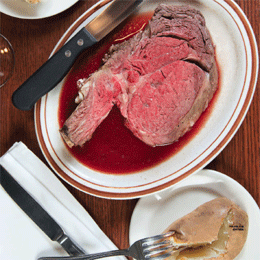 Unexpected Eating: Library IV
Library IV
1030 N. Black Horse Pike
Williamstown | (856) 720-8064
Rating: 3.5/5
Library dining rooms are kind of a staple across South Jersey. At one time they were seen as the splurge for families and date nights, giving diners the ultimate steakhouse feel with a famous salad bar to boot. In fact, I'm sure we all know at least one or two people that still treat the Library as their own specialty spot, a place you go to celebrate big milestones or achievements.
That's what comes with age and a strong reputation, and the Library IV is certainly no exception. Open for over 30 years, Williams-town's Library has long been known for its unique service and has come to be acknowledged as an institution.
While some things get better with age, the same can't necessarily be said for Library IV's interior, which still remains covered in wood laminate with accompanying wood booths and low-hanging stained glass lights. The occasional book shelf dots the room, paying homage to the restaurant name with dusty old books that have likely been around since the doors opened on the establishment.
The restaurant's unique ordering system is still in practice as well, with a few minor tweaks over the years. In the past diners would walk up to an open window, select their cut of steak and then pick the thickness and desired weight from a cut of beef. The weight selection is gone, but the service window re- mains, next to a menu displayed on the wall aligning their salad bar. Take your pick, submit your order, then load up a salad bar plate or two and wait to be served.
The salad bar alone is its own celebrity, and while it doesn't stray too far from the typical salad and topping offerings, the accompaniments are worth trying. Particularly noteworthy was the house-made potato salad and coleslaws, which were surprisingly packed with flavor.
Meanwhile their menu is stocked with dishes you know and love, and hasn't changed in years: picture plenty of steak, prime rib and quintessential steakhouse apps. Clams casino are a familiar favorite, and these varieties were served in the shell, with big chunks of bell pepper, just a bit of bread crumbs, tomato and a big slice of broiled bacon sitting on top. The minimal breading kept the clams from being too heavy or dense, and the addition of the tomato added a bit of rich sweetness that I hadn't tried before.
A starter of Buffalo shrimp saw butterflied jumbo shrimp coated in crispy panko before being deep fried and tossed in a hearty coat- ing of Buffalo sauce. It was served with even more sauce for dipping and rich blue cheese, but needed no accompaniment. The shrimp were cooked to perfection, still maintaining their juiciness despite having a crispy, brown exterior.
Library's prime rib entrée is a classic that you can't overlook, served in two sizes with a baked potato that gets dressed with sour cream, chives and bacon bits table-side. A queen sized entrée still managed to consume an entire plate, swimming in a rich au jus that maintained plenty of its own meaty flavor. The meat was buttery and cooked perfectly.
The 7-ounce filet and crab cake dinner was served with a baked potato—or your choice of various potato sides for an added cost. The filet was nicely seared and seasoned to perfection, still tender with plenty of natural steak flavor. The crab cake was similarly impressive. While a touch more seasoning might have taken it to another level, the cake was made almost entirely of lump crab meat and created a perfect, delicate foil to the filet's meaty intensity.
Key lime pie was made in house with a mountain of fresh whipped cream and a crumbly graham cracker pie crust. It was tangy but not too sweet—which can happen all too often with this variety of pie—and though the custard itself was a bit heavy, the cream was fluffy and light.
The Library IV is old school, for sure, but in a way isn't that what makes it so great to be- gin with? Despite its vintage vibe, the food it's producing is still unbeatable, and the familiar feeling creates a space that you can return to— and probably have revisited—over and over again with family members and friends that have come to know and love it. Give South Jersey residents a good steak and a memorable salad bar and you've got a proven recipe for success.
Published (and copyrighted) in South Jersey Magazine, Volume 12, Issue 10 (January, 2016).
For more info on South Jersey Magazine, click here.
To subscribe to South Jersey Magazine, click here.
To advertise in South Jersey Magazine, click here.