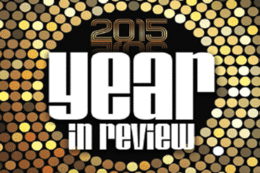 2015 Year in Review
Time flies when you're having fun and we're not sure anyone had more fun in the past 12 months than we did. Looking back, we were able to bring our readers some really amazing stories whether they were interviews with major celebrities or in-depth looks at the issues that have folks talking across South Jersey. Here, we take a look back at the best we had to offer in 2015, including all our lists over the past year from the best places for breakfast to the best doctors. As we get ready to embark on our 12th year next spring, there's no denying we are only getting better with age.
JANUARY
We began 2015 by sitting down with Willingboro's Adam Blackstone. The South Jersey native is a performer, producer and writer who has worked with the likes of Jay Z, Maroon 5, Justin Timberlake and Rihanna to name a few. He told us about working with such high-level talent, growing up locally and his experience on NBC's The Voice. His work with Al Green earned him a Grammy and he's received several other nominations. Since we spoke with Blackstone, he performed alongside Alicia Keys at CBS's Frank Sinatra tribute concert.
FEBRUARY
Our February Issue probably made our readers hungry thanks to our annual Golden Forks feature, a Q&A with sandwich king Tony Luke Jr. and a one-on-one with our cover man Guy Fieri of Food Network. Fieri bucked the trend and opened up shop in Atlantic City and told us why he decided to come to town. "It's a great community—a lot of folks that work in hospitality live in that area and they are always looking for killer food for themselves," Fieri said. We chose 32 mouthwatering dishes from South Jersey's best restaurants for the Golden Forks and asked our readers what they really thought about Restaurant Week (their response was overwhelmingly positive).
MARCH
We went a little country in March thanks to our encounter with music superstar Miranda Lambert. The Grammy winner told us about her upcoming concert in Atlantic City, what her creative process is like in the studio and her many business ventures outside of the music world. Sadly, since our interview, she has gone through a public divorce with her ex-husband Blake Shelton. In addition we examined the Grow NJ program and what it means specifically for the South Jersey business landscape. While businesses continue to set up shop in areas like Camden in exchange for favorable tax breaks, the long-term success of the project remains under review. Johnny Hockey, also known as Johnny Gaudreau, spoke to us in the midst of his breakout NHL rookie season. The Salem County native finished the year with 24 goals and 40 assists, helping lead his Calgary Flames to the playoffs.
APRIL
HOMETOWN HERO MIKE TROUT graced our April cover looking every part of the MVP that he is. While Trout may play 3,000 miles away in Anaheim, his biggest cheering section remains firmly in Millville. We spoke to his family, former coaches and neighbors to get insight on what baseball's biggest star is truly like. Of course, the highly affable Trout had high praise for his fans. "You have to respect the fans and give them recognition. They are the ones that make this great game go. I'm a baseball player now, of course I was a fan first," he said. West Deptford's Andrew Zappley made a name for himself at just 12 years old cooking for the likes of Gordon Ramsay on MasterChef Junior. Zappley finished second in the culinary competition.
MAY
They say breakfast is the most important meal of the day, which is why we set out to find the best dishes in South Jersey from go-to diners to restaurants known for tremendous finesse in the kitchen. We ate our way through fried chicken and waffles, seafood omelettes, French toast and plenty of eggs to select the 32 plates any early-riser would love to sink their teeth into. After crunching numbers on school performance, crime rates, property values and more, the town of Haddonfield once again ranked No. 1 in our annual Top Towns list. Medford, Moorestown, Evesham and Voorhees rounded out the top five, respectively. And Woodbury's Grace Helbig shared her journey from Internet sensation to host of her own show on E!.
JUNE
We traveled the coast from Long Beach Island to Cape May to give you our Best of the Shore picks. Our town-by-town roundup included the best spots for ice cream, happy hour, dining out, shopping and occupying the kids. We also had the chance to sit down with former Phillies legend Mike Schmidt for a special interview. The Hall of Famer shared his personal battle with cancer, mentoring young players and his new perspective from the broadcast booth. "I have a very wonderful life right now, especially the good luck with health. … Things couldn't be better," Schmidt said. Actress Lucy Hale also spoke with us during her visit to Haddon Heights to help raise awareness about meningitis.
JULY
It was an honor to have famed artist Peter Max design our Best of the Best cover. We had the opportunity to speak with Max ahead of his exhibition in Stone Harbor and the 77- year-old told us about his creative inspirations and why "South Jersey is really very nice." There were 135 Best of the Best winners in the issue, covering everything from al fresco dining to yoga. Developer Bart Blatstein gave us a personal tour through his renovation of the Pier Shops in Atlantic City. Through Blatstein's vision, the property would become The Playground, a collection of shops, dining and live entertainment. Months later Blatstein would sell his interest in the property, but is said to be seeking new spaces in town to put his stamp on.
AUGUST
Paul Rudd relayed what it was like to go from comedic star to comic book superhero in Ant-Man and how it could take his film career in a whole new direction. "Very few actors ever get to do this kind of a film and it has the ability to give you a different profile where you can play many other kinds of roles," Rudd said. We visited with Matt Dawkins, a 17-year-old Cherokee student and transgender male. He took us through the ups and downs of his decision. "It would have been so much easier just to have been male from the beginning than to have started right now. I feel like I'm just starting right now. I'm just starting over," Dawkins shared.
SEPTEMBER
New Eagles running back Demarco Murray graced our September cover to coincide with what was supposed to be a big season for the Eagles. Unfortunately both Murray and the team have underperformed this year on the field, but it's Murray's off-the-field character and persona that we found make him a winner. Through his foundation, Murray works with youth by providing educational support, opportunities and resources. "Helping the youth definitely touches my heart. … I've been blessed and fortunate to do what I love to do, and it's all I can do to help in any way, shape or form," Murray told us. This month also featured the likes of comedian Nick Kroll and actor Jeff Daniels who has found a second career making music.
OCTOBER
TV star and best-selling author Jenny McCarthy kept us laughing during our October interview. She told us what it was like being married to a New Kid, how she founded an all-female comedy troupe and why she has no fears about constantly reinventing herself in the world of television. "I'm grateful that I've sort of been forced to discover all these different mediums. Looking back now I can see everything happens for a reason. I love how diverse my career has been thus far," she said. Jenkintown, Pa., native Adam Goldberg, creator of ABC's The Goldbergs, gave us a behind-the-scenes account of the hit show and why it's important for him to always work in local references each week. "I'm going to write about Jenkintown, Flyers games and Eagles games. Wawa definitely gets a lot of love on the show; it's one of those places where we'd just hang out in the parking lot," recalled Goldberg.
NOVEMBER
For our annual Men's Issue we were lucky to snag one of the hottest actors in Hollywood: Hugh Jackman. Not only has he turned up locally over the years to perform with the Philadelphia Orchestra, but it turns out he's a big-time Philadelphia Union fan thanks to his friendship with the team's chairman and majority owner. He spoke about dealing with being considered a sex symbol. "I don't mind it at all. But I think if people knew me, they would know that the one thing that I would like to be remembered for is being the most loving and caring husband and father," Jackman offered. We spoke with a West Deptford model, who despite being born without a right forearm is making her presence felt on the runway in some of fashion's biggest stages. Oaklyn native and best-selling author Mitch Albom recalled his South Jersey days playing in garage bands while also chatting up his newest novel, The Magic Strings of Frankie Presto.
DECMEBER
To close out 2015 we decided to go out with a bang thanks to four very gorgeous local newswomen. Cecily Tynan, Kate Bilo, Alex Holley and Jessica Boyington all posed in the winter's hottest looks and managed to make them that much hotter. The lovely ladies told us what they love most about South Jersey and their favorite ways to spend the holidays, but really we wouldn't blame you if you just stared at the pictures. We ate our way around South Jersey all year to be able to find the 30 best homemade desserts at area restaurants. From panna cotta with caramelized oranges to Krispy Kreme bread pudding; these are the sweet treats that you'll remember long after you left the table.
LISTS
Best of the Best 2015
Published (and copyrighted) in South Jersey Magazine, Volume 12, Issue 10 (January, 2016).
For more info on South Jersey Magazine, click here.
To subscribe to South Jersey Magazine, click here.
To advertise in South Jersey Magazine, click here.