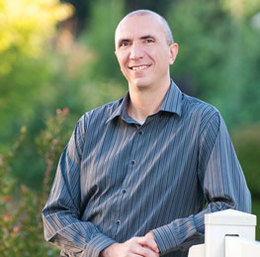 2015 Men of the Year
Our annual Men of the Year list is full of these individuals, people who make a difference daily. They don't do things for the attention, but we're more than happy to share their stories.
2015 Man of the Year: Hakop Kazandjian (pictured)
This Mount Laurel father of three and local realtor has always been the type to step up and volunteer his time, namely as a coach for the town's youth basketball league. But in 2013, Hakop Kazandjian's son, Alec, was diagnosed with acute lymphoblastic leukemia at age 9.
The family was shocked and devastated, but Alec immediately knew he wanted to help others with the illness, and while undergoing treatment at CHOP, he made bracelets to sell to nurses and doctors, donating the money to CHOP's Child Life Program. Seeing his son's strength inspired Kazandjian to help in the fundraising efforts.
Earlier this spring he partnered with the Leukemia and Lymphoma Society in a fundraising campaign. Kazandjian organized several events for "Team Alec Strong," including a basketball tournament, dinner dance and silent auction, a pizza fundraiser at King of Pizza in Cherry Hill, a concert at Scaturro's, an Avon sale, and a "Kick Cancer's Butt" kickboxing event at Amerikick Medford. Throughout the 10-week period, Kazandjian's efforts helped raise over $17,000. But he didn't stop there. When Alec participated in an American Cancer Society Bikeathon and the CHOP Four Seasons Parkway Run, Kazandjian was by his son's side the entire time.
His passion and dedication earned him a nomination for the Eastern Pennsylvania chapter of the Leukemia and Lymphoma Society's Man of the Year. He says he never expected he'd actually win. South Jersey Magazine's Man of the Year says he is thankful for the help from family, friends, Alec's school and the community that helped Team Alec Strong accomplish their goal, and he feels it's an honor to have been part of the experience to help find a cure for blood cancers.
Men of the Year
They say good help is hard to find. Maybe so, but if you look hard enough you'll see lots of good help all across South Jersey; from founders of nonprofits that work tirelessly to uplift others to young, civic-minded leaders who seek to transform entire communities by organizing efforts and forcing change. Our annual Men of the Year list is full of these individuals, people who make a difference daily. They don't do things for the attention, but we're more than happy to share their stories.
Val Nunnenkamp
No matter how busy this South Jersey realtor finds himself, Val Nunnenkamp is always willing to help someone in need. The Voorhees resident is a former board member for the American Red Cross—a charity he continues to support—and has been a walker captain for the Multiple Sclerosis Society for nearly 20 years. For the past five years he has served on the board of the Alzheimer's Association Delaware Valley Chapter. In 2012, Nunnenkamp was recognized by the Little Rock Foundation—a local charity dedicated to improving the lives of the blind and visually impaired—with its Luminary Award. Every year he hosts a gala to raise money for a surprise charity.
Ken Hartman
Former president of Drexel University Online, Dr. Ken Hartman found a way to help support and recognize the one percent of Americans who serve in uniform. A former Army officer and lifetime member of NJ AmVets, Hartman started the nonprofit organization Our Community Salutes after being elected to the Cherry Hill School Board in 2009. The organization honors high school students planning to enlist in the armed services after graduation, assisting them with planning and career services to ease the transition into military service. Since its inception, OCS has grown to 50 chapters in 19 states and Puerto Rico, honoring over 10,000 students. This past August, Hartman received the Outstanding Civilian Service Medal, the Army's highest honor for a civilian. Hartman has received other recent awards including the Penn Educator of the Year Award from the University of Pennsylvania and the Excellence in Education Award from State University of NY at Geneseo.
James Maida
This past summer, James Maida, along with wife Sharon, donated $1 million to his alma mater, Rutgers Law School. The gift establishes the James and Sharon Maida Public Interest Fellowship Program, benefitting Rutgers students while helping the most vulnerable residents in the surrounding communities. Summer fellowships offered through the program will pay up to 40 students to work for public interest legal organizations in usually unpaid positions. The Maida Post-Graduate Public Interest Fellowship will fund the full-time salary of a selected fellow working in the public interest. The Maidas' gift will also name the clinic space at Rutgers Law's Camden campus, which last year produced more than 30,000 hours of free legal support to those in need. The James and Sharon Maida Community Justice Suite will be the official name of the law school's own powerhouse teaching law firm, where its students and faculty handle hundreds of cases each year addressing issues like domestic violence, immigration and children's justice. The CEO of Gaming Laboratories International, Maida is also a member of the Rutgers University Foundation Board of Overseers, and is a past recipient of the Arthur E. Armitage Sr. Distinguished Alumni Award.
John Emge
John Emge has made a career of helping people. For more than 30 years, he has been involved in the United Way, working his way from finance manager for the United Way of the Upper Ohio Valley to his current role as vice president and regional executive director of United Way of Greater Philadelphia and Southern New Jersey. In this role, Emge spearheads UW's work in the region to improve lives and strengthen local communities. During his career, he has managed fundraising efforts exceeding $35 million. Emge is active on several local and regional boards, including the NJ 2-1-1 Partnership, Stockton University's Center for Community Engagement Advisory Board and Business Advisory Board. He is president of the United Ways of New Jersey and chairs the Atlantic County Homeless Consortium.
Cody Miller
At just 21 years old, Cody Miller served as the youngest community college trustee in the state and was the youngest ever Rowan College at Gloucester County Board of Trustees member, from 2012-2015. At age 23, Miller was elected as a councilman for Monroe Township, serving as vice president. He is the president of the Volunteer Center of South Jersey, which connects volunteers with nonprofit organizations. Miller is also active in the political community, especially encouraging young people to get involved in the democratic process. He has been a volunteer firefighter at the Williamstown Fire Company since 2012 and is currently finishing a Master of Public Administration at Rutgers.
Mike Kellenyi
This Washington Township resident is the founder of the Nikki Kellenyi Foundation, People Against Distracted Driving (PADD). After losing his daughter Nikki, a high school senior, in a tragic car accident in 2012, Mike Kellenyi formed this nonprofit organization to educate and raise awareness about distracted driving. Nikki's Law—which requires DOT signage and variable message signs to warn against distracted driving—was passed in New Jersey in 2013, and PADD's "Stay Alive Don't Text and Drive" signs are on display in 26 states, as well as parts of Canada and Europe. The organization has also partnered with Uber to offer free rides to passengers across the country who feel endangered by their designated drivers through their #JustSayPADD campaign.
Chris Carlino
Moorestown High School graduate Chris Carlino says his involvement in a food drive during his junior year helped him realize how doing something small can impact many. Now 23, Carlino works at Virtua Voorhees Hospital doing patient transportation in the emergency department and is a behavioral assistant working with children in home therapy. Earlier this fall, Carlino partnered with Move For Hunger for a month-long food drive in conjunction with Hunger Action Month, with donations going to the Food Bank of South Jersey. Carlino, who has volunteered with a domestic violence response team and is currently a full-time clinical counseling student at La Salle University, says he likes to stay busy helping to improve the lives of those around him.
Nathaniel Anderson
Community involvement is second nature for Nathaniel Anderson. The Willingboro Deputy Mayor has been involved in the town's recreational sports programs since 2002. Instrumental and active as a coach in the basketball, football and baseball programs, Anderson became president of the Willingboro Little League in 2009. He has helped raise and distribute thousands of dollars to community sports, including the girls high school basketball and track programs. Anderson was recognized by the NAACP, receiving its Community Service Award in 2014, and the De Hugo Consistory #2 Citizen Award in 2015. He was recently appointed to serve on the Board of Trustees for the Boys & Girls Clubs of Camden County, and is a member of the Burlington County Economic Development River Route Committee and the New Leaders Council Advisory Board. Anderson is a managing partner and Chief Operations Officer for Nothing but Green Living Enterprises, LLC, which promotes sustainability practices in business, and is also the founder of the Willingboro Civic Association.
Paul Dilks
The holidays are all about giving and few embody that spirit more than Paul Dilks. That's when the Washington Township resident and chair of The Kathy Magee Memorial Holiday Meals Program works with a group of volunteers to provide meals to seniors and disabled folks across Gloucester County. Dilks, who works in the mortgage industry and is a senior advocate, took over the program when the founder, for which it's now named, passed away unexpectedly. Since then, the amount of meals provided has nearly doubled and continues to gain momentum by word of mouth and a partnership with local food pantry Mother's Cupboard. "Kathy always said, 'Everyone deserves a hot meal on the days we hold most sacred in this country,'" Dilks says. "There's nothing better than helping those in need."
Spencer Galati
Spencer Galati may only turn 22 this month, but his accomplishments speak to someone well beyond his years. He's toiled as a volunteer fireman. He is a minister. He volunteered at a local prison to teach inmates how to read. He has slept in shelters to remind others what it's like to be homeless as part of a fundraiser. While attending The College of New Jersey, he was chosen by his fraternity to be head philanthropist and spent summers working at a camp for children suffering both poor health and poor conditions at home. He now works at a home for young girls who have been sexually abused. He was originally hired as part-time, but quickly became full-time. His hard work will continue as he'll soon be pursuing his master's degree.
Joseph Giacobbe
An incredibly connected fundraiser, Joseph Giacobbe has helped run and host a number of dinners and events for a litany of causes, including one last year when he organized a dinner and donation drive to help an area family who had lost their home in a fire. A member of the Greater Swedesboro Business Association, he was largely responsible for making this year the most successful in its history. He's had a part in A Taste of Gloucester County and works with the Gloucester County Chamber of Commerce. Giacobbe also works with and is on the Board of the Canuso Foundation for Pediatric Cancer, raising money for local families to offset the cost of care. His dedication to the community was recognized last year by the Volunteer Center of South Jersey when he was honored with the Volunteer of the Year award.
John Price
Glassboro's turnaround in recent years has garnered lots of headlines thanks to the work of folks like John Price. He's the chairman of Glassboro Partners Incorporated, a 501(c)(3) dedicated to the revitalization and growth of the Glassboro New Jersey Town Square and arts and entertainment district. Price also thrives on community service and his ties to Rowan University run deep thanks to his establishment of the John A. Price Scholarship, which recognizes students who are veterans of Operation Iraqi Freedom and Operation Enduring Freedom. Price also serves on the board of directors for the Gloucester County YMCA as well as the Special Olympics of New Jersey and the Glassboro Economic Development Corporation.
Jack Tarditi
As the managing director of Conner Strong & Buckelew, Jack Tarditi brings more than four decades of experience to the insurance field. But, it's his community involvement that's just as impressive. His civic pride is evident in any of the number of posts he's held over the years, including time served as mayor and director of public safety for Haddonfield for 16 years and chair of the New Jersey State League of Municipalities School Funding Task Force. Currently, Tarditi serves on the Cooper Foundation Board and chaired the Helene Fuld School of Nursing Board of Trustees. He's the Secretary of the Salvation Army's Camden County chapter; chairs the South Jersey Tourism Corporation and the Camden Public School Educational Foundation, and serves on the Haddonfield Educational Trust in addition to giving his time and efforts to several other community-based foundations and groups.
Martino Cartier
This local salon owner is on a mission to make those battling cancer look and feel fabulous. Martino Cartier is the founder of Friends Are By Your Side, a nonprofit network of salon owners, stylists and industry experts dedicated to restoring confidence in women who are battling cancer, helping to ease the stress and suffering of hair loss related to cancer treatment. Through this organization, Cartier was inspired to launch Wigs and Wishes, which grants wishes to children battling cancer and free wigs for women with cancer in over eight countries around the world. The organization has set up meet-and-greets with the likes of Taylor Swift and Justin Bieber, and hosts an annual gala, A Night of Wigs And Wishes, here in South Jersey, where celebrities and nearly 1,000 attendees experience Wigs and Wishes requests being granted live.
John Headley
John Headley, relationship manager and business development officer at Beneficial Bank, says he was taught from a young age that it's not about what you give, or how much; it's just about giving. He has worked with many local schools, churches and organizations to create first-time homebuyer seminars and financial education workshops for all ages. Headley is also an active volunteer with Cathedral Kitchen and Café in Camden, which provides meals and other services to those in need, helping to fundraise and plan special events. Other organizations he gives his time to include the Center for Environmental Transformation, Harvest for Hunger, Burlington County Community Action Plan, Ronald McDonald House and Habitat for Humanity. He also frequently collaborates with Charity Services Centers to enhance the impact of nonprofits in the community, and is a long-time supporter of LGBT youth rights and education.
Andrew Einstein
This past September, Riverton resident Andrew Einstein, a Sergeant in the United States Marine Corps., walked 100 miles from the Liberty Bell to the Freedom Tower in Lower Manhattan. He took the "Long Walk" with two fellow Marines and their service dogs, including Einstein's K-9 Gunner, to honor their fallen brothers, as well as bring awareness to PTSD. Einstein, who is a Westampton Township police officer, suffered a traumatic brain injury from a grenade blast while serving in Afghanistan and received a Purple Heart. Since being home, he has lived with PTSD. The walk may have raised over $11,000 but for Einstein, it was more about showing how those who suffer from PTSD can still be active members of society. He says he is living proof of that, and credits his wife Jill and his service dog for helping him cope with the effects of PTSD.
Published (and copyrighted) in South Jersey Magazine, Volume 12, Issue 8 (November, 2015).
For more info on South Jersey Magazine, click here.
To subscribe to South Jersey Magazine, click here.
To advertise in South Jersey Magazine, click here.