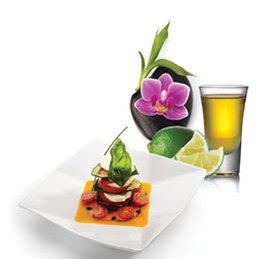 All In
The 50 best ways to eat, drink and pamper yourself in Atlantic City.
Atlantic City may have taken a hit in recent years with casino closures, failed property deals and further perceived doom and gloom. But things are turning the corner. In fact, a recent report by Stockton University shows that the surviving casinos have gained momentum in the past year as revenue from gaming and lodging has seen a noticeable uptick. Thanks to that renewed sense of spirit in town, we set out to find the best meals, signature drinks and indulgent spa treatments in A.C. In other words, how you can have the most fun without the chance of losing your shirt at the tables. Here we present our choices from sizzling steaks and Sunday brunches to 10-hand massages and straight razor shaves. Take our advice, you'll feel like you hit the jackpot.
Eat
Maine Lobster BLT
at The Sunroom, The Water Club.
Food Network's Geoffrey Zakarian is responsible for this decadent take on the classic BLT. People love to talk about lobster rolls, but we'd take this instead any day of the week.
Bar menu
at Gordon Ramsay's Pub & Grill, Caesars.
English favorites like the toad in the hole, the Scotch egg and high-end drinks with names like God Save the Queen are just some of the reasons to love this cheeky bar menu. The Ramsay Burger with grilled jalapeno, smashed avocado and onion rings is another. There are plenty more.
Filet Mignon Louisana
at Bobby Flay Steak, Borgata.
How do you make a filet mignon more appealing? Add a hint of the Crescent City by way of meaty crawfish and a rich béarnaise.
Gamberoni e Polpa di Granchio
at Capriccio, Resorts.
Crabmeat and jumbo Gulf shrimp blend harmoniously with red and white endive while getting a kick from a tomato horseradish salsa.
Bone-in New York Strip
at Robert's Steakhouse, TrumpTaj Mahal.
Dry aged in-house, this flavorful steak is USDA prime and hand-cut and tastes great without the need for any of the accompanying sauces.
Lobster Fried Rice
at Buddakan, The Playground at Caesars.
The addition of saffron and basil give this item an aromatic spectrum that leaves your mouth watering the minute the dish is set on the table. Oh yeah, there's lobster, too; it's pretty awesome.
Langostina
at Il Mulino, Trump Taj Mahal.
Don't be scared by the $28 price tag, these jumbo prawns served simply with spinach are the calling card here for a reason.
Tatted Up Turkey Burger
at Guy Fieri's Chophouse, Bally's.
Think turkey burgers are boring? Then witness this version that comes with roasted poblanos, pepper jack and smoked gouda cheeses, a spicy red onion cranberry jam and a mayonnaise-based sauce elevated with roasted garlic, Worcestershire and mustard.
Mixed Seafood Grill
at Chart House, Golden Nugget.
Seafood lovers unite over this grilled amalgamation of citrus salmon, a jumbo lump crab cake and chimichurri shrimp.
Apple Spring Rolls
at The Continental, The Playground at Caesars.
Come happy hour, this sweet bite of New York cheesecake with apple compote and a drizzle of apple caramel is worth ruining dinner for and pairs well with a number of specialty cocktails on the menu.
Oxtail with kimchi
at Lillie's, Golden Nugget.
A warm and inviting noodle bowl full of braised oxtail, carrots and ginger in a hearty beef broth that stands as some of the best comfort food you'll find in any casino.
Hot Chocolate Cake
at Morton's The Steakhouse, Caesars.
This popular dessert may look ordinary from the outside, but one slice down the middle reveals a warm, gooey center where a chocolate river runs deep. This is one you'll want to savor.
Edamame Dumplings
at Izakaya, Borgata.
This Michael Schulson dish is something of legend going back to his days cooking in Stephen Starr's kitchens. Delicate pouches are filled with edamame, green peas, butter, heavy cream, salt and white truffle oil and bathe in a broth of sweet sake, dashi and shallots.
Three-course tasting menu
at Martorano's, Harrah's.
Start with a signature salad, follow things up with your choice of rigatoni, veal parm or lobster française before you end the meal with homemade mini chocolate chip cannolis.
Lamb Chops
at Nero's Italian Steakhouse, Caesars.
Proper preparation is everything when it comes to lamb and that includes not overpowering the plate with ingredients. Here, it is served simply with Tuscan kale and an apple mostarda to ensure a sweet finish to every forkful while allowing the lamb to be the star.
Brunch
at Sammy D's Restaurant and Bar, Harrah's.
This place turns brunch on its head, offering everything from bread pudding French toast with ham steak to a mind-blowing poutine consisting of poached eggs with crisp fries, bacon gravy, bacon lardons, pulled pork and melted cheese curds.
Velvet Elvis cupcake
at Boardwalk Cupcakes, Bally's.
This jelly-filled banana cake covered in peanut butter icing and topped with bacon has us "all shook up."
The Fat Cat burger
at Bill's Bar and Burger, Harrah's.
This cheeseburger with a twist is served on an English muffin and covered in velvety American cheese and topped with caramelized onion for a hint of sweetness.
Grilled Block Island Swordfish
at Fin, Tropicana.
Known for being full-flavored, this swordfish from Rhode Island's coast is coveted when in season. We love the added Greek yogurt-cucumber sauce that brightens the whole dish and leaves us wanting more.
Chocolate
from The Chocolate Box, Golden Nugget.
This boutique serves up lots of treats to satisfy our sweet tooth and is exactly where you'll find other like-minded chocoholics ordering artisan truffles by the dozen.
Kobe meatball
at Old Homestead, Borgata.
Few appetizers could substitute for a meal, but this eight-ounce, bocce ball-sized meatball cloaked in silky marinara sauce and topped with a generous dollop of fresh ricotta is one such dish.
Berkshire Pork Chop
at Vic and Anthony's Steakhouse, Golden Nugget.
There are pork chops and then there is this pork chop that pushes the boundaries thanks to a memorable cherry pepper fondue.
Pizza
at Trattoria Il Mulino, Trump Taj Mahal.
Thin, crackery crust serves as the foundation for pies that run the gamut from the classic margherita to another with caramelized onions and a quail egg. Can't decide? Allow the kitchen to pick their favorite with the chef's choice option.
Mozzarella di Bufala, Burrata Bar
at FornelletTo, Borgata.
From the milky cheeses to the accompaniments like prosciutto di parma and the Sicilian fig, olive and basil tapenade, this is truly a taste of Italy.
Lacquered Chinese Duck
at Wolfgang Puck American Grille, Borgata.
Tender duck sings thanks to a perfectly constructed sauce of star anise and bing cherries and is served with stir-fried lo mein noodles, proving why Puck is one of the most versatile chefs of our time.
Capesante alla Tornio
at Il VerDi, Tropicana.
Day boat scallops fished out of Barnegat Light are seared and served with a creamy parmesan polenta and white truffle butter for an elegant seafood plate.
Cinco de Wednesday
at Dos Caminos, Harrah's.
The middle of the week never tasted better than it does here thanks to a special menu available every Wednesday at 5 p.m. Think chile-roasted shrimp and ancho-grilled steak quesadillas washed down with a frozen margarita blended with cactus fruit and strawberry.
Sushi
at Oshi Sushi and Sake, Harrah's.
This place wows in areas outside of the sushi bar, but Armiyanto "Harry" Setiyaki is a certified master sushi chef who creates works of art with precision cuts of high-quality fish and thoughtful presentation.
Drink
Jameson Sour Melon
at 28 West, The Water Club.
Irish whiskey is blended with melon liqueur, sweet and sour mix, and finished with both orange and pineapple juice for a smooth, slightly bitter libation.
Bar hop
at The Playground, ThePlayground at Caesars.
The former Pier Shops has been transformed into an array of themed live music venues where the booze flows freely and the party lasts well into the evening.
Grab a bottle to go
at A Time for Wine, Tropicana.
This shop located in The Quarter is the perfect place to grab a bottle of red or white for your cellar at home or for a more private celebration back in your room.
Craft cocktails
at #BarWithNo- Name, Harrah's.
You'll want to tweet, take an Instagram picture and tell all your Facebook friends about this lobby bar that serves up mixology wonders like the Sage Peppercorn Smash—Dad's Hat Rye whiskey with fresh lemon, house-made peppercorn sage, muddled mint and simple syrup.
Craft beers
at Firewaters, Tropicana.
Tucked away on the lower level of the Trop just steps from the Boardwalk is this tiny bar with a big thing for quality brews boasting 50 on draft alone. You'll find your favorite locals with plenty of others from across the globe.
The Whiskey Revival
at Golden Nugget.
This annual festival is the only one of its kind in the area. You can sample craft whiskeys and spirits, take a crash course in mixology and even learn the nuances of distilling.
Happy Hour
at Palm Restaurant, Tropicana.
Sunday through Friday, from 4 until 7 p.m. the Palm serves up $8.37 wines as well as Tito's vodka cocktails for the same price. Drafts are $5 while baked clams casino, jumbo shrimp corn dogs and lobster sliders are more than worthy snacks.
Margarita flight
at Jimmy Buffet's Margaritaville, Resorts.
You don't have to be a Parrothead to sample four signature margaritas for $16.50, but stick around long enough and you might just become a convert.
Signature drinks
on The Deck, Golden Nugget.
This outdoor restaurant and bar has picturesque views of the marina and they offer nearly 20 drinks to help you beat the heat while jamming to some live music.
Wine from a keg
at Cielo, Resorts.
This new-ish wine bar serves up a rotating list of four wines via a keg dispensing system which allows them to preserve the ideal tasting notes. Expect to see this as a growing trend in the coming years, but get in on the ground floor now.
Mojitos
at Cuba Libre, Tropicana.
This slice of Havana is somewhat of an authority on the artistry of the mojito. And with more than 10 varieties to choose from, there's more than meets the eye.
Frozen drinks
at Wet Willie's, Tropicana.
The famous Miami hangout has arrived in Atlantic City with their signature frozen slushie- style drinks that pack quite a wallop. There's no mystery who spiked the punch here.
Boat drinks
at LandShark Bar and Grill, Resorts.
This beach bar keeps the party going on the sand all year long thanks to a bevy of boat drinks, margaritas and plenty of frozen concoctions.
Gelato milkshakes
at Borgata Baking Co., Borgata.
Gelato seems to have surpassed frozen yogurt as the en vogue dessert, so former White House pastry chef Thaddeus DuBois decided to offer his spin by way of a milkshake. We're not complaining one bit.
Pamper
Borgata Glow Facial
at Spa Toccare, Borgata.
This 50-minute treatment starts with an enzyme peel and progresses to a series of tightening masks that mimic the feel of a facelift. Add another 50 minutes and you'll receive anti-aging eye treatment, paraffin wax for your hands and feet and a comforting head and shoulders massage.
Dieci Mani
at Qua Spa, Caesars.
You'll have to reserve this $5,000 (not a typo), three-hour, 10-handed massage a day in advance. Not only for the spa's sake, but so you can get mentally prepared for massages of the Swedish and hot stone variety as well as a mud treatment. Did we mention you'll have your own butler to cater to your needs as well?
Straight razor shave
at The Barbershop, Borgata.
For any guy looking to clean up for the evening, you'll want to stop here to get your whiskers clipped. It's an old-school tradition in a modern setting where you can also bide your time playing a game of 8-ball or catching the game on the big screen.
Ultimate Indulgence
at Elizabeth Arden Red Door Spa, Harrah's.
Start with a facial, then a hot stone massage before moving onto an olive oil mani/pedi. From there, you'll be shampooed, blow-dried and have a makeup artist get you ready for the day while you nosh on a spa lunch.
Uplifting Coconut Sugar Escape
at Bluemercury Spa, Tropicana.
This 100-minute service starts with a body scrub using sugar cane crystals, followed by a coconut milk bath and winds down with a massage using coconut and exotic nut oils.
24K Signature
at Spa & Salon, Golden Nugget.
A "golden" body scrub exfoliates your back before you receive an aromatic full-body massage. Afterward, your skin will be covered in warm golden body milk that creates a pleasing scent and leaves skin silky smooth
Immersion Four Hand Massage
at Immersion Spa, The Water Club.
With four hands continuously massaging you into a trance, we wouldn't blame you for falling into a deep sleep during this 80-minute session that will relax and rejuvenate you.
Cooking classes
at The Viking Cooking School, Harrah's.
Specialized courses will teach you how to make everything from pizza to paella. We suggest grabbing a group of friends and booking a private session so you can have the kitchen all to yourself.
What's New
Notable additions around the casinos
Resorts recently debuted a new state-of-the-art multifaceted conference center complete with high-end technology capabilities, 12 meeting rooms and two theaters. The property has also opened up a gaming lounge exclusively for online gambling.
The Borgata is in the midst of revamping the space that formerly housed the nightclub Mixx. Details are being kept under wraps for now, but expect a new nightlife experience in the near future.
Tropicana's completed $50 million renovation includes upgrades to rooms in the North Tower, new games on the redone casino floor, a new fitness center and a multimedia light and sound show on the Boardwalk.
Bally's renovated Wild Wild West Mountain Bar welcomes live bands every Friday and Saturday evening as well as $3 beers, $4 shots and $5 table games all day, every day.
Published (and copyrighted) in South Jersey Magazine, Volume 12, Issue 8 (November, 2015).
For more info on South Jersey Magazine, click here.
To subscribe to South Jersey Magazine, click here.
To advertise in South Jersey Magazine, click here.