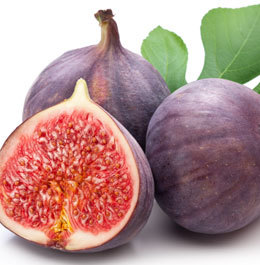 Side Dish
Quick Bite: Suppli
Scarpinato's Cucina and Catering
Turnersville
Rice balls are as traditionally Italian as red sauce and pasta, but Scarpinato's sets itself apart from all others. Break into one of these crispy beauties and you'll find pillows of perfectly seasoned risotto, stuffed with gooey mozzarella and a handcrafted mini meatball. It's warm, savory and positively decadent.
Key Ingredient: Figs
These soft and sweet fruits go far beyond the dried varieties you're used to seeing in grocery stores. In fact, when treated with a bit of TLC, figs can be a healthy enhancement to your favorite dishes. Check out some of these plates for inspiration.
Middle Eastern Flatbread with Dried Figs
Terra Nova, Washington Township
Blue Fig Salad with a Fig Vinaigrette
Blue Fig Café, Moorestown
Sausage and Figs
Tre Famiglia,Haddonfield
The Top Five: Grilled Cheeses
Veering away from the norm, many restaurants have chosen to take your childhood staple and turn it into a dish never before seen. Forget the plain American cheese on white bread, and make room for what has become the grilled cheese revolution filled with all sorts of new and improved varieties.
?Firehouse Mac n Cheese
Take a turn for the spice with Steve's grilled cheese sandwich filled with fresh jalapeños, sriracha and oozing mac and cheese bits topped off with Pepper jack and American cheese. Steve's Grilled Cheese and Quesadilla Company, 22 High St. East, Glassboro
?Panini-Style Grilled Cheese
Instead of getting the typical butter and griddle treatment, The Cubby Hole presses their grilled cheese—available with bacon and/or tomato—in a Panini press to get an extra crispy exterior. The Cubby Hole, 55 E. Main St., Moorestown
?Grilled Vegetable and Goat's Cheese
Take a lighter, healthier approach with the help of Portobello, diced zucchini and yellow squash, red onion and eggplant, melted with tangy goat cheese and smeared with peppery arugula pesto. Tir Na Nog, 482 E. Evesham Road, Cherry Hill
?Lobster Grilled Cheese
What's a grilled cheese list without a nod to The Pop Shop, whose grilled cheese varieties landed them a spot on the Food Network? This deep sea variety is filled with fresh lobster meat and mounds of brie cheese, finished with garlic aoli on sourdough bread. The Pop Shop, 1 S. Main St., Medford
?Croque Monsieur
This French classic elevates gruyere cheese by melting it atop sliced Virginia ham and Dijon mustard, then finishing the plate off with a house-made mornay sauce. Kitchen 519, 200 E. Evesham Road, Gloucester Township
Fast Food
Coming soon to Marlton is Osushi, a Japanese restaurant taking a place in Marlton Crossings shopping center, neighboring Joe's Peking Duck. Osushi has not announced an opening date but construction has begun.
The newest brewery to open up in South Jersey is Double Nickel Brewing Co. in Pennsauken. The brewery opened its doors on Oct. 24.
Viola's Neighborhood Deli in Oaklyn—which closed its doors two years ago—has reopened under new ownership.
Tarantella Ristorante in Medford is said to be opening a second location in Mullica Hill this fall.
Evesham has extended their free designated driver program through the holiday season, now partnering with Uber to provide rides to residents.
Extra Plate: Turning Point
When Turning Point opened its first location in Marlton in February 2013, it was easy to see that this wasn't just another breakfast-lunch spot. Just walk through the door on any day of the week; or at least try to. There seems to always be a crowd, and a wait, for what this local chain is serving up.
To start, there's the breakfast plates, ranging from sweet to savory with a sprawling list of egg dishes, waffles, French toasts and pancakes. You can start your day the healthy way with high protein and low fat dishes, including their power grain pancakes—which come loaded with 10 different grains and cinnamon—or indulge in something a little more divine like their OMG French toast, a seasonally appropriate plate of wheat toast with pumpkin cinnamon marscapone, pecans, caramel and smoky bacon.
Lunch options vary in soups, salads and sandwiches, but are far from the ordinary diner-style options you're used to. For proof look no further than their cracked lobster quesadilla, a massive wheat tortilla loaded up with lobster meat, fresh avocado, spinach, mango, onions and Monterey jack cheese. It's sinfully cheesy, and the mango adds just the right amount of tropical flair.
There's also a menu designed just for people with gluten sensitivities, which substitutes options from their regular menu with gluten-free ingredients like quinoa, potatoes and tortilla chips. That means you can still enjoy one of their more enticing savory breakfast options, the grande huevos rancheros, which tops diced potatoes with sautéed chipotles and onions, spicy chorizo sausage, black beans and avocado before piling on three eggs, avocado and salsa.
Even the drink list is extensive, as Turning Point serves up six French press coffee varieties, a handful of options from their espresso bar, more than a dozen loose leaf teas, and hot chocolates that could be a meal in their own right. We're partial to the s'mores variety, which combines traditional hot cocoa with marshmallow syrup, whipped cream and graham cracker crumbs. When it comes to options, there really is something for everyone, and Turning Point is continuing to prove that it is well worth the wait at the door.
Published (and copyrighted) in South Jersey Magazine, Volume 12, Issue 8 (November, 2015).
For more info on South Jersey Magazine, click here.
To subscribe to South Jersey Magazine, click here.
To advertise in South Jersey Magazine, click here.