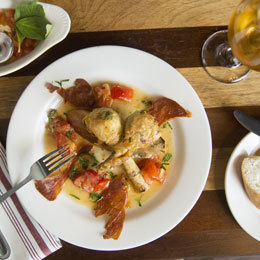 Da Soli Italian Restaurant
Da Soli Italian Restaurant
116 Kings Hwy. E
Haddonfield
(856) 429-2399
Walking in the front door of Da Soli, the first thing I noticed was what's new. I've frequented the two-story eatery tucked into Haddonfield's Kings Highway more than my fair share of times since they opened their doors four years ago, but for the first time since its debut the space has undergone a bit of a facelift.
To start, the once-open kitchen has been closed off, replaced with a swinging door and large art installment on the new wall. It was a conscious decision for chef and owner Mark Berenato, who has turned 2015 into a year of growth and change (his second restaurant, Allora, opened its doors in Marlton last winter).
"It's a bit quieter now, and gives guests near the kitchen more of an intimate experience," he says. "We know people enjoyed that working environment, though, and luckily people can still see us working from the hallway, but this created a calmer atmosphere in the dining area. Overall, we freshened up the look.
"We wanted to make it a little more casual, and more family-friendly. We wanted to make it more of an experience for everyone, not to come across as a stuffy Italian spot. We added some colors to the wall to kind of brighten up the place."
That brightened-up feel has also translated to an all-new menu, with a clearer definition of the courses available. "I know we're upscale, but that doesn't mean it has to be a complicated experience for our guests, and we wanted to focus on that. We wanted to give our guests a clear idea of what each section was available, and wanted to make it more reader-friendly."
That includes a larger menu with more options—including a handful of new salads and several new appetizers to try.
Carciofi Al Romano arrived first, and was a stellar way to start the meal. Roman artichokes were wrapped in San Danielle prosciutto, pan seared so that the meat crisped up, then egg battered and deep fried and served in a crisp white wine and garlic sauce. The acid from the sauce perfectly complemented the salty prosciutto and the artichoke was meaty and hearty.
An appetizer of chicken sausage with figs in a balsamic reduction was one of the new additions to the menu, and was a lovely, seasonal plate. Dried figs added a bite alongside the tender pieces of chicken sausage, which were bursting with spices and a salty brine, all finished off with the sweet-and-tangy sauce that sat atop.
The chicken sausage returned for an entrée of gluten-free roasted red pepper gnocchi, one of a handful of gluten-free options available at Da Soli. "We're getting in the habit of becoming more accommodating to dietary restrictions and allergies, which plays along with our goal of becoming more of a welcoming space for all different people," says Berenato. "We're trying to cater more to gluten-free people, vegetarians and people with dietary restrictions."
Gluten-free pasta was a first for me, but after tasting Da Soli's variety it won't be the last. The gnocchi had a bit of a chew, similar to that of the traditional potato variety, but the red pepper added just the right hint of sweetness in each bite. The pasta was tossed in with the sausage, and finished off with more roasted red pepper, broccoli rabe and white beans, all of which provided extra texture and a nice, garlicky finish.
The pork chop has always been a popular dish on Da Soli's menu, so the updated version was, of course, a draw. A thick-cut, boneless pork chop was stuffed with prosciutto and cheese, then sautéed and served in a rich plum sauce with veggies and potatoes. The pork was cooked just right, and the melty cheese and salty prosciutto were made better by just the right amount of sweet sauce.
Desserts were house-made, with one option including a seasonal pumpkin ricotta cheesecake. The pumpkin spice was refreshingly subtle, while the cheesecake was light and fluffy with a touch of earthy texture from the addition of the pumpkin. It was the final touch that solidified the new and improved Da Soli as a place to revisit, with a vision for the future that has me ready to make another reservation.
"I wanted to give people more," says Berenato. "It's been four years and we haven't changed the menu in a few years. Our clients wanted to see more, and they wanted to have some more variety, since people love coming back time after time and want some variety after a few times."
Published (and copyrighted) in South Jersey Magazine, Volume 12, Issue 8 (November, 2015).
For more info on South Jersey Magazine, click here.
To subscribe to South Jersey Magazine, click here.
To advertise in South Jersey Magazine, click here.