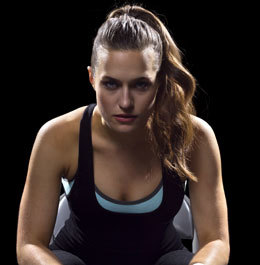 Fighting Back
Instead of weapons, women are arming themselves with self-defense techniques.
When she was 19 years old, Danielle Ergood transferred into Rutgers University-Camden. A week before classes began, she needed to go on campus for some testing.
It was early in the morning and, not being familiar with how to get there, she stopped and asked directions. Unfortunately, Ergood asked the wrong person and was mugged.
"From then on I wanted to learn self-defense," says the now 44-year-old Mount Laurel resident. "I wish I had been able to defend myself."
The desire to be able to defend themselves has led women to self-defense classes. Long gone are the days of carrying mace in your purse. Instead, women are learning skills—both mental and physical—that will make their likelihood of surviving a potential attack much higher.
According to Rob Mudrak, head instructor and owner at NextGen MMA in West Deptford, women have shown an increased interest in classes he offers. "Ronda Rousey's name has been in the news more, and that's certainly spiking an interest in MMA (mixed martial arts)," he says, referring to the UFC's Bantamweight Champion.
This initial interest might stem from looking to get a good workout, but can result in skills that will help in the event of a physical attack.
There are any number of ways a woman—or man, for that matter—can train for self-defense, some of which are based in martial arts, and others that are purely self-defense. What they all have in common is that the only things you have to use against your attacker are your body and mind.
"When [I teach] self-defense seminars I often ask if any of them carry a knife or gun for protection. I follow up by asking if they are prepared to stab or shoot a man to death," says Mudrak. "It's hard enough to talk about, let alone do, and in real life, combat is vicious. Carrying a weapon can also turn a purse snatching into something more serious if the attacker takes your weapon and uses it against you."
He says attackers follow a systematic approach. "There are a lot of scary elements of life—abductions, home invasions, rapes. A large attacker will see a female at a disadvantage and often the woman is blindsided by the attack, leaving no time to react," he says.
Brazilian Jiu-Jitsu (BJJ) is particularly applicable for these scenarios because it is designed to even out the power or size difference between the opponents. "A smaller opponent can use leverage, counter movement and positioning to overcome a larger opponent, with the goal of submission, or rendering your opponent helpless," says Mudrak.
"We find when women put in their time on the mat, even if she's 115 pounds, we'll put a 215-pound man up against her and she can take him because of the skill set." Those who train in BJJ learn to apply their techniques under pressure. "It's a fight switch. You react while still in control of your body," Mudrak says.
Tarah Coward, a 29-year-old Deptford resident began taking BJJ classes at NextGen MMA this past March after they hosted a women's self-defense seminar. She liked it immediately.
"I haven't ever been in a situation where I would need these skills, but once I started learning, I realized how helpless I would be," Coward says.
Since taking BJJ she says she feels empowered. "A stranger on the street might assume they could overpower me—in BJJ you don't bulk up—and when we train many of the guys have 30 pounds or more on us."
Coward says it's more than a workout; it's about life skills. "[BJJ] makes you realize you're capable of doing more than you thought. It has made me wonder why more teenage girls and women aren't encouraged to take these classes."
For Debbie Vonberg, her original reason for taking Israeli Krav Maga (IKM) was her own teenage daughter. "Since she was starting to drive and getting ready for college, I figured it would be good for her to know some basics of self-defense," says the Marlton resident. "Once I was in the classes I realized why everyone needs this and I fell in love with it."
She's now in the instructor training program at Israeli Krav Maga in Cherry Hill. Co-owner Don Melnick says IKM is not a sport-oriented fighting system, just pure self-defense. "Israeli Krav Maga is focused on teaching people of all shapes and sizes to defend against any threat on the street," he says. "Whereas martial arts or other sports might have rules about what you can do, we work off the philosophy that there are no rules on the street. Bad guys don't have a code of conduct; they'll do whatever they have to do to get something from you."
Melnick says this approach is especially beneficial for women, and his center hosts many special women's self-defense classes. "Personally, I have two daughters and I think it's important. More than likely females will be the ones targeted and we teach them how to get out of the situation."
Techniques of IKM involve using body weight to counteract an attacker's hand strength, or if grabbed from behind, being able to turn and face the attacker. "It's hard to defend what you can't see," Melnick says. "You want to harness their momentum and go with the attacker as opposed to pulling away."
Some moves that might be illegal in sport fighting—eye gouges, groin strikes with the foot or knee—are encouraged in IKM. "One move is the 'rule of thumb,' where you find the attacker's cheek and eyes and slide your thumb up the side of the nose into the eye. If you jam a finger into their eye, more than likely they will let go," he says.
Vonberg says women never know when they'll need these skills. "I've had to use skills I learned. I was traveling abroad with my daughter and we were in a club. A man kept bothering me and I tried to avoid him by moving around the club, thinking he would leave me alone," she says. "He came up to me and leaned in and I quickly grabbed him by the wrist, twisted it and jolted his body away from me. It stopped him instantly."
As a woman who is less than 5-5 and a little more than 100 pounds, Vonberg suspects the man thought he could overpower her. "In that moment, the instinct just clicked, just like that. He didn't come near me again."
After the incident in Camden in college, Ergood never did get her chance to learn self-defense, until 20 years later when she took a class at South Jersey Korean Karate in Marlton. "I finished college, got married, had kids and when my children became involved in karate, the master asked me if I was interested in taking a class," she says. "I tried it and was hooked."
Ergood is now a second degree black belt. The self-defense classes are taught by Amanda Esposito, a sixth degree black belt. Esposito says she got involved more than 20 years ago and realized there were not many women taking martial arts classes.
"As a woman we're brought up thinking we can't defend ourselves physically and we're not taught how to react," she says. "In karate you concentrate on both the mental and physical aspect, and once I got my black belt I wanted to show other women and girls that they could do it too."
Mental awareness is key, says Ergood. "It's the idea of not putting yourself into a situation where there might be danger." Something like this might have helped her back when she was 19. "I do think back to what I would have done knowing what I know now. They would never see it coming," she laughs.
Published (and copyrighted) in South Jersey Magazine, Volume 12, Issue 8 (November, 2015).
For more info on South Jersey Magazine, click here.
To subscribe to South Jersey Magazine, click here.
To advertise in South Jersey Magazine, click here.