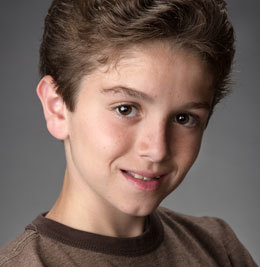 Working for Peanuts
Medford middle schooler lends voice to new feature film.
When AJ Tecce and his parents caught wind that auditions were being held to do voiceover work in the new animated Peanuts film, he was excited for the chance to read for the lead part of Charlie Brown. Only he wouldn't be doing so in front of producers at a casting call. Instead his mother filmed his audition herself. On her smartphone.
Tecce didn't go on to land the Charlie Brown role, but the 13-year-old Medford Memorial Middle Schooler impressed folks enough to get a call back for the role of Pigpen. The rest, as they say in Hollywood, is history and Tecce will have a major part in The Peanuts Movie based on Charles Schulz's legendary comic strip and set to arrive in theaters Nov. 6.
And the thrills will continue for the eighth grader, as he and his family will travel to Los Angeles to walk the red carpet at the film's premiere. He will also stand side-by-side with Snoopy the next day when the character receives a star on the Hollywood Walk of Fame.
We spoke with Tecce about this exciting opportunity, being a young actor and his love for playing competitive soccer.
SOUTH JERSEY MAGAZINE: How excited are you to go see the film with family and friends?
AJ TECCE: Some of my friends have been talking about how they need to go see it. I'm going to see it with my grandparents and cousins. We are going to go to Los Angeles for the premiere.
SJM: Have you ever been to L.A.?
AJT: No, but it's going to be so much fun.
SJM: You'll really feel like a movie star out there.
AJT: I hope so.
SJM: How have your classmates reacted to the exciting news?
AJT: Once I found out, it was toward the end of sixth grade. I couldn't tell anyone until the middle of seventh grade. And once they saw the cast revealed on The Today Show, my entire school found out about it and it was so crazy.
SJM: What is the process for doing the voiceover work?
AJT: When I got into the booth, I had never seen the script before. They gave me a couple minutes to look over it and then we did multiple takes until they liked it. Some of the time I got to see the animation on a TV screen. It took a good five-to-six times [to get it right], maybe two hours each [session].
SJM: I heard you are a pretty good soccer player. What do you love about playing the game?
AJT: I just love how it's a really fun team sport and you get to hang out with all your friends. It's a very competitive game.
SJM: Are you a better actor or soccer player?
AJT: Oh, I have no idea.
SJM: Did you watch Carli Lloyd this summer? What did you think about her performance?
AJT: I watched that whole game; I loved it. I've actually trained with her coach and met her. I went to a soccer academy and her coach was the head coach of the academy and one day she just came and helped out with all the drills.
SJM: What subjects do you like in school?
AJT: This year science is one of my top classes. I have an amazing teacher.
SJM: Do you think you can make acting a career?
AJT: I think it could be a career, but maybe I'll go into broadcasting.
SJM: Maybe you'll get the chance to broadcast the World Cup someday.
AJT: That would be awesome!
Published (and copyrighted) in South Jersey Magazine, Volume 12, Issue 8 (November, 2015).
For more info on South Jersey Magazine, click here.
To subscribe to South Jersey Magazine, click here.
To advertise in South Jersey Magazine, click here.