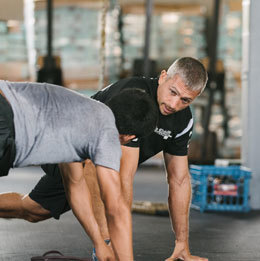 Physical Challenge
Steve's Club is turning at-risk youth lives around, one CrossFit workout at a time.
In inner cities across the country there's an ongoing challenge of keeping neighborhood kids active and engaged in the community while protecting them from the pitfalls of drugs and violence that plague the streets. Giving a child a chance to overcome is never easy, let alone when the odds are stacked against you.
This certainly rings true in Camden. But for some kids who call the city home, they are working hard to change the perception that they'll never make something out of their lives thanks to the help of a Pennsauken nonprofit that aims to strengthen kids both physically and mentally.
Steve's Club offers reduced, low- or no- cost CrossFit sessions to at-risk youth. According to Genesis Garcia, 19, CrossFit is the force that fuels her dreams and motivates her to become a better person and athlete. "CrossFit has changed me in many ways I couldn't be more grateful for," Garcia says. "Coming from Camden, seeing all the drugs and violence, a motto I've set for myself is, 'I refuse to be a statistic,' because I am more than what society says a girl from Camden will end up as being." She points to Steve's Club as the safe haven where everyone "becomes one as family with CrossFit."
Her friend Pedro Rosario, 17, from North Camden agrees that CrossFit enriches his life and has opened many doors for him along the way, preparing him to now compete in the Youth and Junior Nationals for Olympic weightlifting. Rosario enjoys seeing "people from different age groups excel in workouts and progress physically."
These are just two of the 100-plus kids per year whose lives are touched by Steve's Club, a national program that's available today in 30 cities around the country, from Redding, Calif., to Boston. The club is funded, in part, by Steve's PaleoGoods, a line of on-the-go clean eating options that contributes 15 percent of profits to Steve's Club. These efforts, which have touched countless young adults of various socioeconomic backgrounds and improved their lives through fitness and nutrition, can all be traced back to Steve Liberati, who was raised in Gloucester Township and now lives in Mount Royal. His story is not only one of inspiration and passion, but it's also a display of persistence and perseverance to make his dream of positively influencing at-risk youth a reality.
Back in the summer of 2007, Liberati was working as an exterminator in North Camden for his father's pest-control business and found himself continually thinking about the children in the apartment complexes that he worked in. "There were some kids that just reminded me so much of myself when I was growing up. But I felt it was just so unfair that they were trying to get ahead and do the right thing, yet the biggest challenge was their environment," Liberati says.
Liberati started a little fitness center "as a hook to get to know some of the neighborhood kids better," he explains. He knew that preaching wouldn't go over well with teenagers, and thought that the best way to influence them would be through actions, particularly fitness, which he was passionate about. So he set up a small CrossFit gym in an office of an apartment complex in North Camden that agreed to lend him some space for an after-school program. Before he knew it, he had about 20 to 25 students ages 13 through 18 showing up on a regular basis, and he unfortunately had to turn others away due to space restrictions.
About six months later, his rental fell through, and he found himself holding workout sessions on a local baseball field near Cooper River Park. Liberati would drive around in a 15-passenger van to transport the kids to and from the park so they could get their workouts in.
Then, he teamed up with the Police Athletic League (PAL) and borrowed space in their Camden building. This space was ironic, in a way, because the top floor of the building was designated for those participating in a Scared Straight program, which gives juvenile first offenders first-hand experience of what it would be like to be an adult inmate, Liberati explains. "I found it ironic that we were working out on the first floor to prevent kids from going up to the second floor," he says.
During the process, Liberati recognized that while CrossFit was drawing kids in to his center and keeping them off the streets, he wanted to do more. So he began encouraging them to commit to a 30-day clean eating challenge, where they would avoid processed foods and eat diets rich in proteins and vegetables. However, the students came to Liberati and explained that they were trying to do their best, but there were no healthy options in their school cafeterias. In response, Liberati put together small packets of foods that they could take with them on the go, which included beef jerky, dried berries and nuts.
Eventually, Liberati knew he wanted to make coaching at-risk students his full-time job, but needed the funds to keep it going. He started a for-profit gym for adults in Cooper River Park to help fund his youth program. Soon, the gym and the Steve's Club youth program, which occupied the same building, moved to Pennsauken. In the adult gym, Liberati put some of his protein-on-the-go packets out for customers; they loved them and were quickly asking if they could purchase more. Soon, Liberati found he was spending most of his off-hours cutting up beef jerky and packaging these snacks, with the generous help of his wife.
That's when Liberati knew he was on to something, and began marketing and selling these foods on the side as another means of revenue to help fund his dream. He reached out to incubator Rutgers Food Innovation Center in Bridgeton to help get the small business started, and for some time, used their facilities to make the snacks.
Today, the protein snacks are under the Steve's PaleoGoods line and are sold both online and at retail stores throughout the country, including over 150 Whole Foods stores and a large number of independent and health food stores. They don't only provide Steve's Club youth attendees the energy needed to get through their days and their strenuous after-school workouts, but they literally fuel the Steve's Club program, with a portion of revenue going towards the nonprofit.
Liberati is certainly living his dream; he explains that the privileges that he earns of getting to know his students and helping to shape their futures in some way is immeasurable.
Many of the Steve's Club youth are living their dreams as well. "I don't ever see myself stopping [CrossFit]," Garcia says, who plans to obtain her masters degree in physical therapy and earn her CrossFit L1 certification, which would prepare her to teach CrossFit. Rosario's future ambition: representing Team USA in various international competitions like the Olympic Games.
Thanks to Liberati, who certainly set the bar high, many are now benefitting from the fruits of his labor.
Published (and copyrighted) in South Jersey Magazine, Volume 12, Issue 8 (November, 2015).
For more info on South Jersey Magazine, click here.
To subscribe to South Jersey Magazine, click here.
To advertise in South Jersey Magazine, click here.