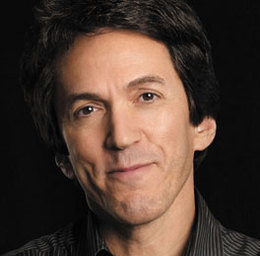 Albom Release
Oaklyn native and bestselling author Mitch Albom uses his love of music as inspiration for a new book unlike any other he's ever written.
Odds are that most people have never heard of The Lucky Tiger Grease Stick Band. Made up of eight teenagers in the '70s, they sang oldies tunes, greased their hair back and made it big, if you count performing at dances around South Jersey and once opening for the guy who played Mr. Kotter as big.
Although the group never did discover fame, their piano player did. Mitch Albom is a New York Times bestselling author, a long-time sports columnist for the Detroit Free Press, hosts his own daily radio show and appears regularly on ESPN.
But for Albom, who grew up in Oaklyn and attended Haddon Township High School, music has always been his first true love. That's why he's so excited about The Magic Strings of Frankie Presto, his latest novel, which hits stores on Nov. 10.
The author of Tuesdays with Morrie has written five novels and four other books, but this is the first one devoted to music.
"I don't know why it took me so long, to be honest," says Albom, who worked as a professional musician after college and continues to write and play music. "They always tell you to write what you know, and looking back on some of the books I've written, [I didn't do that]. I wrote about heaven in my second book, and I obviously don't know about that; I wrote about amusement parks and their history, and I don't know that. A lot of the books I wrote I had to do research on.
"I don't know why it took me this long to get to it; maybe I was saving it up. But I am happy with how it's come out. It's twice the size of a normal book of mine, so apparently when I got around to doing a book on music, I threw everything I had into it."
Magic Strings is an epic tale about the fictional Frankie Presto, who is born in a burning church in Spain, abandoned as an infant and mentored by a blind music teacher before being sent to America at age 9. Frankie eventually becomes the greatest guitar player in the world, and rubs shoulders with a number of real-life musical icons on his Forrest Gump-like journey.
Albom spoke to us about his most ambitious novel yet, his memories of growing up in South Jersey, and how his experiences with The Lucky Tiger Grease Stick Band helped develop his passion for music. He also talked about returning to the area on his upcoming book tour, which will arrive at Bookends Bookstore in Ridgewood on Nov. 11 and the Free Library of Philadelphia on Nov. 13.
SOUTH JERSEY MAGAZINE: Your new book starts with an interesting concept about how natural talent is bestowed upon an individual. You write that different talents appear as brilliant colors to newborn babies, who reach out for the ones that appeal to them and have those talents for life. How did that idea come to you?
MITCH ALBOM: I think anybody who has a creative skill, as hopefully I do, wonders where that came from. Why is writing sort of fairly easy to me? Why does music feel so natural to me? When I learned how to play music, I learned by ear. I never took lessons or anything; I can just hear it. Why can I hear it and the next person can't? Why can the next person paint amazingly and I can't? I've always thought about where talent comes from … I just thought this was a cool way to answer the eternal question of why one person has a certain talent and another has a different one.
SJM: Music is one of your talents, and I think your love for it certainly comes through when you're reading this book.
MA: That's why I used the voice of music as the narrator, because I thought, 'Who else would love music as much as I do if not music itself?' That's why I chose to use that technique.
SJM: You play piano and guitar, correct?
MA: Piano is my main instrument, yes. I play guitar too, that was my first instrument. I can also play drums and bass and a little clarinet. If I can figure out what buttons to push, I can pretty much play anything. But in terms of playing in bands and everything, it's piano first and guitar second.
SJM: Why did you settle on guitar as the instrument for Frankie Presto?
MA: Well, part of me wanted to do piano, but I knew this was going to be an epic story and you can't carry a piano around. It's as simple as that. I knew my character was going to be moving all over the world, and you can't carry a piano all over the world. Then I thought about drums, because no one has ever written a great book around a drummer, but you have the same problem.
So a guitar, by its nature, is not only a beautiful musical instrument, it's a friend. You can carry it, caress it, hug it and hold it against your body. It's a creature comfort, and I just thought it would work for the kind of book I wanted to write.
SJM: The book is dedicated to your Uncle Mike, who died from cancer when you were 22. What was his influence on you and how did he inspire this book?
MA: He played piano and he was the only one in my family of the older relatives who was musical. Whenever we would go to his apartment in New York, he had a piano there and I would sit next to him and listen as he played. He could play "Flight of the Bumblebee," a song that's used in the book with Wynton Marsalis playing it. It's a very famous classical piece. He would play that, and it's an astounding thing to look at as a kid, to see somebody's hands move that fast. I just remember thinking, 'I want to do that.' He taught me a lot of basics about piano, and eventually he gave my family his piano. It went into our basement and it became my piano. So my musical lineage is straight from him.
SJM: You have many famous musicians and singers speaking at the funeral of the fictional Frankie Presto in the book. How did that come about?
MA: They all agreed to participate in the book and let me write as them. All of them have read their section to make sure they were OK with what I wrote and how they sounded, and they were all on board with it and very encouraging. … Some of them I didn't know before, like Paul Stanley from Kiss. Somebody that I knew knew him and contacted him. He was up for it, and now we're friends. I've corresponded with him many times on this, and he ended up recording his own version of [his chapter] for the audio book. Ingrid Michaelson did that too; so did John Pizzarelli and Roger McGuinn. It's interesting, because if you get the audio book, you'll hear all these real people tell these stories about the encounters, except they're fake encounters.
I wanted to create this Forrest Gump thing to it. If you're going to have a musical character over the course of the last 70 or 80 years, you can't create a totally phony world of music. We all know music from what we've heard. So I couldn't say Frankie Presto had a No. 1 song on the charts, and No. 2 was the Purple Men with such and such. You couldn't have phony bands and phony songs; it just wouldn't work. You want to see him mixed in with what you already know about music. So that's why I thought having real people come to his funeral to talk about him would be a good device. It was a lot of fun to write like that, because each one has their own voice.
SJM: You have book signings scheduled for New Jersey and Philadelphia for your upcoming tour. Are you excited for the tour and do you still have a lot of family and friends in this area?
MA: Oh yeah. Not only that, but South Jersey is one of the places where I actually played music. I was in a band in high school and we played all around South Jersey and Philadelphia, and North Jersey as well. For me, a big part of falling in love with music was playing in those bands.
When we go on the road this time, music is going to be part of it. There is a soundtrack album that was recorded to go with the book, and real artists contributed songs that they wrote and recorded based on the make-believe songs that Frankie did. … So when I go on the road, I'm sure we're going to be playing some of these songs. At some of the places, I might have a piano to demonstrate some of the things we talk about, and I'm really looking forward to this road trip. … I'll be going with one of my oldest, dearest friends who was in a band with me back then in New Jersey. He's from Jersey as well and he'll be traveling with me. It will be a more musical book tour than we've ever done before. Maybe back in New Jersey we'll get some guys from our old band to come in.
SJM: Of course you've been in Michigan for many years and most people associate you with Detroit now. But I read an old interview where you said you liked being referred to as Philly's own. Do you consider each of them a hometown in a way?
MA: Oh yeah. I'm a Jersey and Philly kid. … Where I grew up, we always considered ourselves Jersey first, but I also identify with Philadelphia. My parents moved into Philadelphia when I went to college, so I've lived in both places. Outside of my Jersey accent, which I've seemed to lost the majority of, I always identify myself with Jersey. My life in Detroit is very full now; it's certainly my adopted home. I've lived here for 30 years, and I left New Jersey when I was 16. But you never forget where you're from. Every time I talk to Angelo Cataldi, he reminds me where I'm from.
SJM: You recently brought a taste of this area to Michigan with the opening of the Detroit Water Ice Company. How did that come about?
MA: Well, you can't take the Jersey out of the boy. … We should always remember that what we take for granted is considered a luxury somewhere else. I grew up in Oaklyn, and there was a place on Cuthbert Boulevard called Genova's. Frank Genova owned it, and it was a little Italian grocery market. He had a little freezer up front and he had 5-cent, 10-cent, 20-cent and 25-cent [sizes of water ice]; the 25-cent was monstrous, at least to us. You'd walk in, and he didn't speak hardly any English. He had jet-black hair and he wore an apron. He'd come to the front and say, 'Lemon or cherry, lemon or cherry.' I always thought that was one word, the way he said it. That's all they ever had, those two flavors, and I probably ate that stuff every single day of every summer growing up.
So you just think that's the norm, but when you leave, you find out you can't get that anywhere. You ask for water ice and they say, 'Water is ice, what do you mean?' So when I brought it [to Detroit], everybody was very skeptical. But ever since we opened our doors, people have gone gaga over it. Primo in Westmont is the company that shared all of their recipes with us, because it's all for charity. I said if we're going to design a place, let's go after the best, so I went to Primo in Jersey. I never met them before, but I asked if they were interested in doing something for charity, and they said 'Sure.' … People love it here as much as they love it in New Jersey.
SJM: Getting back to the book, several of your books have been made into TV movies. Are there any plans for this one to be developed?
MA: This is headed for the big screen, a real movie. Warner Brothers is making the last book I wrote into a film, and when I brought this up to some of the people there, they all agreed that this will be a feature film if the gods are with us. So that's my goal and I think it will make a great film, a la Forrest Gump.
SJM: You have your books, you still write your sports column, you're involved in radio and TV and you still play music. Do you plan on sticking with all of these pursuits for the time being?
MA: I don't know; it's kind of fatiguing. I find that some of the stuff I do in Detroit has become part of who I am. Doing the radio show enables me to reach a lot of people for our charitable projects. We have a big radiothon every year and last year we raised $800,000 for charity in a single day. So if I consider giving that job up because I'm tired or I don't want to do it anymore, I feel like I'd be letting people down in the charities, because where are they going to get that $800,000 from? But I'm not complaining; it's all been very good.
Published (and copyrighted) in South Jersey Magazine, Volume 12, Issue 8 (November, 2015).
For more info on South Jersey Magazine, click here.
To subscribe to South Jersey Magazine, click here.
To advertise in South Jersey Magazine, click here.