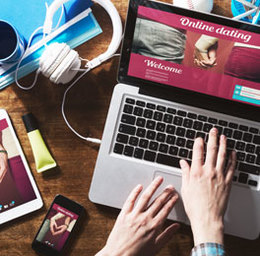 Love at First Site
Is online dating making it harder to meet your special someone?
Is the act of swiping left or right the new version of dating in 2015? For those re-entering the dating scene, gone are the days when men and women alike would meet in a "real world" setting. Instead, here are the times when "matches" are made in the virtual world otherwise known as online dating.
Technology is playing a major role in relationships nowadays and the vast crop of dating websites and apps prove it. Thanks to sites including Match, OKCupid, Plenty of Fish and mobile apps from Tinder, Coffee Meets Bagel, and How About We, everyone from millennials to baby boomers is experiencing a new way to date. But, is it as convenient and fun as it's perceived to be and more importantly, does it really work?
Research proves online dating has shed its stigma following its inception in the early 2000s. In fact, it has increased in usage across all ages—even middle-aged adults. According to a recent Pew Research Center study, 45- to 54-year-olds "are just as likely to date online as are 18- to 24-year-olds."
The uptick in online dating speaks a lot to society's approach to meeting that special someone, including the innumerable amount of "profiles" to choose from. "It's almost like a candy store where your whole process of choosing a partner is affected by how many other people are out there," explains Dr. David Leibovitz of Marlton's Hopewell Springs Counseling Center.
With more dates to choose from, the less likely that users are willing to commit to dating long-term. "In some ways, it stops people from committing early on in a relationship if they get caught up in the whole online dating world," Leibovitz adds. "Then in some ways, it becomes a game."
That "game" entails setting up an online profile and sifting through potential dates, which simply isn't for some users—especially one 50-something-year-old hairdresser from Marlton (a divorcée who prefers to remain nameless). "Personally I haven't cared for it," she explains. "For me, it felt like doing homework [by] reading all these bios. They all kind of say the same thing after a while and a lot of people lie about their age, height and jobs."
While the Marlton hairdresser embraces 2015 as the age of technology, she isn't quick to adjust to the ever-evolving dating social life. "You're judging a person by their looks alone. I don't judge people on their looks when I meet them in person, but I do find that I'm judging [them] in a picture. I also feel like it's a little creepy. I don't know why, but it just isn't for me."
When it comes to judging a user's photos, the mobile-dating app, Tinder, certainly plays off on that. The app features pictures (and profiles) of potential dates and allows users to either swipe left (to pass) or right (to hopefully match). "Tinder was fun at first because you could look through all these pictures and I did actually meet a very nice person, but it didn't work out," the hairdresser explains.
While the pool of users is based on a mobile device's location radius, sometimes the swipe right can lead to awkward run-ins, like in this instance, an old friend's ex-husband.
"From his picture, I couldn't tell who he was and obviously he [swiped right] because he didn't know who I was. Then he comes through and he goes, 'Oh it's me! I thought maybe we can meet for lunch and talk about old times!' And I was like, absolutely not!" the Marlton-based 50-something year old exclaims. "The thing of it was he treated this person so badly—and I'm not even friends with her—I wouldn't even have a coffee with him. So I got off of it right away because it's not for me."
As for Marlton resident Maureen (a teacher who prefers to keep her last name private), she's a 50-something-year-old widower who has dabbled "on and off" with dating sites and echoes similar sentiments. "With online dating, there's always another choice. People are quick to say, 'This person isn't exactly what I want, so I'll go shopping for another.' For me, I haven't pursued a lot of dates long-term because I think it's the same thing. Somebody is always going to wink at you."
Not only is there a pool of potential partners from which to choose, Maureen also cites many users are simultaneously logging on to more than one site at a time. "I think people are putting themselves on any site, not really contemplating the circumstances that are involved with other people who are trying to meet a person."
Leibovitz is well aware of this trend and explains that for those new users—mostly middle-aged adults who are jumping back into the dating game—there's a bit of a learning curve. In fact, many are experiencing what millennials call "ghosting," the act in which a potential prospect fades away after weeks or days of dating.
"[New, older users] haven't quite grasped the fact that a lot of the people who date online are dating many people at the same time," Leibovitz explains. "There are many opportunities for each of these people that maybe wouldn't have been the case with traditional dating back in the day."
While young adults might accept this fad, Leibovitz believes it will have more of a negative impact on the older generation. "They'll have a tendency to personalize rejection and not understand it as part of this new game in the world of dating," he says. "They may think, 'What did I do wrong and did I say something that upset them?' In reality, it most likely has virtually nothing to do with them personally, but everything to do with the environment of the dating world."
With an influx of middle-aged adults logging on to dating sites, some users—divorcées, widowers or empty nesters—have children of their own. They fear it could have a negative effect on their kids, but Leibovitz is confident it won't be detrimental to either parent or child. "It really depends on the relationship and the factors in the situation including age and maturity level."
As for the aforementioned female users, they boasted about their respective children's support, with Maureen revealing, "[My kids] wanted me to be happy. They didn't necessarily want to know any details and they certainly wouldn't have chipped in on the profile, but they want me to find someone."
Despite how jarring online dating can be for the middle-aged sector, Leibovitz touts its pros—especially for those who are "uncomfortable in social situations."
He explains, "Putting yourself out there is the first step, maybe communicating with someone in a very non-threatening, non-personal way through typing emails or messages. In a way you can almost desensitize yourself from the world of dating."
This rings true for Magnolia resident Jon Iannelli, 32, a sales rep who after two years of using Match.com, finally met his fiancée. "Online dating isn't something where you can find your match over night. It took time, going out on lots of dates, talking with different people and getting to know them."
While some users might find this to be daunting, Iannelli took the experience as a hard-learned lesson. "It made me realize never to settle, and that there were plenty of people looking for the same things," he adds. "I feel the biggest problem with dating sites is people do not give them enough time to work. Hundreds of thousands of people are on dating sites so it takes time."
Online dating is without a doubt a personal, yet vulnerable experience, and while some users might be in it for non-committal reasons, there are a few good matches. "Everything is at your fingertips and the experience is what you make of it," Iannelli explains. "I truly believe that if you give online dating a fair chance, it will work out."
Whether you're weighing the pros and cons or resistant to a new era of courting, it is quite possible to transcend the candy shop experience of online dating. Despite the ever-changing social climate of dating, some things still remain the same: Getting to know someone takes effort, energy and time, but online dating can increase the odds of meeting your virtual match.
Published (and copyrighted) in South Jersey Magazine, Volume 12, Issue 8 (November, 2015).
For more info on South Jersey Magazine, click here.
To subscribe to South Jersey Magazine, click here.
To advertise in South Jersey Magazine, click here.