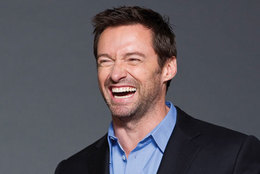 Scene Stealer
Hugh Jackman is a film and stage star, but his best role may be as a loving family man.
There are some people who are able to summon charm, dignity and optimism as part of their daily embrace of life. Hugh Jackman is one of those rare individuals whose uncommonly buoyant spirit is perhaps his most defining characteristic. Not that he isn't also a massively talented and versatile performer who is equally at ease on a Broadway stage as he is on a film set.
He's the ultimate multi-hyphenate showman who captivates audiences with barely a wink or merely the flex of a pec as Wolverine, the franchise character for which he is perhaps best known.
Now Hugh is off on another adventure as Blackbeard, the arch villain and fearsome pirate who figures prominently in Pan, the new fantasy film that is a rollicking prequel to the fabled story of Peter Pan. Pan is directed by Joe Wright (Atonement), while Rooney Mara co-stars as Tiger Lily and Australian newcomer Levi Miller plays the young Peter Pan. Other cast members include supermodel "It Girl" Cara Delevingne as the Mermaid, Amanda Seyfried as Mary and Garrett Hedlund as Hook.
"My character is drawn from one line in the original book by J.M. Barrie that mentions that Hook once worked as a boatswain for Blackbeard," Jackman says. "This is the kind of dastardly dashing villain that you revel in playing. Blackbeard is a larger-than-life kind of pirate who loves the sound of his own voice and enjoys being his wicked self."
It's merely the latest in a series of extraordinary roles for Jackman, who was recently seen in the sci-fi film Chappie and appeared once again as Wolverine in last year's blockbuster smash hit, X-Men: Days of Future Past.
Previously he starred in films like Les Miserables and The Prestige and next year will be seen as circus impresario P.T. Barnum in The Greatest Showman on Earth in addition to returning to the iconic role of Wolverine in X-Men: Apocalypse. Jackman earned a best actor Oscar nomination for his work as Jean Valjean in Les Miserables (for which he won the Golden Globe) in 2013, and has also earned two Tony awards. He has also hosted both awards ceremonies.
The 47-year-old Jackman lives in New York together with his wife and fellow Aussie, former actress Deborra-Lee Furness, and their two adopted children, Oscar, 15, and Ava, 10. He's also been somewhat of a regular visitor to the Delaware Valley, often turning up at Philadelphia Union soccer matches. (Jackman is a close friend of Jay Sugarman, the team's chairman and majority owner.) A couple years ago, he was a guest performer at the Academy of Music's 156th Anniversary Concert and Ball where he wowed guests with an array of song and dance. He's also turned up at Six Flags Great Adventure in Jackson to ride roller coasters with his son while taking a break from his hectic schedule.
In conversation, Jackman is as affable and congenial as his reputation suggests. Indeed, his Pan co-star Rooney Mara described him thusly: "He's one of the nicest people I've ever met in my entire life." We agree.
THE INTERVIEW
Hugh, how would you describe Pan?
I'm really excited about Pan. This is the prequel to Peter Pan—it's an origin story. It's a very smart film with a lot of heart and of course it takes place in Neverland. ... Joe Wright is a fabulous English director who's done films like Anna Karenina and Atonement, and he has a brilliant visual sense. He's a great storyteller.
Does it have a swashbuckling edge to it?
That's a big part of it. I get to do plenty of sword fighting and I can tell you that it's as much of a physical workout as you're ever going to get when you're training to do sword fights. You have a lot more respect for fencers and their athleticism when you've been through a film like this (laughs).
You tend to gravitate toward larger-than-life characters like Blackbeard or Jean Valjean or Wolverine, or when you're playing P.T. Barnum in your next movie. Why is that?
Oh, it's the natural showman in me. I grew up falling in love with musical theater and once you have that in your blood you love playing roles which have this theatrical quality. It's a chance to let yourself go completely and step into these fantastic characters who transport you and the audience into a different reality. I love the sense of spectacle and wonder of all that.
You seem to have such a natural gift as an actor and as a song and dance man. Where does that spirit come from?
Some people have a gift for that. I think that was always part of me. There's this side of me that likes putting myself out there as a showman and being able to entertain people. Performing is in my blood and there's nothing better than the feeling of being able to connect with an audience and realize that you've been able to transport them to where you're both in the same place where the outside world kind of disappears and time stands still.
Does it get tiring to be seen as a nice guy?
I've always valued the notion of being a gentleman and treating people with respect. My father is a very proper Englishman and he taught me the value of respect and chivalry and having a sense of honor. ... I find it so much more enjoyable to try to embrace the kinder and gentler sides of one's personality. I lose my temper very rarely, and when I do, I really feel miserable afterwards. But never with Deb and never with my kids, although when they misbehave, you learn to control your emotions and exercise as much self-control and reason as you possibly can. It's better to tell your kids that they are driving you crazy and being impossible than to yell at them. Repressing the urge to yell at your kids when they're driving you crazy—that's where my greatest acting skills come into play (laughs).
Being married for almost 20 years as a movie star is light-years in normal mortal years. What's the secret for such longevity in a marriage?
The biggest thing is to find the right person with whom you can be happy and evolve together in life. If you get that part wrong, nothing is going to change that over the long run. I was pretty insecure in many ways when I met Deb, but she's been blessed with a natural kind of confidence that was beyond anything I could imagine. I just felt that about her immediately and I knew that I wanted to be with her. But she wasn't attracted to me as fast as I was. It took a while before I convinced her I was the man for her. It's been a beautiful journey together ever since.
You've managed to keep your private life fairly quiet over the years despite being a major celebrity. How do you manage that?
I'm lucky that I'm a fairly boring person in real life. When I'm not working, I'm with my family. That's my life. My wife Deb deserves a lot of credit because she tries to make sure I don't talk too much about our family life because she knows that I can be pretty talkative and it's impossible for me to keep a secret (laughs).
You're famous for training very hard and for bulking up as Wolverine. Does that ever get tiring?
As I've gotten older, it starts to get boring after a few months of training and eating a million chicken breasts (laughs). But I'm very disciplined and I will always put the work in that I feel is necessary to look the part and be convincing to audiences. That's your duty as an actor not to mention the incredible life that being an actor has given me and my family.
You come from a large family. Are you very competitive?
Not as an actor. I look on acting and filmmaking as a very collaborative process and I don't look at films from strictly my character's viewpoint. I've never wanted to be the biggest star on earth. I love acting and I'm interested in the work and the kind of stories I'm able to help bring to audiences. But if we're talking about sports, then I'm the most competitive guy around. I like winning (laughs).
Is it fun or annoying being considered a sex symbol?
Oh, it's not annoying at all (laughs)! I don't mind it all. But I think if people knew me, they would know that the one thing that I would like to be remembered for is being the most loving and caring husband and father. I work very hard, but everything I do is to provide the best possible life for Deb and our kids.
Published (and copyrighted) in South Jersey Magazine, Volume 12, Issue 8 (November, 2015).
For more info on South Jersey Magazine, click here.
To subscribe to South Jersey Magazine, click here.
To advertise in South Jersey Magazine, click here.