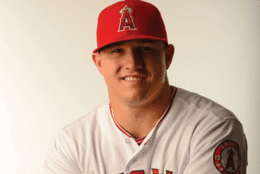 Magic Mike
At just 23, Mike Trout may be the biggest name in baseball. But he prefers to think of himself as the same old kid from Millville—as impossible as that may sound.
When Mike Trout was about 11 years old, he hit his first Little League home run in a game that few in Millville will actually remember. After the game, Trout excitedly knocked on his neighbor Tim Shannon's door and offered the ball to the close family friend. When asked by the somewhat confused Shannon why he didn't want to keep it, Trout shrugged and rightfully predicted he'd probably hit a lot more.
Fast forward to 2009, the evening Trout was drafted with the 25th overall pick by the Los Angeles Angels of Anaheim. Shannon joined a packed house at Millville's Thunderbolt Club to greet Mike on one of the biggest nights of his life. As Trout walked through the door to a hero's cheer, Shannon's wife tossed him a baseball for Trout to sign. It was the same ball from years prior. "She said she kept it, just in case," Shannon recalls fondly.
This is just one of many stories involving Mike Trout that have made their way through South Jersey folklore. Ask around and seemingly everyone has either played with him, played against him, sat next to him in homeroom, seen him at the gas station once, or knows somebody that knows somebody who has a Trout story to tell.
Widely considered to be the best player in Major League Baseball, the 23-year-old has become a national phenom and local treasure. Even President Obama has invoked Trout's name during a speech. In just a few short years, he has won Rookie of the Year and Most Valuable Player awards. He's played in three All-Star Games and won the MVP of last year's contest. You hear throwback names like Mickey Mantle when folks try to make sense of Trout's unworldly talent. Decades from now, he will be the benchmark to which future MLB stars will be compared.
But talk to those who know Trout and they'll tell you he's still the same kid from Millville. Mikey, as he is often affectionately called, doesn't let the success or attention inflate his ego. He has no ego. He'd gladly exchange the limelight for the chance to go hunting or fishing, two of his favorite things when he's not terrorizing pitchers or flying through the outfield making impossible catches. The same people will tell you that no one thought Mikey would become a superstar, but they'll also tell you they aren't surprised either. He's always been special, they just didn't know how special. And at only 23 with years ahead of him still, it would be fair to say that people still don't know how special he can ultimately be.
As much of a winner as Trout is on the field, he's just as impressive off it. Nearly everyone describes him the same way: quiet, humble, respectful, family-oriented.
It's a credit to his parents, Jeff and Debbie, who instilled a close family bond with Mike and his brother Tyler and sister Teal. When Trout's not with the team, he's back in South Jersey with the family or maybe at an Eagles game cheering on his beloved Birds. It's where he's comfortable; where he belongs. When his playing career is done with, he'll make his home in the area, his father says. After all, he didn't work this hard to turn his back on the people who helped get him there.
We were lucky enough to speak with Trout in Arizona, where the Angels hold spring training. It's no easy task; his media requests are through the roof; Derek Jeter-esque as one team official told me. Everyone wants a piece of the biggest name in the game it appears, and rightfully so. Here, he tells us about his love for his South Jersey roots, how family keeps him grounded, and why, despite all his accomplishments, there is still a lot of work to be done.
SOUTH JERSEY MAGAZINE: You have been so vocal in the past about your love for your roots in South Jersey. Why is the area so special to you?
MIKE TROUT: Of course, South Jersey is a special place … everyone is so genuine in our area, it really keeps you grounded. I will always remember where I came from and how it has shaped who I am today.
SJM: What do you miss most about the area when you're away?
MT: Definitely my family. I really cherish the time I have with them, particularly during the off-season. I miss them a lot during the season.
SJM: Your success has landed you fans around the world, but the support you get at home is truly unbelievable, especially since you've made many Phillies fans root for the Angels. What does that support system mean to you and why is it important to not take it for granted?
MT: It's crazy how much fan support and interaction there has been. You have to respect the fans and give them recognition. They are the ones that make this great game go. I'm a baseball player now, of course I was a fan first. And our hometown fans? [They give me] tremendous support, it's been a sea of red.
SJM: Besides playing baseball, what kind of other things were you into growing up? Any other hobbies or passions?
MT: My hobbies were pretty much like anyone else growing up. When I wasn't playing baseball, I was spending time with my family and friends, going to movies, being a kid. I come from a tight-knit family so we always had dinners together.
SJM: California is much different than Millville. How hard was the adjustment, at first, and now that you've been there a few years, what do you like about it most?
MT: California is a lot different obviously, but baseball keeps me busy so I'm not ever too far from the ballpark. The weather is probably the biggest difference.
SJM: You shared a great story in the past about how old high school players would reach out to you on social media and say things like "Hey, remember me, I struck you out once." That has to make you laugh a little; how much of that still goes on?
MT: [Laughs] I love some of the back and forth banter. It's all in good fun. … Twitter and social media allow for connections like that. I'm always happy to talk about playing in Millville back in the day. It's who I am, and I will never forget that.
SJM: Do you get a certain sense of heightened pride coming from South Jersey and being a star in MLB, considering it's not exactly known as the hotbed of baseball talent?
MT: I'm honored to represent my family and Jersey. Obviously northeastern weather keeps us from playing year round so there are less scouts around and I understand that.
SJM: With all the attention that comes your way, how do you not let it become a distraction? Does having a great family to lean on help in any way?
MT: Absolutely—family is my foundation. They keep me humbled, grounded and focused.
SJM: Do you feel that you can continue to get better at the game? What kind of things do you think you have to work on to continue to improve?
MT: Of course, I always can learn, grow and improve. I need to cut down on my strikeouts. Strikeouts help no one in our dugout.
SJM: You'll turn 24 this August. What would one get the MVP for his birthday? Anything special you have your eyes on?
MT: Truthfully, just to stay healthy and be able to help my team. If I win MVP, great. But that's not the focus, not at all.
SJM: You've won a lot of individual awards, do they pale in comparison to what winning a World Series would mean to you?
MT: Correct, I've been honored with several individual accolades—all of which I would trade for a title with these guys, no question about it. Reaching the ultimate prize as a team is unbeatable.
SJM: Is it true that your Millville Meteor nickname came about from Wikipedia? Do you like the nickname?
MT: Not sure where that one came from but it's cool for people to talk about. I don't mind, [but] I'm good with just Mike [laughs].
SJM: Your father flirted with a career in baseball, what does it mean to him that you were able to take things further?
MT: I'm very proud of my dad and the work ethic he had as a professional. He has passed that on to me.
SJM: What is the one thing on your iTunes that people would be most surprised to hear?
MT: Oh, probably some country songs. I like all kinds of music.
Talking Trout
What those who know the South Jersey star best have to say
TIM SHANNON, former Millville mayor and neighbor: From a very early age, you knew he was going to be a special ballplayer, but no one back then would say he was a can't-miss major- league ballplayer. You knew he had talent, but you never knew he would make this kind of splash, it's pretty amazing.
JOE BARTH JR., former coach with Tri-State Arsenal: We knew by the time he was 15 that he would be a big-leaguer. No one could imagine he would be as big as he would become.
ROY HALLENBECK, Millville High School baseball coach: What has happened with him is hard to wrap your head around.
DAVE LAGAMBA, Millville High School athletic director: My most memorable moment would be more of a collection of moments. It was just very enjoyable watching Mike compete because you knew he was going to play hard. Whether he was hitting a home run or striking out a batter in baseball or battling for a rebound in basketball, Mike always found a way to be successful.
DANA SINIAVSKY, cousin and teacher at Millville High School: He is just a genuinely, all-around, nice guy. I know that everyone says that, but it is the truth; he has always been that way, even as a kid.
JOE BARTH JR.: The first time I saw him play center field, it may have been his 10th game in the outfield and he put on a show that was ridiculous, like he was playing it his whole life.
ROY HALLENBECK: When he was given things to work on, he picked them up immediately. That's what I'll remember about him.
JOE BARTH JR.: We were facing the best high school pitcher in the country. My first two hitters whiffed on three pitches. Mike went up, saw one 98 mph fastball and hit the next ball farther than anyone has ever hit a ball [at that park].
ROY HALLENBECK: I think he knew all along what he was capable of, even if others didn't see it yet.
TIM SHANNON: He's humble and confident, but not cocky. He has a way about him, a collected calm all the time. The confidence just oozes from him.
JEFF TROUT, father: I don't think Mike has ever had a real bad day in his life.
DANA SINIAVSKY: Millville has always been a town with a lot of pride, but having Mikey becoming the best player in baseball just fills our hearts. Everyone in town has a "story" or connection with Mikey and I think that gives everyone a greater sense of pride for him and our town; it makes everyone feel good. We love going places and saying, "Yeah I'm from Millville, where Mike Trout is from."
TIM SHANNON: I don't think Millville has ever received the type of publicity we received since Mikey hit the scene. It's been a real source of pride for folks here in Millville. For something like this to happen to our little town, it's put a bounce back in our steps.
JOE BARTH JR.: He's one in a million, a once in a lifetime kid. I've been blessed, I've had a lot of great players, but he's the best I've ever had.
DANA SINIAVSKY: Everyone wants to be like Mike—which is a great thing! The bar has been set now and the kids strive to reach that level. Academically Mikey was bright and he did very well in school—I always try to let the kids know that as well. It's not just athletics, they have to work hard in class too.
JOE BARTH JR.: We lost a game, but he caught three balls that were impossible—in one inning. As a coach you always remember the losses, but all I could think about after that game were those catches.
ROY HALLENBECK: As he's evolved and you get to know him a little longer, he doesn't take anything for granted. He still treats people the same, but on the field there's a tremendous confidence. He knows exactly what he is capable of and he has no fear. So humble off the field, so confident on it, and never cocky or brash.
JEFF TROUT: We tried to make sure all of our kids are good people.
DEBBIE TROUT, mother: Everything else takes care of itself.
DANA SINIAVSKY: It makes me feel good to know he is living his dream. He surely deserves it.
DAVE LAGAMBA: Despite all of Mike's success on the baseball field, he is a very humble individual. He is very close to his family and he has a great connection to the city of Millville. [He] has been a great role model for the younger generation of athletes in Millville, and it's not just because of his athletic abilities.
TIM SHANNON: Mikey's not a little kid anymore, he's grown into a fine young man.
JOE BARTH JR.: I can't picture the money or the fame changing Mike. When I watch him, I still see the little kid from Millville. He's not all into himself, he's the same person.
JEFF TROUT: Mike certainly hasn't changed. He remains the same kid he was when he was 16 years old.
DEBBIE TROUT: Mike is a happy kid. Just seeing your child smile is what life is all about.
JEFF TROUT: Our life was blessed before all this happened.
JOE BARTH JR.: He's what you want your kids to grow up like. It's amazing he's only 23 years old.
TIM SHANNON: This is a ride that has just started, who knows where this is going to take us. I'm hanging on.
Published (and copyrighted) in South Jersey Magazine, Volume 12, Issue 1 (April, 2015).
For more info on South Jersey Magazine, click here.
To subscribe to South Jersey Magazine, click here.
To advertise in South Jersey Magazine, click here.