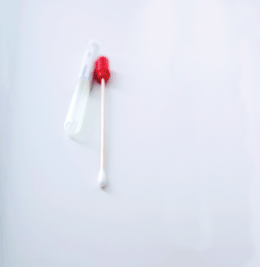 A Big Test
What started out as an innovative way to conduct drug screenings may just become a revolutionary tool that could change lives worldwide.
Drug testing, regardless of where or why it is taking place, is never an easy topic to address. The actual practice of testing for substance abuse—no matter how imperative—comes with a mixed bag of emotions: feelings of distrust, a loss of dignity and an uncomfortable and inconvenient hassle for those involved. There's also the financial burden that ensues.
In the workplace alone, drug use, and the need for drug testing are also taking a financial burden on business' bottom line.
The U.S. Small Business Association says that on average, employees with inappropriate substance use cost their employers about $7,000 annually. While agencies like the U.S. Department of Trans­portation and companies in certain industries like construction and public service have been known to enforce random drug testing policies, more firms are following suit. According to the 2014 Employment Screening Benchmark Report, conducted by Irvine, Calif.-based employment screening company HireRight, Inc., 58 percent of survey respondents indicated that they conducted drug testing before hiring candidates last year, and 62 percent for organizations with more than 4,000 employees.
But two South Jersey residents are looking to make the process a little easier.
On a mission to revolutionize drug testing and make it more accessible, Gene Elwell, from Mount Laurel, and Ed Eckert, of Haddon Heights, have created an innovative oral drug test.
As co-founders of Oral Fluid Testing Laboratory (OFT Labs), Elwell and Eckert have unveiled an oral fluid drug test called TOXYScreen, which is simple to conduct, inexpensive and delivers surprisingly high-tech results. Similar to the way many oral DNA tests are conducted, the TOXYScreen drug test uses a saliva sample collected by a gum line swab—eliminating the need to collect urine or blood.
The test provides a much more detailed portrait of an individual's substance abuse habits. Rather than a positive or negative reading, the test can also measure how much of a specific substance is in the person's system and help draw conclusions about how long it has been since an individual used certain drugs.
"Everyone's metabolism is a little different, and it depends on a person's weight and other factors," says Eckert. "But by using our test, we can help provide a detailed account of approximately how long it has been since a substance entered the person's body."
The test also eliminates several methods that are commonly used to deceive, or "cheat," urine drug tests, including purchasing another person's urine or diluting urine with bleach. It ensures that the person's saliva is his or her own, since an individual managing the test can observe the process from start to finish, even when in a workplace setting.
"With our test comes the ability to collect a saliva sample, mail the results in and receive results soon after, which opens up a range of possibilities for use at home, in schools, in drug rehab facilities and in the workplace," Elwell says. "It makes it easier than ever for parents or employers to conduct quick tests that will deliver accurate results."
The company is also in the process of trying to team up with area hospitals and explore whether the results could be analyzed quickly on the premises, Elwell says. Opening the Door
The TOXYScreen drug test has the ability to pick up traces of more than 50 types of recreational and prescription drugs, according to OFT Labs. In addition to detecting major categories for substance abuse, ranging from marijuana and ecstasy to benzodiazepines and opiates, it can also be used to screen athletes for steroid use or evaluate whether nursing home residents are taking all of their prescribed medications.
"The oral test is particularly attractive when dealing with older patients, such as those with collapsed veins," Eckert says. "It helps overcome the challenges associated with blood draws."
The TOXYScreen oral fluid testing kit also has the ability to detect exposure to lead, mercury, cadmium and arsenic, all of which are particularly important to evaluate in young children.
In a study called "Evaluating Oral Fluid as a Screening Tool for Lead Poisoning," conducted by Emory University Children's Hospital and the Georgia Department of Human Resources, the oral fluid samples turned up accuracy that was right in line with blood draws, thanks to the amount of blood plasma that was present from the gum line swabs. Researchers also concluded that the use of less invasive methods for screening environmental lead exposure may increase the screening rate for childhood lead poisoning.
"Rather than having to make a doctor's appointment and have a blood test, we can get results very easily and quickly—eliminating the time commitment or the fear that comes with going for a blood draw," Elwell says.
Elwell says all children under the age of 12 should be tested for heavy metal exposure, especially those that are younger than 5 years old, demonstrating developmental delays or living in an older home.
"I emphasize that heavy metal exposure isn't just an urban problem, but a suburban problem too," Elwell explains.
Elwell and Eckert are optimistic that someday in the future, their technology will pave the way for eliminating needle usage required for blood draws for many types of tests. They also envision the test being used widely in hospital settings and moving on to developing countries, where communities can benefit exponentially from many of the test's advantages, such as cost savings, lower risk of infection and reduction in medical waste.
"In places like Africa and other developing countries, there's a real challenge of collecting a blood sample and getting it to the laboratory quickly enough before the blood spoils because of the heat," Elwell says. "Our test would eliminate that risk and would also significantly reduce the time needed to collect a sample," he says, adding that for the time that it takes to collect two or three blood draws, TOXYScreen could collect 20 to 30 oral samples.
While the business partners are just on the brink of the endless possibilities that come with their oral fluid testing kit, for them, it's really about making a difference in the lives of others.
"We are really hoping to make these tests easier and more accessible for everyone," Elwell says.
Published (and copyrighted) in South Jersey Magazine, Volume 12, Issue 1 (April, 2015).
For more info on South Jersey Magazine, click here.
To subscribe to South Jersey Magazine, click here.
To advertise in South Jersey Magazine, click here.