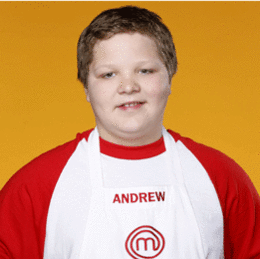 Kid's Menu
West Deptford's Andrew Zappley is already an amazing chef and he's not even in high school yet.
Andrew Zappley (pictured) is not your average home cook. In fact, his skills in the kitchen helped him travel across the country to prepare dishes for some of the food world's most notable palates, not the least of which would be that of celebrity chef Gordon Ramsay. Homemade sushi, beef cheek ravioli and salmon en croûte were just some of the plates he produced during his trip. These are dishes that chefs take years to perfect and Zappley created them in a foreign kitchen under strict time constraints. Even more impressive was that he also did all this at just 11 years old.
Zappley, a West Deptford resident, was a contestant on Fox's Master Chef Junior, where children between the ages of 8 and 13 compete to create stunning dishes for the likes of Ramsay, chef Graham Elliot and restaurateur Joe Bastianich. All three judges were continuously in awe of both Zappley's food and personality. Ramsay said he already thinks like a chef and often sang Zappley's highest praises—even going as far as to play matchmaker between Zappley and his young daughter Matilda. After several grueling weeks, Zappley reached the show's finale before ultimately bowing to Nathan Odom from San Diego in a tightly contested three-course dinner showdown. The judging could have gone either way, but even in defeat Zappley was the winner, instantly congratulating his competitor and putting on a brave face. He may have only been 11, but he showed maturity and poise well beyond his years.
Despite missing out on taking the top honor, Zappley won over many fans with his take-charge attitude, humble demeanor and amazing aptitude in the kitchen. A fast learner who fell in love with cooking shows and quality ingredients at a young age, Zappley often prepares meals for his family and in late March he had the opportunity to appear as a guest chef in the kitchen of Speranza in Westville.
We caught up with Zappley in between homework assignments (in addition to being a great cook, he's also an honor roll student) to hear what it's like being face-to-face with the fiery Ramsay, cooking under pressure and plans for his own restaurant. It's obvious there are great things still to come from the now 12-year-old culinary wizard.
Getting on TV…
I went and filled out an application and my mom didn't know, which was the crazy thing. We got a call and we didn't know the area code—my mom thought it was a telemarketer. [They asked me] to come out to the auditions and we said OK and booked bus tickets [to New York City]. They had us do basic skills—cutting, cooking eggs, really simple things. Then they wanted to see me do more and it went from there.
On showing confidence at a young age…
You have to be confident in everything you do. You have to think you are going to do well. I think you have to go in with the attitude: Be confident with what you do and expect the unexpected.
A kid into cooking…
I don't think about [my] age, I thought every kid likes cooking. I still ride bikes and play games, but not as much as I do cooking. A lot of people think we are trained [on the show]; we aren't, we just know how to do it.
The hardest challenge…
Probably the pasta [challenge] in the first episode. Although I won the challenge, pasta is the devil, really. The whole thing is a guessing game. Making fresh pasta is complicated, especially in an hour. I did it when I get home and it took me three hours. I never made fresh pasta before [that challenge].
A passion for food…
A lot of passion for food comes from me being Italian. It's something in my family, seeing my mom make the food. … If you are Italian and can't cook, you're not Italian.
The best cook in the house…
I would say I am. I know how to make the most complex dishes. My dad knows a lot of Italian dishes and my brother can make a mean grilled cheese, that's about it. My mom is good at some things, but she is definitely not the best!
A growing experience…
I think I've grown a lot since the beginning of the show. I always gave it 110 percent and it made me a better chef learning to do all these dishes. I grew and matured in life. It made me a stronger person.
Winning over Gordon Ramsay…
Getting praise from a chef of that caliber and magnitude is once in a lifetime. Then you realize, "I'm a good cook. I can do this."
On hearing West Deptford and South Jersey on national TV…
It gave me an extra little pride seeing West Deptford put on the map. It's definitely not Los Angeles, but seeing West Deptford on the map and people are saying, "Where's that at?" We are over here in New Jersey if you can find us.
On his supporters…
Having the support from friends, family and people I didn't even know, it was really nice. It was really amazing that these people want you to do well. Definitely the hardest part was not telling people that I made the finale.
Cooking versus eating out…
I prefer to cook at home and experience new things. Sometimes people will see my parents [at a restaurant] and ask why they are eating out when your son is so good.
On his culinary future…
I'm already planning a restaurant called Holy Crepe. You can put anything in a crepe. I see it opening like Krispy Kreme across the country with actual restaurants or little cafes.
Published (and copyrighted) in South Jersey Magazine, Volume 12, Issue 1 (April, 2015).
For more info on South Jersey Magazine, click here.
To subscribe to South Jersey Magazine, click here.
To advertise in South Jersey Magazine, click here.