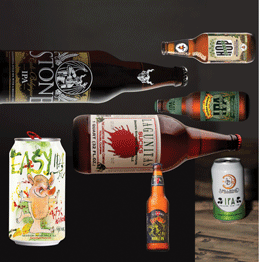 Good Buy: Bold Brews
IPAs make for the perfect warm weather beverage.
Ideal for enjoying the warmer weather outdoors while relaxing on your deck or enjoying over the perfectly grilled burger for dinner, beer lovers in the area are quite fond of IPAs—hoppy ales that are great year round, but seem to shine brighter when the sun's out. Here are some of the best you'll find in South Jersey.
Belgian Bright
Stone Cali-Belgique is the beloved Belgian cousin to Stone Brewing Company's world-renowned IPA. It features a complex medley of flavors due to the Belgian yeast, which produces a funky, yet bright and hoppy flavor.
$5.49 for a 22-ounce bottle at Canal's Discount Liquors, 210 N. Black Horse Pike, Mount Ephraim, (856) 931-5900 Photo credit: Studio Schulz
Doesn't Suck
A beer created somewhat by accident, Lagunitas Sucks has now earned its place on the brewing company's year-round roster. Featuring notes of barley, wheat, oats and rye, this IPA is only available in quarts or kegs, so drink up.
$7.99 for a 32-ounce bottle, Hops and Grapes, 810 N. Delsea Drive, Glassboro, (856) 582-8110
Beer with a Bite
Inspired by the animal for which it was named, Victory's DirtWolf Double IPA packs a bit of a bite, but also has a fruity flavor with notes of grapefruit, pine and just a touch of floral, sweet citrus and spice.
$8 for a four-pack of 12-ounce bottles at Joe Canal's, 1075 Mantua Pike, West Deptford, (856) 464-8787,
Day Drinker
A light, flavorful beer, Flying Dog Easy IPA boasts aromas of grapefruit and spice with notes of lemon and pine. Despite the low alcohol content, this is one session beer that doesn't sacrifice taste.
$8.49 for a six-pack at Wegman's Wine, Liquor and Beer, 2100 Route 70 W., Cherry Hill, (856) 488-8948
Golden Boy
Embrace the bounty of the IPA with Twisted Pine Hop Zealot: a golden IPA with a strong, hoppy aroma and taste to match.
$9.99 for a four-pack at Roger Wilco Pennsauken, 1001 Route 73, Pennsauken,(856) 665-3456
Fresh Take
Sierra Nevada Hop Hunter is a fresh take on the IPA, utilizing a new method of steam distilling just—picked wet hops, intensifying the natural taste and creating a unique—and aromatic—beer.
$9.25 for a six-pack at Traino's Wine and Spirits, 2999 E. Evesham Road, Voorhees, (856) 424-4898
Photo credit: Sierra Nevada Brewing Co.
Under a Spell
Spellbound IPA, which hails from its namesake brewery in Mount Holly, is dry-hopped, making for a nice blend of citrus and pine notes. The hoppy aroma matches its taste, and a malty undertone balances it all out. $9.99 for a six-pack at Wineworks, 319 Route 70 W., Marlton, (856) 596-3330 Photo credit: Soult Studios
Published (and copyrighted) in South Jersey Magazine, Volume 12, Issue 1 (April, 2015).
For more info on South Jersey Magazine, click here.
To subscribe to South Jersey Magazine, click here.
To advertise in South Jersey Magazine, click here.