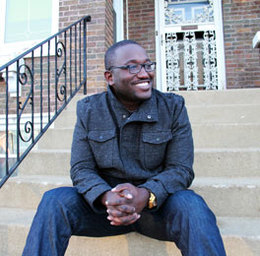 On the Rise
Comedian and actor Hannibal Buress stops by Atlantic City in the midst of a career boom.
For stand-up comedian and actor Hannibal Buress, the road to stardom has been slow and steady. A former writer for Saturday Night Live, the 31-year-old Chicago native is now better known for his roles in front of the camera, whether it be cameos on 30 Rock and Louie, starring next to Seth Rogen in The Neighbors, or his role in Comedy Central's cult hit Broad City. His stand-up career has also gained new notoriety—Buress was one of the headliners at last summer's Oddball Comedy Tour which stopped by Camden; and his comments regarding Bill Cosby at a performance in Philadelphia in October have earned him a bit of infamy.
With the return of Broad City on Jan. 15 and a performance at the Borgata on Jan. 31, we caught up with Buress while he was on the set filming his upcoming comedy Daddy's Home with Will Ferrell and Mark Wahlberg. Here he tells us about the differences between his stand-up and acting careers, how he's become more comfortable in front of larger crowds and why the thought of having his own show isn't that appealing.
SOUTH JERSEY MAGAZINE: What's it been like working on the new season of Broad City?
HANNIBAL BURESS: It's a lot of fun. The show has more money now, so we've stepped it up a little bit. My job is to serve the story. The girls [creators and stars Abbi Jacobson and Ilana Glazer] are great and the crew is fun. It's always a good time. It's still a pretty small show, as far as numbers go, but I guess people enjoy the vibe of it. They feel the dynamic that the girls have and they like that.
SJM: You've made a career out of collaborating with other comedians like Amy Poehler, Louis C.K. and Nick Kroll. How strategic of a career move is that?
HB: It's a necessity because I need to work. If you're putting together a comedy project you want to find other voices. A good project has other voices on that. Chappelle's Show had Charlie Murphy, Bill Burr, Patrice O'Neal. Jon Stewart is the face to The Daily Show, but there are other people on there. It's all part of doing a solid comedy project. You have to bring other people in to flesh out that world. If I have a show of my own I don't just want my own voice.
SJM: So is a show of your own something we'll see in the future?
HB: Maybe. ...I don't know. I don't know if I want to deal with the stuff that comes with that. The work would be fine but you have to constantly sell a show. And [it's] going to end eventually and you have to deal with that. Either it's going to get cancelled, or it's going to run for a few seasons and then you have to end it and tell a bunch of people that they're out of jobs. Right now, I just like popping in and out of other shows.
SJM: As your film and television career picks up, have you seen your audience change? And do you change your stand-up to meet that audience?
HB: Stand-up is based on who I am and who I've grown into as a person. The crowd is getting bigger but the stand-up hasn't changed. People know me from Broad City and have a preconceived notion, but I'm not too different from that. It's not that jarring.
SJM: What was it like touring with the Oddball Comedy Tour this summer?
HB: Oddball was my chance to put on a good 25 minute set and get people to come and see my hour [set]. It's a lot of fun. I did it two years in a row and it taught me how to play for a bigger crowd. I've learned a lot as a performer, how to play big when you're working for 12,000 to 15,000 people in a place like Camden which is huge. Before the first Oddball tour, I used to see guys in arenas and I thought I could never do that. I thought, "How is Dane Cook doing [Madison Square] Garden?" But since doing Oddball I feel like I can perform to a huge crowd, I know how to put on a show for a big audience.
SJM: Is that a goal of yours, to sell out Madison Square Garden like Steve Martin or Dane Cook?
HB: It would be awesome if I did. I'm not hell bent on doing it, though. It would be cool if I could do it, and get away with it. But I was thinking it would be funny if you couldn't sell Madison Square Garden, and sell like 2,500 tickets, and then record that.
SJM: Without divulging too much—what is in store for your winter tour?
HB: It's new jokes; I'm just talking a lot of [stuff] and trying to kill the time in a productive way. It's just me kind of talking about everything. I just do jokes, my sets don't have themes. It's my experiences and just me being me.
SJM: And you've made a pretty smooth transition into film this year. What can you tell me about the movie you're working on now, Daddy's Home?
HB: It's different. I've done a couple movies, some that are coming out this year. But this is the first one where I've been camped out in New Orleans. I've been here for a few weeks and it's been different. I'm hoping that I'm crushing it.
SJM: Is there any pressure to co-star with celebrities like Mark Wahlberg and Will Ferrell?
HB: I've got a lot of scenes with them, and it's been surreal when it's just me, Mark Wahlberg and Will Ferrell in a scene. I end up saying goofy stuff like "Hey we're all getting paid the same, right?" It's interesting just watching this. Neighbors was a big film but I was only on there a few days, and I was kind of a guest player. With this, I came in the first day of shooting and have been part of it for a while. It's interesting to see the movie process from this standpoint. The one thing about movies is that they take so long. With stand-up there's an immediacy to it, and with movies it takes forever.
SJM: Did I see something about you doing voice work on an Angry Birds movie?
HB: I've just done my voice in the booth a couple times so I haven't even seen the characters yet. I'll wait until 2016 when that comes out I guess. I'm excited to have something to take my nieces and nephews to. It's going to be amazing to see, it's weird to see my voice coming out of an animated character.
Published (and copyrighted) in South Jersey Magazine, Volume 11, Issue 10 (January, 2015).
For more info on South Jersey Magazine, click here.
To subscribe to South Jersey Magazine, click here.
To advertise in South Jersey Magazine, click here.