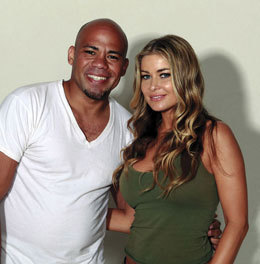 Big Words: One of Our Own
Big Daddy Graham is a renowned stand-up comedian and overnight personality on SportsRadio 94WIP. Check out his new podcast, Big Daddy's Classic Rock Throwdown, at BigDaddyGraham.com.
I've known Sicklerville native Gerald Webb for more than 20 years. I first met him when he was the DJ at the long-gone Sharks Club in Vineland. I had just finished a comedy show and there was a really cool song now rocking the room. I was not familiar with the cut, so, as I often do, I wandered over to the booth and asked the DJ what the song was. Thus began a two-decade friendship that is still going strong today. (By the way, the song was "Loser" by Beck.)
So imagine the thrill I got when two decades later I turned on the movie On Angel's Wings on my tube and Gerald's name was the fourth actor listed in the opening credits. And it wasn't like he was in a flick with a bunch of unknowns. Robin Givens headed up a pretty decent and well-known cast. Not only was Gerald terrific as "Pastor Johnson," it was his most screen time to date and he scores Ms. Givens at the end of the movie.
I can imagine what you're thinking. South Jersey has delivered us Bruce Willis and Ali Larter. They're big-time stars. Why should I get all excited over an actor that I have never heard of just because he's from South Jersey? Because his story is so cool—and I guarantee many of you reading this would love to be in his shoes after your hear it.
Gerald was born in raised in Sicklerville, a product of Winslow Township #3 Elementary and Paul VI and Edgewood (now Winslow High). He ran track and played on the basketball teams, but when his mother, 'Mommy' Webb, and his dad, Bill, bought him a reel-to-reel with a tiny microphone, Gerald found his true calling. "I just loved talking in that mic and recording stuff, pretending I was a DJ or delivering the news," he says. "I had read a book about Walter Cronkite and loved Alex Trebek, and in my gut I knew that whatever I was going to do with my life it was going to be with a microphone."
After buying his first record at the Berlin Farmers Market, Gerald's life was forever changed. That record was "The Breaks" by Kurtis Blow. Rap and hip-hop were exploding and Gerald not only was the kid with the music taste that was always a step ahead, the beat also led to him becoming a break dancer. "It attracted attention and it was a ticket to hanging with the cool people," he laughs.
College "wasn't challenging enough," so he dropped out. He worked as a movie usher at the Atco Multiplex till he saved up enough money to get the proper equipment to turn his true passion into a business—Partytime, a company that supplies DJs for weddings, parties of all sorts and nightclubs. "It wasn't really supposed to be a company. I was just looking for work but I got an account with Shannon's Catering, a multi-room catering hall in Atco, and when they asked me if I could supply DJs for the other locations, I lied and said 'Sure.'"
This proved to be so successful that Partytime needed an office and that's where one of his dad's old TV repair shops came in handy. Gerald picked up on his dad's electronic tinkering and invented a method where one could "scratch" a compact disc which was not being done at the time. When he entered a DJ competition in Atlantic City, this new method of "scratching" so impressed one of the judges that it led to a five-year deal with Pioneer (though, ironically, he lost the contest). The deal with Pioneer led to Gerald touring the country representing the electronic giant at trade shows. At this time, he was only 24 years old.
On one of these road shows, Gerald met Jam Master Jay of Run-DMC fame. Jay took a liking to Gerald and his talents and took him under his wing—we're talking about a member of the Rock and Roll Hall of Fame here. They get so tight that when Jay got involved in a TV pilot he brought
Gerald on the set. One thing led to another and Gerald ended up with a sizable part in the pilot even though he had never acted before. The show never aired, but he had officially caught the acting bug.
Gerald then landed a gig spinning at Camden's Susquehanna Bank Center (or whatever it was called then), providing the music for the pre-concert and after party for Sammy Hagar. Like Jam Master Jay before him, Hagar took such a liking to Gerald's talents that he took him on tour with him. You gotta love this story.
Three months later, the tour came to a close and Gerald landed in Los Angeles. "I felt like I had taken the whole DJ thing as far as I wanted to take it. I had won the American DJ Association Nightclub DJ of the Year award and had just gone on a world tour with a rock star. Seriously, how much better was it going to get? I remembered how much fun I had acting and I figured, what the heck, I'm already out here."
As with everything else he has done, he went into it full-tilt studying with the absolute best. He started landing small parts in a lot of B-movies and police TV shows. "I was often the second cop who showed up at the door standing behind the other cop asking the questions," he remembers.
But the parts kept getting bigger and slowly but surely he started getting more lines in more well-known TV shows. How well known? True Blood, Law and Order and It's Always Sunny in Philadelphia, just to name a few.
He's appeared on the big and small screens with Malcolm McDowell, Danny DeVito, Anna Paquin, Ving Rhames, Oscar-winner Marlee Matlin, Sean Astin, Tara Reid, and Dennis Haysbert, among many others.
Gerald is a regular caller into my 94WIP radio show. He misses Philly and bleeds Eagles green. He was a Sixer season ticket holder during the Allen Iverson years. In fact, his seats were directly behind A.I's mom, Ann. "Half the time I couldn't see the game because she wouldn't sit down and was always waving some giant sign. I actually had to ask the Sixers to move my seats," laughs Gerald.
I always ask Gerald on the air to tell us what show he's appearing in next and I DVR the show when I get home. When On Angel's Wings aired, and I saw how terrific of an actor he had become I could have just bust, I was so proud. I love when one of our own is successful.
Now Gerald is branching out. He's the executive responsible for casting the Syfy network's phenom Sharknado franchise and produced and starred in the horror film A House Is Not A Home, which has won a bunch of film festival and indie awards. He has formed his own production company, Deinstitutionalized Films, so who knows where he's headed next.
From Sicklerville to Hollywood, my man, and one of our very own, Gerald Webb.
TWO FUNNY PHILLY GUYS starring Big Daddy Graham and Joe Conklin returns to the Broadway Theatre in Pitman for its sixth-straight Valentine's Day weekend on Saturday, Feb. 14. Visit BigDaddyGraham.com for tickets. And check out Big Daddy's Classic Rock Throwdown podcast at WildfireRadio.com every Thursday at 8 p.m.
Published (and copyrighted) in South Jersey Magazine, Volume 11, Issue 10 (January, 2015).
For more info on South Jersey Magazine, click here.
To subscribe to South Jersey Magazine, click here.
To advertise in South Jersey Magazine, click here.