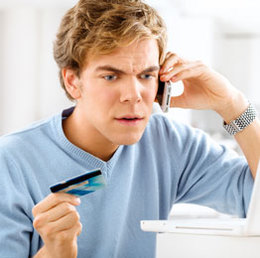 Too Good to be True
Scam artists preying on unsuspecting South Jersey residents are becoming more prevalent.
Imagine picking up the telephone one day and being told you were eligible for a $200 refund for the computer you recently purchased. Better yet, since you're a senior citizen, you can expect an additional $100 to be added to the refund. Considering how much you just spent on the computer, receiving $300 back would be an unexpected windfall.
While the scenario may seem too good to be true, with the caller providing enough personal information to make the offer appear legitimate, you, understandably, take advantage of the offer.
Several weeks later, instead of your bank account profiting from some extra cash, you find yourself down $72,000.
An elderly couple from Evesham found themselves in this position over the summer, having been contacted by a man identifying himself as an employee of a Microsoft Software company and offering said refund, according to Lieutenant Joseph Friel, patrol bureau commander and public information officer for the Evesham Police Department.
"The victim supplied the [caller] with their checking account routing number so the refund could be processed," Friel says. "A few hours later, the victims checked their banking account and found that thousands of dollars were deposited into their account. The couple immediately called the male and advised him of the error and the male requested that the couple send him the difference.
"During the next three weeks, the elderly couple used Western Union and Paypal accounts to send the money to the male, and each time the male called the couple and stated he never received the funds."
Unfortunately, more and more people are finding themselves in the same position of this Evesham couple, the targets of scamming and hacking schemes thieves are concocting to make money any way they can. "On almost a daily basis the Evesham police are made aware of residents who have been contacted by scammers," Friel says.
While the vast majority of us believe we know a scam when we see one, with technology becoming even more advanced, so are the scams, making them even more difficult to detect.
"Many of our residents that have emigrated from another country are receiving bogus calls from people posing as federal agencies, mostly the IRS, for immediate payments or they will be deported," says Chief Louis J. Bordi of the Voorhees Police Department. "The second most popular [scam] is [when victims are told] they have an active warrant and must pay or an immediate arrest will occur. One victim received a call from (856) 428-5400 on their caller ID, which is my police department number, and [the caller] used a bogus officer name to try and fool them about paying a warrant."
Types of scams
Det. John P. Hinshillwood of the Moorestown Police Department says IRS threats similar to the ones experienced in Voorhees are also common in his jurisdiction. Another common one is victims being told their accounts are overdue.
"In one of our investigations the suspect claimed to be from PECO and in another case the suspect said that he represented PSE&G," Hinshillwood explains, noting similar scams have been going on throughout the tri-state area. "The suspect usually tells the victims that their account will be shut off if they don't go to the closest CVS pharmacy and obtain a money pack—usually a VISA green dot card. [In most cases] the victims weren't sure what their energy bill balance was and complied for fear of having their energy accounts shut off. Both victims were business owners."
Diversion burglary/thefts are also common, Hinshillwood says. "In these cases two actors will locate the elderly and tell them that they work for the water department. One suspect will go inside the residence with the victim and check the water meter while the other suspect enters the master bedroom and steals anything of value, usually jewelry," he says.
"These suspects will also pose as contractors, take a deposit, start the work, never finish, and disappear. The victims are left with shoddy, unfinished work. The actors use fake names, therefore our job becomes extremely difficult."
Steve Lee, acting director for the New Jersey Division of Consumer Affairs, says these types of scams are common across the state, and while "the nature of the scams change, the scams themselves stay the same."
"We as a division try to stay on top of that," he says. "If we hear about certain scams that are targeting certain populations or are using a certain type of tactic, we try to put it out there in the public and educate New Jerseyans about what they need to do."
He says people should be particularly aware of what are known as affinity scams, where scammers use personal information off social media sites like Facebook and Twitter to make their story seem even more viable.
"They find out the names of family members, like a cousin or a son or daughter, and name him or her, and say he or she is currently overseas and needs money now," Lee says. "A lot of times scammers use a false sense of urgency to entice victims to give them money."
Fighting back
While the division of consumer affairs, local police departments and other entities that deal with scamming and hacking are doing their best to make consumers aware of the types of scams that are out there in an effort to control them, the sad reality is that these scenarios seem to be here to stay.
Despite increased vigilance and awareness, people will still try to find ways to make money at the expense of others. The best advice Lee can offer is to be skeptical and ask a lot of questions when presented with a scenario that seems too good to be true. "If the offer is legitimate, they'll let you get off the phone, do your research, and call them back," he says. "Be suspicious when certain facts are missing."
Be aware, too, that while we often hear about the big box stores being hacked, small- and medium-sized businesses are just as susceptible, so be careful to protect your personal information as much as possible. "People need to realize that their children's identity can also be stolen," Hinshillwood adds.
From a digital standpoint, Robert Hogg, principal of Ancero, LLC, an IT solution provider in Mount Laurel, suggests five tips to help combat cyber security risks. These tips include keeping up with software patches, utilizing strong passwords, correctly configuring firewalls, properly managing mobile devices and keeping antivirus software updated.
There are also lots of helpful sites available online that give tips and suggestions about protecting your identity and avoiding being scammed or hacked. One notable resource is StopThinkConnect.org, the website for a campaign founded by groups like Facebook, VISA, Costco and Microsoft, among others, which offers helpful online safety and cyber security resources.
The government has also has an Internet Crime Complaint Center (IC3), which it established 14 years ago as a way for victims of internet crime to report said crimes and for law enforcement agencies to investigate the crimes.
According the 2013 IC3 report, the IC3 received 262,813 consumer complaints, equaling a dollar loss of $780 million, but complaints have gone down since their peak in 2009 with 336,655.
Despite these figures, local law enforcement agencies say they believe scamming and hacking has continued to increase, and they encourage residents to be aware of deals that seem to be too good to be true.
"If it is too good to be true, it is not true," Friel says. "Do not believe that you have won a lottery you never entered. It is illegal to play foreign lotteries from the United States. Do not believe any offers—lottery, prize claim, inheritance, etc.—that require a fee to be paid up front. Do not provide personal or financial information to individuals or businesses you don't know or haven't verified. Do not send any money to someone you do not know."
"My advice to citizens is to phone their local police if they suspect that they're involved in a scam," Hinshillwood adds. "If what the person is asking doesn't make sense then it is more than likely a scam."
Published (and copyrighted) in South Jersey Magazine, Volume 11, Issue 10 (January, 2015).
For more info on South Jersey Magazine, click here.
To subscribe to South Jersey Magazine, click here.
To advertise in South Jersey Magazine, click here.