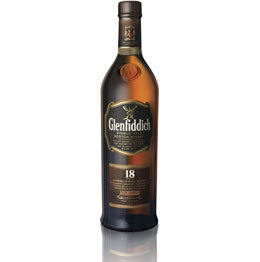 Good Buy: Whiskey Fever
Nothing says winter quite like sipping your favorite whiskey on the rocks next to a crackling fire, thoroughly escaping the wintry mix outside. Thus, we set out on a hunt to find the very best whiskeys across South Jersey. We shopped, taste-tested and researched everything from Kentucky bourbons to scotches hailing from remote villages in Scotland—all to present you with the below list of what we believe to be the best spirits of the whiskey inclination.
Classic.Matured in Spanish Oloroso wood and American Oak, Glenfiddich 18 year old single malt Scotch whisky imparts notes of oak, baked apple and cinnamon—and generations of expertise in the whiskey-making craft—making for a robust taste. Glenfiddich 18 Year Old Single Malt Scotch Whisky (pictured), $129.99 for 750ml, Traino's Wine and Spirits, 2999 Evesham Road, Voorhees, (856) 424-4898, TrainosWine.com
Mixmaster. The Highland Park 15 year old single malt Scotch whisky incorporates the traditional rich malt one would expect in a good Scotch, yet also has notes of floral smokiness and citrus, making for a rich, sweet taste with a hint of smokiness and a dry finish. Highland Park 15 Year Old Single Malt Scotch Whisky, $174.99 for 750ml, Total Wine, 2100 Route 38, Cherry Hill, (856) 667-7100, TotalWine.com
Complex. Hailing from the Bunnahabhain Distillery nestled along the coast of the world-famous Isle of Islay, this single-malt, 18 year old spirit boasts a sweet taste upfront, influenced by vanilla, toffee and ripe fruit. Add a hint of fudge and espresso, with a dry wood spice, and you have what can only be described as a complex—and memorable—whisky. Bunnahabhain 18 Year Old Islay Single Malt Whisky, $99.99 for 750ml at Joe Canal's , 1075 Mantua Pike, West Deptford, (856) 464-8787, JoeCanals.com
Unique. A celebration of the long-standing tradition of combining spirits and oak and maturing them for a period of time, this 15 year old whisky is distilled in a European oak sherry cask. Each batch has its own unique blend of dried fruits, nuts and spice. Balvenie 15 Year Old Single Barrel Sherry Cask, $99.99 for 750ml at Martins Liquors, 3601 Route 38, Mount Laurel, (856) 235-2273, MartinsLiquorsOnline.com
Not-So-Vanilla. Made in only small quantities and aged nine years in charred oak barrels that create sweet flavors of vanilla, this bourbon is anything but simple. Bottled at 100 proof, its full-bodied taste also has hints of maple sugar and woody caramel—and can even add the accolade of number-one selling ultra premium bourbon to its repertoire. Knob Creek Single Barrel Reserve, $48.99 for 750ml at Medford Wine and Spirits, 175 Route 70, Medford, (609) 953-8773
High Roller. While this legendary spirit may cost you, it's worth every penny. Distilled in sherry oak casks handcrafted in Jerez, Spain for a minimum of 25 years, this single malt Scotch imparts an unforgettable richness and character, with notes of dried fruits, spice and chocolate orange. Macallan Sherry Oak 25 Year Old Single Malt Scotch Whisky, $908.99 for 750 ml at Canals, 210 N. Black Horse Pike, Mount Ephraim, (856) 931-5900
Uncut. This small-batch bourbon has a storied history. Booker Noe, grandson of the iconic Jim Beam, created the small batch collection— including his namesake spirit, Booker's True Barrel Bourbon. Aged between 6-8 years, Booker's is the only bourbon bottled uncut and unfiltered, straight from the barrel. Booker's True Barrel Bourbon, $63.99 for 750 ml at Hops and Grapes, 810 Delsea Drive N., Glassboro, (856) 582-8110, HopsAndGrapesOnline.com
French Influence. Glenlivet was the first to mature its whisky in French oak casks, creating its trademark spiciness and intensity. Similarly, the brand's 15 year old Scotch is a classic choice, boasting a rich character with notes of fruit, nuts, sweet almonds and spice. Glenlivet 15 Year Old French Oak Reserve Single Malt Scotch Whisky, $74.99 for 750ml at Wine Works, 319 Route 70 W., Marlton, (856) 596-3330, WineWorksOnline.com
Note: Store inventory is subject to change. Please check with each store to ensure stock.
Published (and copyrighted) in South Jersey Magazine, Volume 11, Issue 10 (January, 2015).
For more info on South Jersey Magazine, click here.
To subscribe to South Jersey Magazine, click here.
To advertise in South Jersey Magazine, click here.