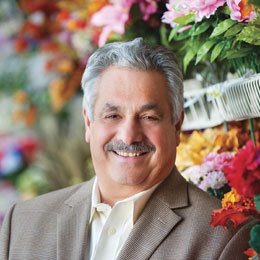 Men of the Year 2014
There's a lot more ways to measure a man's success than by his salary and the material items he possesses. The spirit of giving, caring for others, and making a difference are traits that are synonymous with South Jersey Magazine's Men of the Year. When it comes to these fine gentlemen, their actions speak louder than their words ever could. Take our Man of the Year Pepe Piperno, for instance. He embraces what he calls a responsibility to give others what they couldn't otherwise have. His efforts, and those of the other notable men on this list, are just another reason why South Jersey is such a wonderful place.
Man of the Year: PEPE PIPERNO
Born in Italy and raised in Camden, Pepe Piperno's American dream is a little bit different than the one so often associated with well-padded bank accounts. Make no mistake, Piperno (pictured) does well for himself; but what's more impressive is how selfless he is when it comes to helping those in need. It inspires him and in many ways it defines who he is. It's something that was instilled in him by his parents and he's never forgotten it. "If you make it, there's a responsibility to give back," Piperno says. "It's a privilege to be able to do what I do."
As a youth, Piperno toiled sweeping floors at Sbar's, the arts and crafts distributor, back when it was located in his hometown. He stayed with the company throughout high school and when college didn't pan out for him, he returned to the company and wound up taking on a larger role. As years progressed, he went on to grow the company in several areas and would ultimately take over the business. He also went on to rescue locally based A.C. Moore from bankruptcy by purchasing the retail chain in 2011. It was in part a shrewd business move to help save one of his biggest clients. But like most things with Piperno, there was more than meets the eye.
"I thought, once I turn [the business] around, I can give away a lot of money," he says.
Piperno is the driving force behind the Domenica Foundation, a nonprofit named after his mother that aims to "help people who fall through the cracks," as he puts it. The group has assisted several people around the world, including projects in Africa, but his native Camden is where Piperno focuses the majority of his attention.
"Growing up in Camden, I had a soft spot for it. I love everything about it. To see it become 'the most dangerous city in the country' is insanity to me," he says.
The Domenica Foundation is responsible for building homes, a community center, a thrift store and the Waterfront South Theatre, all in Camden. It also provides several kids in the city with high school scholarships to Camden Catholic, Gloucester Catholic and Paul VI. Using education as a tool to better the city's underserved youth—many of whom he forms relationships with when they are just in kindergarten—he would like to someday build a new high school in Camden.
"You have to get these kids at an early age. You have to let them understand people worry about them and care about them. They say these people are lazy, that they don't care. That's B.S.," says Piperno. "All people want to do is feel human."
His philanthropic spirit is evident, whether working with the kids in Camden or projects he launches in his stores to help the surrounding community. And despite being a business owner with lots on his plate, Piperno prefers to give of himself and not just give financially.
"I'm never impressed with people with money; it's easy to write a check," he says. "I like people who make a difference. I'm the luckiest man in the world."
JEFF ONOFRIO
Working in the world of renovation mortgage lending, Onofrio saw a way to tie together his career with his desire to help others. So he organized a team of co-workers and fellow executives last year to help Habitat for Humanity by building a home for a family in need. Last month, the group worked on their second home and plans to make it a regular project every six months. Onofrio is also involved with raising money for the Alzheimer's Association, after his grandmother passed away from the disease five years ago. Together with his sister and other family members, he's helped to raise thousands of dollars for the cause. He also routinely gives money and his time to several other local organizations and he'd like to become involved even more. "I'm a big believer in karma. It feels good to [help others] and the more you do it, the more it comes back to you," he says.
SAUL GRUBER
Inspired by being a longtime advocate for the National Consumer Voice for Quality Long-Term Care, a Washington, D.C. organization that has offered Gruber an advisory position to assist in helping seniors across the country, this Mount Laurel attorney has seen a correlation between his career and his work in the community. He regularly raises funds for Alzheimer's awareness, often organizing his firm to join him in the cause. Gruber and his family also work directly with the Jewish Relief Agency, helping to deliver food to those in need. And, during the aftermath of Hurricane Sandy, Gruber took the lead and found fellow attorneys who lost their offices a place to work, while also assisting many citizens with applying for FEMA benefits. "It is impossible to truly gauge how wonderful it is to look at someone who feels life has forgotten them and show them it has not," he says of his community efforts.
JONATHAN HERMAN
Jonathan Herman did not always expect to find himself in the position he's in today. After earning a degree in journalism, he worked on Wall Street for a number of years before deciding he wanted to give more back to society. So he joined his uncle at Preferred Home Health Care & Nursing Services, where he now serves as COO, and he has been helping to make a difference in the lives of hundreds of individuals and families with their home health care needs. He also serves on the New Jersey state board for the March of Dimes, where he is active in helping the local southern New Jersey chapter raise funds for its two annual charity outings—Golf for Babies and the Born to Shine gala—and he and his wife, Alene, were also recently honored as Humanitarians of the Year bythe Emmanuel Center Foundation, which helps families caring for children with cancer.
JOHN VOLPA
When Indian Mills Middle School environmental science teacher John Volpa retired in 2012, he wasn't ready to kick back and relax. In fact, he wanted to keep learning. Shortly after retirement, the Evesham Township resident earned a spot in the nationally based Environmental Leadership Program's Senior Fellow+ Program, which provides mentoring for leaders in sustainability and environmental projects. "Going green" was never just a hobby for Volpa, but since 2012 he has made it a major talking point in South Jersey. He serves as vice chair of the Evesham Environmental Commission and has also helped found Friends of the Black Run Preserve, which helps preserve the 1,300 acre Black Run watershed, which has since become a favorite spot for hikers, bird watchers and general nature lovers. The nonprofit runs educational programs all year long, and Volpa is quick to pass out hiking trails to anyone he meets along the way.
LOUIS FAIOLA
Cinnaminson's Louis Faiola is a busy man. As a husband and father to twin girls, Faiola is always finding new and innovative ways to help inspire South Jersey residents. His first venture came with the School of Rock in Cherry Hill, a performance-based music school that gets students involved in projects together, with concerts and performances that drive team spirit home. It was this idea that helped spark the idea of Bands of Brothers, Faiola's non-profit that he co-founded with television producer Steven Holtzman. The project brought together 12 veterans for an online show, many who suffered from Post Traumatic Stress Disorder, at the School of Rock to form three bands and ultimately create one full-scale rock show in just 10 weeks. And Faiola's most recent passion project is the Sara James Music Foundation, which just received 501 (c) (3) certification at the start of the fall. The new nonprofit aims to provide disadvantaged South Jersey children with money to pay for music lessons and instruction.
BARRY KRATCHMAN
As the president of Classic Cake, Barry Kratchman knows a thing or two about the sweeter things in life. And his expertise extends far beyond confections and into the community. Whether it's creating a special cupcake to raise money for Flyers Charities or selling lemon sorbet to benefit Alex's Lemonade Stand, the Voorhees resident is actively involved with several local and national organizations. He has also frequently worked alongside folks from the Juvenile Diabetes Research Foundation, Susan G. Komen Race for the Cure and the Jewish Federation of Southern New Jersey.
ERIC EBERMAN
As the executive director of Bancroft's Pediatric Residential Services, Eric Eberman is also responsible for the nonprofit's Lindens Behavioral Stabilization Program, a special division of Bancroft that specializes in providing resources for children with severe behavioral disorders and their parents. It's a program that can make all the difference in the lives of families living on the autism spectrum or facing developmental problems; and Eberman has helped lead a team of professionals to real results. Through a mix of therapy and psychology programs, along with developmental pediatrics and psychiatric analysis, Lindens has seen a 98 percent success rate within the first year of transition. Along with his participation in the executive board for the New Jersey Alliance for Children and Youth, Eberman's reputation has earned him a 2014 "Heroes Among Us" award from the Philadelphia 76ers, which honors local residents making a true impact on children.
MARK HODGES
Mark Hodges, executive director of the Joseph Fund, helps connect area businesses with local charitable opportunities. The Joseph Fund is a nonprofit that supports the ministries of St. Joseph's Pro-Cathedral in Camden, raising money to support program expansion, capital projects and to help fill in any capital shortfall each local ministry may encounter. But Hodges isn't just a man in a suit—he helped create the Joseph Fund, drafting bylaws, establishing it as a 501 (c) (3) corporation and enlisting a Board of Trustees, before coming on board full-time. Today, the Joseph Fund helps support several programs, including the St. Joseph's Carpenter Society—whose board of directors Hodges served on —a child development center, an elementary school, a youth outreach program, a transitional housing facility for the homeless and a youth community service program. Prior to his position at the fund, Hodges spent nearly 30 years in the home building industry and served as senior vice president of corporate operations for Hovnanian Enterprises.
KEVIN D. WALSH
Local attorney Kevin Walsh has worked to advance social justice in New Jersey since the very beginning of his career. The Rutgers School of Law graduate is the associate director of Fair Share Housing Center in Cherry Hill, where he has helped challenge exclusionary zoning in New Jersey, advocates affordable housing in the State House, and has even argued four times (winning three) before the New Jersey Supreme Court on matters of affordable housing and abolishing the death penalty in New Jersey, among others. In 2012, Walsh also received the Mary Philbrook Award from the Women's Law Caucus at the Rutgers School of Law-Camden for his dedication to civil rights and equality in the local community, as well as his work in local government to develop suburban homes for low-income families. Prior to working at the center, Walsh also volunteered with the Central Virginia Legal Aid, in Richmond, Va., working with local homeless to defend themselves against the city's campaign to remove homeless from the business district, and was also a White House intern during the Clinton Administration.
KEVIN HICKEY
Making an impact in his community isn't just a hobby for Kevin Hickey—it's a lifelong career and passion. Hickey has been involved in social work across the country for years, from South Dakota to Connecticut, and he was the director of Catholic Charities in Memphis, Tenn., before taking over his current role as executive director of Catholic Charities for the Diocese of Camden 12 years ago. And South Jersey has been lucky to have him. Hickey leads a staff of 90 that oversees charitable efforts in the six southern counties of the state. Among the initiatives he has helped implement is the Ready, Vet, Go! program, which looks to prevent homelessness and provide financial assistance to veterans and their families. His group also played a major role in Hurricane Sandy relief, as it served 15,000 people affected by the storm in the first 30 days and continues to play a role in the recovery. Hickey's work has not gone unnoticed. He was recently conferred the papal honor Pro Ecclesia et Pontifice by Pope Benedict XVI, the highest medal that can be given to lay people by the pope.
JOHN GIANNOTTI
Anyone who has strolled Kings Highway in Haddonfield has come in contact with one of sculptor John Giannotti's most famous works. Giannotti, a Haddonfield resident himself, is the artist behind the Hadrosaurus monument, a bronze statue of the famous dinosaur that was discovered in the borough. But that's only one impressive note on Giannotti's sprawling résumé. The artist has work featured in New York City, Florida and even Japan. Most recently, Giannotti was commissioned to create a bust of Dave Robinson, the Moorestown native and former Green Bay Packer who was inducted into the Pro Football Hall of Fame in 2013. And his work has made a charitable impact on South Jersey, as well. Giannotti passed up a $25,000 commission to create a statue in honor of Haddonfield art teacher Hillary Johnson, who passed away after a fight with cancer in 2011. "The Little Artist," Giannotti's tribute to Johnson and the lives she touched, now sits out front of Tatem Elementary School as a tribute to her legacy.
STAN LANE
Stan Lane never could have imagined that a charity that started in South Jersey would have an impact all over the world. But that's exactly what Eagles Fly for Leukemia has done in its 40-year battle against pediatric cancer, raising $10 million along the way. The organization, once affiliated with the Philadelphia Eagles, was co-founded by Lane in the early 1970s. Every year, Eagles Fly for Leukemia holds two major fundraisers, gives out full scholarships to St. Joseph's and Drexel for cancer survivors, and organizes a special night at the Philadelphia Zoo for 1,000 patients and their families. But their influence isn't just local. They helped start the first Ronald McDonald House, and now there are more than 320 around the world. The charity also recently donated $30,000 for research by Dr. Stephan Grupp at Children's Hospital of Philadelphia, who is using genetically modified T cells to treat patients with certain cancers. "A little charity that started in the backyard of a guy in Cherry Hill turns into this," Lane says. "It really is amazing."
KEITH OMLOR
As co-founder and volunteer of Exit 4 Boot Camp—a community-based exercise group whose mission is to provide people of all ages and fitness levels an opportunity to improve their health and wellness through exercise and fellowship—Keith Omlor has a vested interest in the health and wellness of his community. He also contributes to his community in other ways—as deacon, usher, youth leader, Sunday school teacher and choir member of the First Presbyterian Church of Moorestown; as trustee of the Moorestown Community House, for which he is also currently serving as vice chair of the executive board and chair of the fundraising committee; and as committee member of the Moorestown Recreation Advisory Committee, which he is also currently serving as chair for. A volunteer and coach for a number of other organizations and clubs in Moorestown, it's hard to believe Omlor has time for his day job as senior director of client development for CareKinesis, Inc.
REV. WESLEY R. ALLEN
Rev. Wesley R. Allen's career path has been an interesting one. A Temple graduate, Allen utilized his communications degree with jobs at both Philly.com and CareerBuilder.com; Allen also did a stint at Second City, a famous improv theater with alums like Tina Fey and John Belushi, before entering the Princeton Theological Seminary. After earning his master of divinity degree, Allen served as director of youth ministries at the First Presbyterian Church in Moorestown before taking his current post at the Palmyra-based Quality Management Associates (QMA). Allen, director of day and employment services at QMA, is in charge of Opportunities in Action, a program that helps find employment for those with disabilities. He works with businesses, organizations and faith-based communities to foster meaningful connections and opportunities for disabled individuals. Since Allen joined QMA two years ago, the employment placement rate has risen to 4 percent above the state average for those with disabilities, and program revenue has increased by $1 million. Allen also works with employers, faith-based communities and school districts across the country through his company HigherAbility, the focus of which is adopting and implementing Employment First strategies for people with disabilities.
JOSEPH DEVINE
As president and CEO of Kennedy Health System, Joseph W. Devine currently holds one of the top positions in health care in the area, but it's the work he conducts outside of the office that truly makes him stand out. Often described as kind, trustworthy and thoughtful, as well as an excellent leader and problem solver, Devine participates in a number of groups that contribute to his community. He currently serves as a commissioner of the South Jersey Transportation Authority, is a member of the New Jersey Hospital Association Board of Trustees, is a board member of the Chamber of Commerce Southern New Jersey, and is the executive club chairman of the Gloucester County Chamber of Commerce, as well as with the Adam Taliaferro Foundation, which supports athletes with spinal cord injuries. He has also been chairperson for the South Jersey Heart Walk, chairperson for the regional Arthritis Foundation Walk, and is active in many other charitable events. Devine was also recently recognized with the Gloucester County Distinguished Citizens Award from the Garden State Council–Boy Scouts of America.
MICHAEL MOYNIHAN
For Michael E. Moynihan, the United Way is a family affair. Moynihan's father was president of the local United Way, and as a young boy, Moynihan would often accompany him during his work for the organization. Today, Moynihan can tally more than 25 years of experience for the same organization. In 1997, he took the helm as president and CEO of United Way of Camden County (UWCC), where he was responsible for more than $4 million in the annual fundraising campaign, and oversaw a staff of 13 and 100 volunteers. He helped facilitate the merger of seven local United Ways, forming the United Way of Greater Philadelphia and Southern New Jersey (UWGPSNJ). Since the merger, UWGPSNJ has raised more than $60 million each year. Today, Moynihan currently serves as the Executive Director of UWGPSNJ in Camden County. He's also worked with local United Ways in Maine, Maryland and Florida, and serves on the Camden County Government Ethics Board, is a member of the Executive Committee at the Senator Walter Rand Institute for Public Affairs at Rutgers University, and is active in the Boston Chapter of the Irish American Chamber of Commerce. Moynihan received his bachelor's degree in social work at Southern Connecticut State University his master's degree in social work from Boston College, and also completed a two-year fellowship in community building at the Kennedy School of Government at Harvard University. In 2011, Moynihan was named Nonprofit "South Jerseyan" of the Year by the Walter Rand Institute.
BRYAN WELLENS
As senior director of clinical informatics and quality management at Continuum Health Alliance, Bryan Wellens manages all population health analytics and operations, including the Medicare ACO and Horizon Healthcare Innovations programs, and helps implement approaches that result in increased quality, enhanced patient satisfaction and lowered overall cost of care. But he also uses his analytical skills to help improve the lives of local, at-risk youth. In 1999, the St. Michael's college alum co-founded the DREAM program at his alma mater. The DREAM program is a nonprofit mentoring program that pairs college students with at-risk kids from affordable housing neighborhoods, to create relationships that both empower children and help them lead healthy and productive lives. Since its inception, DREAM has launched in Philadelphia at University of Pennsylvania, Temple and Drexel.
BOB PEKAR
Bob Pekar may have dedicated more than 30 years to the human services field, but he doesn't just rest on his past accomplishments. As the CEO of Twin Oaks Community Services, a nonprofit organization based in Westampton, he is always looking for new ways to provide for vulnerable adults, children and families throughout the state. One of the largest human service providers in New Jersey, Twin Oaks provides such services as foster care and adoption, family counseling, food pantries, housing, mental health care and much more. And Pekar constantly encourages his staff of 1,500 employees to think outside the box and get creative with the aid they can provide for the community. But Pekar's efforts have always gone beyond his job. A former member of the Board of Trustees for Big Brothers Big Sisters of Burlington, Camden and Gloucester Counties, he currently sits on the board of The Food Bank of South Jersey.
Published (and copyrighted) in South Jersey Magazine, Volume 11, Issue 8 (November, 2014).
For more info on South Jersey Magazine, click here.
To subscribe to South Jersey Magazine, click here.
To advertise in South Jersey Magazine, click here.