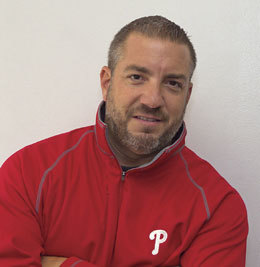 On the Air
For Brian Startare, the fantasy of covering professional sports has become a reality.
Ten years ago this fall Brian Startare's life in sports media began with a stint on a reality television show titled, appropriately enough, Dream Job. The ESPN series featured aspiring sportscasters competing for an anchor job on the network's most popular program, SportsCenter. Although Startare didn't win, the gig actually led to his real dream job: covering Philadelphia sports.
The South Jersey native has been living that dream ever since, working consistently on Philly sports talk radio since 2005, first at 610 WIP and now at 97.5 The Fanatic. Startare has also appeared on local television, has been the public address announcer for St. Joseph's University men's basketball for nine seasons, and has written two sports books, the second of which was released this past summer. Co-authored with Kevin Reavy, This Day in Philadelphia Sports presents interesting tidbits of local sports history for every day on the calendar.
The 1989 Washington Township High School graduate now lives in Glassboro with his wife Andrea and sons Chase and Braydon. We spoke with him about working in the sports field for a decade and how he hustles to stay involved in the business.
A decade after Dream Job…
I think about it from time to time. It was a cool experience and it kind of got me on the road to where I was supposed to be.
The path to a new career…
I was working for a health care collections company, which oddly enough I'm back in now, because the economy is so bad. I was a supervisor for a firm in Delaware that had a satellite office in New York. So I was working up there when I got the opportunity to try out for ESPN's Dream Job. I already had my degree in radio, television and film from Rowan [University], and I had done some spot stuff here and there, but nothing really crazy. After I got eliminated from Dream Job six weeks later, I made the decision that I really wanted to do radio, TV and film, so I followed my goal of being on the radio. Angelo Cataldi and Rhea Hughes helped me out in the beginning; they brought me in [to WIP]. Within a few years I was the Flyers pre- and post-game host, I was hosting my own shows, and I was doing TV with Comcast and CN8 on Out of Bounds. So that was a big stepping stone.
Getting confidence from his wife…
We were watching [Dream Job] the year before and I turned to her and said, "I know I can do this. I've been to school for it." I didn't want to travel the country and that's the really hard part about this business. I'm lucky that I've been able to do 10 years now in Philadelphia and not really have to worry about traveling the country. People start out in small places and they have to travel back and forth. Even though I've never been full-time, I've been able to make a pretty good living doing it. So my wife did say, "You might as well do it." I also had a few other friends and people at work who knew I didn't like what I was doing and said, "Go after it." So I did.
Covering the teams he loves…
I grew up here—I don't want to talk about the [Dallas] Cowboys or the [New York] Giants unless I'm talking about how much I can't stand them. I don't want to talk about the West Coast teams. I've been a season ticket-holder for the Phillies and the Flyers, and the Eagles still for 26 years. This is what I do; this is what I know. If I can't make it in Philly, then I'll have to do something else.
Staying busy…
I'm a pretty busy guy. My daytime job is the director of sales and marketing for C&H Collection Services in Cherry Hill. So I'm still in the business community, that's my bread and butter. I also host Quizzo nights and general trivia nights a couple nights a week in South Jersey; I'm the public address announcer for St. Joe's; I do two to three shifts a week on 97.5 The Fanatic and I do the Eagles post-game show there; and I also do a podcast on Tuesdays on WildfireRadio.com. So I still keep the dream alive until I can get full-time, but right now I'm pretty happy that I've been able to have a successful business and sales career, as well. My business comes first, but I still keep a lot of energy and trust in the fact that I can still do this job, so I do it.
Finding a place at St. Joseph's…
Well, about 10 years ago, [St. Joe's associate athletic director] Marie Wozniak heard me starting out on the morning show with Angelo and Rhea, and she called the station. John McAdams, a legend in our town, was the long-time PA announcer for a few of the college teams, including St. Joseph's, and he passed away. They were looking to fill the spot and Marie called me in for an interview with [athletic director] Don DiJulia and [associate athletic director] Tim Curran. I got the job, and it's one of my favorite jobs. I'm coming up on my 10th season on Hawk Hill.
Leaving WIP for a rival station…
It was very, very tough to leave WIP. I was there for eight and a half years and I met some great people: Glen Macnow and Big Daddy Graham, who I'm still friends with to this day; obviously, Al Morganti, Rhea and Angelo; and my buddy Jon Johnson, who I miss over there. But the shifts were kind of drying up when they got the Phillies programming. I really didn't feel like working until 2 in the morning anymore, I just couldn't do that and get home at 3 and still function with a full-time job. I needed something where I could do nights and weekends until a full-time spot opened, and The Fanatic offered me some flexibility. Another thing is that they have the Flyers, who I'm passionate about, and I wanted to work more closely with the Flyers again. Even though it was tough leaving WIP after some solid years, it was an opportunity to be more flexible and hopefully down the road get a full-time job.
All Flyered up…
The Flyers have always been my first love. I got into kindergarten early because I knew the entire roster and all the numbers. I was always, and still am, a hockey guy at heart. So after a few years of being the pre- and post-game host and meeting some of my childhood idols like Reggie Leach and Bobby Clarke, and later on Rick Tocchet and Dave Poulin, I decided to write a book. So I put together a nice trivia book and I got contributions from some of my friends in the media, like Glen [Macnow] and Anthony SanFilippo and Al Morganti. In 10 years, my favorite part of the job has been doing the pre- and post-game and intermission for the Flyers, so that was how that book came about.
The new book, This Day in Philadelphia Sports, I did with my co-author, Kevin Reavy. He's a tremendous writer and a really good friend. After a few beers one night—or a few beers on a lot of nights—we started to brainstorm. We were going to do the top 15 worst losses or devastating moments, but we decided that was too sad. We wanted a book that would encompass the history of Philadelphia, and that's what This Day in Philadelphia Sports does. That was on my bucket list, I always wanted to write a book. I learned a lot from the first book to the second book, and I think I have a few more in me.
What he learned putting the book together…
There were tons of facts that came up, especially the older history of the baseball team, which has been around since 1883. You learn some specific dates about the Penn Relays and the Blue Horizon, just a lot of great sports history in this town. No wonder why I never wanted to leave this town—it's great. I don't want to do sports talk in Chicago or Seattle or Tampa; I want to do it here in Philadelphia.
The joys of raising two sons…
My son Chase is 9. He's slightly into basketball, but believe it or not, he's not a sports guy, and that's OK with me. He's a happy kid, he's a great kid, and he has other interests. My youngest son Braydon, who will turn 6 in February, he's already playing hockey, he wants to play football, he's played two years of baseball already. He's my sports nut, so it looks like I'll have my hands full with him. Chase likes cars and movies and games and that kind of stuff.
Naming them after Philly sports stars Chase Utley and Braydon Coburn…
The first one, of course we got it from Chase Utley, but we just liked the name. It's become very popular since we named him. Then Braydon, I was working with the Flyers and my wife said, "That's a nice name." I made a bet on the air that if the Phillies won the World Series I would name my kid after Cole Hamels, but my wife said, "Listen, we're not having kids named Chase and Cole." So it turned out to be Braydon and his middle name is Cole. I followed through on the bet at least.
That burning desire…
I think it's because of my dedication to this medium that I'm still cracking the mic. It's been 10 years of nights and weekends. It's been 10 years of piecemealing the career together and not getting the full-time spot. But at the same time, if I wasn't good and I didn't have as much fun doing it, I wouldn't be able to last this long. So the longevity kind of makes me feel good. I'm a salesman first, my job at C&H comes first, and of course I want to spend time with my family. But I'm really happy the way it is, because I get to meet so many different people with the trivia nights and writing the books, and I do well in sales because of networking. One feeds my family and the other feeds my passion.
Published (and copyrighted) in South Jersey Magazine, Volume 11, Issue 8 (November, 2014).
For more info on South Jersey Magazine, click here.
To subscribe to South Jersey Magazine, click here.
To advertise in South Jersey Magazine, click here.