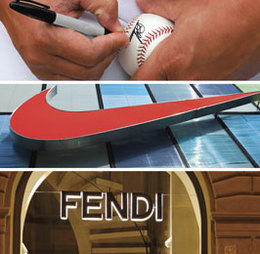 The Price is Right
You can find just about anything in the secondary marketplace, as long as you're willing to pay a premium.
Richie Smiley has always loved sneakers. And that passion has now become his business, as the Mullica Hill resident makes a living buying and selling in-demand sneakers on eBay.
"I was a collector first. [And] the shoes I wanted to obtain that I couldn't were maybe older. If I got into sneakers in 2006, and I wanted a sneaker that came out in 2001, where am I going to get that? So I turned to eBay," he says. Soon, he began selling sneakers too, in his virtual storefront, which operates under the name richiedge. Today, most of Smiley's business revolves around iconic shoe brand Nike, and their coveted signature basketball shoes for the likes of Michael Jordan, Kobe Bryant, LeBron James, Kevin Durant—even those designed by music artist Kanye West.
Smiley observes this demand in the market and provides the supply to meet it. "It's basically like the stock market," he says of the shoe resell business. "That's how I look at it.
"It gets complicated, and if you don't know what you're doing, you can lose money."
But Smiley doesn't simply walk into a store and purchase 20 pairs of high-demand shoes. "That's not really how it works. There are times when I'm in Foot Locker and there's a shoe that I know I can sell for more money, or when I wait in line for a shoe and make a little off it," he explains. "[But primarily,] I buy people's shoe collections. Clients will have 30 pairs of sneakers they are looking to get rid of. They might not have the time to sell their shoes."
And some of these shoes have hefty price tags. Smiley says the Kanye West's Air Yeezys usually sell in the $2,000 to $3,000 range. The highest price he ever paid for a pair of shoes was $4,000 for a pair of Nike Air Mag shoes, the futuristic style Michael J. Fox wore as Marty McFly in Back to the Future II. Smiley then turned around and sold the unique sneaks for a profit.
Smiley also recently listed a pair of slightly worn Freddy Krueger-inspired Nikes that were originally supposed to be released in 2007, but were scrapped because New Line Cinema threatened to sue, he says. They are currently listed in his eBay store for a staggering $5,500.
The most unbelievable aspect of the sneaker resale business is that many of the shoes selling for thousands of dollars have already been worn.
"Why would I spend $2,000 on a worn sneaker when I can get a brand-new one for $80?" Smiley asks. The answer is simple, he says. "Exclusivity. It's basically supply and demand. Shoes that reach the $1,000 or $2,000 [price] range, there are literally millions of people that want them and there might only be 5,000 pairs in existence. And out of those 5,000 in existence, maybe only 1,000 are on the market, and 4,000 are going to be bought and worn. The prices can go up and down based on that."
As for Smiley, he's going to keep growing his business. He's been selling on eBay since 2006; and officially grossed in the six figures annually in 2012, then 2013. He expects to pull in well into the six figures again this year, he says.
But the resell trend doesn't just apply to sneakers. It can also apply to those selling more unexpected items—like Pez dispensers.
"I started [collecting and selling] 14 years ago. I started a new job coming out of college, and within the first two weeks, I was bored and found eBay," says Washington Township native Joe Paravati. "I had about 100 Pez [dispensers] of my own, just had them lined up on my shelf. Then I went on eBay and saw that people were selling Pez that you couldn't get in other countries, like Smurfs, Nintendo. … These sets were selling for like $15 to $20 each. I started buying them and kept [some sets,] then just started reselling them. That's kind of what got me from the collection side to the dealer side."
Eventually, he started going to shows and conventions across the country. "The big [convention] I go to is in Cleveland in July. There may be over 100 dealers at that show, from Japan to Germany to Israel, from all over the world. For three to four days, we just all sit around and geek out about Pez," Paravati says. It's also at the conventions where he does most of his buying and selling, although he does sell some online and on his own website, GotDankPez.com.
And these Pez dispensers often come with some hefty price tags.
"I bought a set of six Disney softheads— the heads are made out of rubber. They were never released to the public, [and were] a pre-production line. For the six, it was somewhere around $30,000," Paravati says. "I worked as a personal shopper for people who have million-dollar collections [and] essentially brokered the deal."
Paravati says he also saw an extremely unique Pez dispenser—a World's Fair Pez dispenser from 1982—sell for about $30,000. "There are people that are willing to spend big bucks on these," he explains.
But his collection isn't like any other—the longtime collector collects errors, or Pez dispensers that are essentially factory mistakes. "Either there are parts missing, maybe there are extra things added into the package, [for example,] let's say a Teenage Mutant Ninja Turtles [dispenser] on a Hello Kitty card," he notes. "I have roughly 1,000 factory errors."
And Paravati—who also appeared on A&E's Storage Wars and the documentary Pezheads—doesn't just have traditionally-sized Pez dispensers in his collection. Displayed in his home are two 6-foot-tall Pez dispensers modeled after the grasshopper character in Disney's A Bug's Life, which he won from an auction at the Pez headquarters in Austria.
The world of resale also intersects with that of high fashion. Take Sharon Fidelis, a Cherry Hill resident who has always loved shopping for high-end, designer clothing and accessories. Fidelis operates accounts on several resale marketplaces like eBay, Tradesy and Instagram, under the moniker RsquaredS. The idea to sell items on these platforms developed organically.
"I decided to start my store when I realized I had a ton of brand-new, never-worn designer shoes and clothing with tags on them in my closet," she says. "My husband suggested I give them [away,] which is what we usually do every three months for mid-end and worn high-end clothing that we haven't used in, say six months. [But] these items weren't mid-end. I paid a chunk for them, and I hate to say I am emotionally tied to my purchases, but I am. A lot of my personal items I scour the Internet and stores constantly to find exactly what I want. So it was hard to just give those out, I decided to find them new homes instead. And get some of what I paid for it back. That was the birth of the store."
Fidelis sells mainly high-end men and women's clothing, shoes and accessories from brands like Christian Louboutin, Manolo Blahnik, Gucci, Fendi, Lanvin, Chloé, Nicholas Kirkwood and Céline, as well as newer, contemporary designers like Tory Burch, Rebecca Minkoff and Alexander Wang. All of the items in her stores are brand new and authentic, though she says she is debating adding pre-owned items to her storefront. She says she finds the items for sale in her shop at stores, designer sample sales and online.
As far as what items sell most quickly, shoes from iconic designers seem to be the first to go, though it does depend on the buyer—and their size.
"To be honest, it depends on clientele. I get a lot of Louboutins and Manolos sold fairly quickly, but I also get the Tory Burch sold easily," she says. "I think the bigger the size, the better, is what I've come to realize. Size matters." And if a client wants something that isn't available in her store? Fidelis will source it for them. "I source specific items for my clientele if I don't have them currently in my lineup," she says.
Fidelis says she makes anywhere from $1,500 to $2,500 a month selling items on resale marketplaces. And while her online storefronts could someday be a full-time endeavor, for now she's keeping her day job as a credit analyst. "It's a supplemental income [or] hobby for me," she says. "Since it's just a new venture I don't think it can supplement a full-time job. However, with more following and clientele it could."
Then there's Gar Miller, a sport memorabilia collector based in Wenonah. Miller's collecting eventually led him to the world of resale.
"I buy when something comes to me that is appealing. I don't buy anything new, but I still like to buy older stuff. I still collect. I have a museum in my house in the basement, where I display all kinds of autographed material—Babe Ruth, Lou Gehrig, all the greats," he says. "I have samples of a lot of rare cards, cards that came out in root beer, in potato chips, in hot dogs, everything else. It's not just bubble gum cards; it's a lot of really unique stuff."
Miller started collecting early.
"I started collecting when I was a kid, probably 10 or 12 years old. When my dad died when I was 14, my mom gave me a box of [his] old cigarette baseball cards from 1910," he says. "That fueled my interest, and I started to do some research. Of course, we didn't have the Internet then. I did some research and found there were other people in the country that collected cards, bought and sold them. I put of list of those cards together, started selling, trading them and buying more. That just evolved into a lifetime hobby."
He started off buying cards from his teammates in high school, then later from his teammates on the Rutgers-Camden baseball team. He continued his passion even when he joined the Army. Today, Miller says he has anywhere from 3 to 4 million baseball cards, along with countless other pieces of baseball and sports memorabilia, including autographed items from the likes of Ruth, Gehrig and Joe DiMaggio.
Miller, who published one of the first pricing guides back in the '70s, says the most expensive item he ever purchased was an Eddie Plank 1910 from the cigarette card series, for a whopping $15,000. "Supposedly, there weren't that many made. It's sort of like the Holy Grail of cards," Miller says of the Plank card.
And Miller has taken the online side of his business by the horns, selling on his own website, Baseball-Cards.net. While he says that overall, the advent of online marketplaces has helped his business, Miller started off the old fashioned way—in person.
"I used to travel the country setting up at Holiday Inns on weekends in the 1970s with some other guys. We would advertise all week, and it would attract any number of people who no longer needed cards or programs or yearbooks, uniforms. Whatever it was they collected, we bought them," he says of how he began to not just collect, but sell, as well. "So we would spend a Friday, Saturday, Sunday buying, and over the course of doing that for several years, I accumulated a huge amount of material to the point of where, especially in baseball cards, I would have as many as 25 [cards] of a single player. So obviously, I don't need that many and started to sell or trade off stuff that I really didn't need or had duplicates of."
Yet he still gets the occasional letter, inquiring about cards.
"[My monthly sales are] a combination of sales that are actually done through my site and probably much more than that, done through people I've established relationships with outside the Internet," he says. "There are still a lot of people that don't have computers. I constantly get letters from people saying, 'Do you have a card list? I've heard about you. How do I buy cards?'"
Photo credit: Prada photo by Ritu Manoj Jethani / Shutterstock.com, Nike photo by TonyV3112 / Shutterstock.com, Fendi photo by Malgorzata Kistryn / Shutterstock.com
Published (and copyrighted) in South Jersey Magazine, Volume 11, Issue 8 (November, 2014).
For more info on South Jersey Magazine, click here.
To subscribe to South Jersey Magazine, click here.
To advertise in South Jersey Magazine, click here.