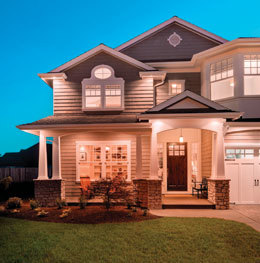 Real Estate Rebound
Trends in the local marketplace suggest a sunny 2015 forecast.
Recently, New Jersey has found itself gaining some unwanted notoriety for its soaring foreclosure rate, named in a recent report by real estate information company RealtyTrac. The report ranked the Garden State as the third highest in the nation for defaulted mortgages for the third quarter of this year. However, industry experts assure residents that towns are on the road to recovery and that in general, local properties are increasing modestly in value.
"This increase in defaulted mortgages is, in part, due to foreclosures being delayed in New Jersey, whereas in other states, these foreclosures would have already happened," says Daren Blomquist, vice president of RealtyTrac.
"Each state has a different foreclosure process and New Jersey's is a very lengthy one," Blomquist continues. That, along with a moratorium on foreclosure activity issued by the Supreme Court in 2011 and the effects of Superstorm Sandy, set New Jersey back, he explains.
"The good news is New Jersey is finally dealing with these distressed properties rather than letting them sit and linger," he says, explaining that this is a move toward a gradual recovery.
Jean Bonilla, president-elect of New Jersey Realtors, is also optimistic. "We're certainly seeing signs of health and continued recovery," she says.
"In general, we're seeing that local homes are rising in value. We're not seeing a market from 10 years ago, where we were seeing 6 to 8 percent appreciation, but the fact that properties are not losing value is fabulous," Bonilla says.
According to New Jersey Realtors, the median sales price for a single-family home increased 1 percent to $315,000 from September 2013 to September of this year. The days on market dropped from 88 to 82 days during the same time period.
With slightly higher prices motivating more sellers to list, inventory is up. Burlington, Camden and Gloucester counties, as of September, saw new listings up 9.1 percent, 6.5 percent and 4.8 percent, respectively, year-to-date, according to New Jersey Realtors.
As we gear up for 2015, local real estate agents offer a glimpse of what we can expect for the local housing market in the near future.
Sweet spots will continue to prosper
South Jersey's most desirable locations—Moorestown, Medford, Marlton and Mount Laurel in Burlington County; Haddonfield, Cherry Hill and Voorhees in Camden County; and Woolwich, Washington Township and Mullica Hill in Gloucester County—will continue to pique seller interest.
These towns continue to thrive, in large part, because of their public school systems, real estate experts explain. It's a fact that simply doesn't change whether we're seeing a good or bad real estate market.
"Voorhees, Cherry Hill, Moorestown, Marlton and Haddonfield, for example, have school systems that are just wonderful," says Bonnie Schwartz, real estate agent for Berkshire Hathaway Home Services, Fox & Roach Realtors. "We see that with many clients with small children, their primary goal is an excellent school system," she says.
She also singles out Cherry Hill for its diversified market. "It's also close to Philadelphia and Atlantic City, and it's a very good location to be in for business," she says.
Arlene Schwartz, real estate agent for Berkshire Hathaway Home Services, Fox & Roach Realtors, agrees. "Cherry Hill's very diversified market and multicultural community is a huge draw."
Kathryn Supko, realtor for Weichert Realtors, says Moorestown and Mount Laurel in particular are top-selling towns because of the strong reputation of their school systems, the proximity to Philadelphia and easy access to highways and shopping.
"There's just something for everybody here in these towns," Supko says.
Refurbished homes are in high demand
Real estate agents have noticed a recent trend of younger buyers looking for refurbished, maintenance-free homes to buy, move into and continue on seamlessly with their day-to-day routines.
"Younger buyers are basically two-family income buyers and are more comfortable working at a computer than at a workbench," says Arlene Schwartz. "They are looking for refurbished properties, not fixer-uppers. They want to move in and continue with their lives."
"People don't want to be spending as much time and money having to update things," says Supko. "They are much more involved in their children's lives nowadays than they used to be."
Inside of homes, Bonnie Schwartz explains that buyers are looking for a new kitchen, modern appliances, hardwood floors and neutral décor. They also want chic countertops, new bathrooms and finished basements.
Industry experts are also continuing to see a shift away from the McMansion and toward smaller, up-to-date, newer homes with the bells and whistles.
"A town house or a newer home on a small lot that doesn't require a whole lot of maintenance does very well in today's market," Supko explains.
Low interest rates will attract buyers
Heading into 2015, expect low interest rates to continue to help propel the local market, experts say.
"It has been very good to see the market stabilize because we've been through so many highs and lows over the past years," says Bonilla. "With today's low interest rates, it's a perfect time to buy, and it presents an opportunity for buyers to get out there and go forward. As a result, sellers are also feeling more comfortable with the market and are listing their homes."
Supko also says another tax credit program for first-time homebuyers would be a step in the right direction. "Today's low interest rates will impact the future for buyers," she says, explaining that targeting this crowd with incentives to buy could be a big win for both them and the market.
Low interest rates are yet another reason why buyers are on the search for up-to-date homes. With the current rates, they would rather spend slightly more on a home than buy at a lower price and have to pour a lot of money into updates and maintenance, Arlene Schwartz says.
Real estate experts are on the same page about the future, expecting it will only bring improvement and gradual recovery.
"Next year might be a slow and steady start, but I think the market conditions will rise gradually," Supko says.
Real estate experts also agree that if low interest rates continue, oil prices come down and the unemployment rate decreases, the local real estate market will reap the benefits.
"We had a very strong year in 2014, and we expect that to continue into the future," Arlene Schwartz says.
A Glimpse At the Local Real Estate Market
Burlington County
New listings: 5,561, up 9.1 percent
Closed sales: 2,567, down 0.7 percent
Average days on market: 88, down 7.4 percent
Median sales price: $230,000, down 3.8 percent
Camden County
New single-family listings: 6,004, up 6.5 percent
Closed sales: 2,714, up 0.1 percent
Average days on market: 86, down 10.4 percent
Median sales price: $179,900, down 0.1 percent
Gloucester County
New single-family listings: 3,688, up 4.8 percent
Closed sales: 1,727, up 1.6 percent
Average days on market: 89, down 9.2 percent
Median sales price: $195,000, up 3.2 percent
*Based on year-to-date data for single-family homes from New Jersey REALTORS, as of September 2014
Published (and copyrighted) in South Jersey Magazine, Volume 11, Issue 8 (November, 2014).
For more info on South Jersey Magazine, click here.
To subscribe to South Jersey Magazine, click here.
To advertise in South Jersey Magazine, click here.