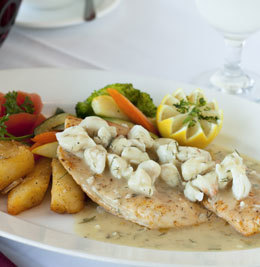 Amici Restaurant
…A Dining Review from the pages of South Jersey Magazine…
A Global Tasting: Amici Restaurant
306 Kresson Road
Cherry Hill
(856) 354-1500
3 and a half forks
Amici is an Italian eatery that has been producing artisan Italian dishes by hand for the last two years under the watchful eye of executive chef Alex Daku. During that time, Amici has built a reputation for quality food and service, and the crowd that filled the restaurant on one particular weeknight seems to agree.
With such diversity on the rest of the menu I was a little disappointed at the options available for appetizers. Like the involtini di melanzane, more commonly known as eggplant rollatini, on almost every other Italian menu in South Jersey. The eggplant itself was crispy and just at the peak of seasonal freshness, and the red sauce was sweet and hearty, but the ricotta cheese and spinach filling were fairly bland and overpowering. The overuse of the cheese ultimately masked any crisp and meaty flavor you would normally get from fresh eggplant.
The one standout on the appetizer menu, however, was a plate of lumache salvatici, or sautéed snails. The word "snails" may cause hesitation at first, but all bets are off when the plate of bite-sized morsels arrive in an aromatic bowl of white wine garlic sauce, tossed with mushrooms and served piping hot. While the dish seemed more Provençal than Italian, the snail itself is reminiscent of a less chewy clam, serving as the perfect vessel for the buttery broth and earthy mushrooms.
A primi plate of ravioli salvatici featured six hockey puck-sized raviolis, stuffed with ground, seasoned and sautéed mushrooms and swimming in a pool of wild mushroom sauce. While the pasta itself was a bit thick and tough, the filling exploded with rich and hearty flavors that carried over nicely into the accompanying sauce, creating a warm and homey dish that was just what was needed on a particularly chilly fall evening.
Daily specials at Amici are a selection of proteins all cooked in the same variety of sauce, and make up a large portion of the menu. On this particular day, there was a ribeye in a rich mushroom and bell pepper sauce, served alongside potatoes and seasonal vegetables. The ribeye itself was massive, one of the largest servings I've ever received for a price that was more than reasonable, and cooked to a perfect medium rare with a nice crispy char on the outside. Meanwhile, the sauce—which was almost identical to the one from the ravioli—added a nice hit of salt and butter without overpowering the fantastic meatiness of the ribeye.
A menu regular, the sogliola Monte Carlo, boasted a generous filet of sole which was sautéed in a lemon and dill champagne sauce, topped with chunks of lump crab meat and served with potatoes and vegetables. Dill and lemon are two of the best pairings to go with any white fish, and created a light, fresh flavor that melded nicely with the flaky fish.
While desserts were typical Italian options, the tiramisu was one of the best varieties I have tried in South Jersey. Two layers of lady fingers were delicately soaked in just the right amount of espresso, so that they still maintained a crisp bite, a combination that is hard to find with this particular dessert. And the mascarpone filling was creamy and mild with just a hint of sugar. The texture set this final plate apart from the rest, and was a great ending that wasn't jarringly sweet.
What was particularly noteworthy was the service. A handful of waiters were constantly available to refill water glasses or to just check in on things. It was a stand-out team that worked together without being too overpowering, and really added a relaxing and overall pleasant atmosphere to the restaurant.
While the menu may have skewed from the Italian dishes you'll typically find in South Jersey, the meals themselves carried a lot of memorable flavors and were prepared with thought and care. Add the unforgettable service, and Amici has found a winning recipe.
Published (and copyrighted) in South Jersey Magazine, Volume 11, Issue 8 (November, 2014).
For more info on South Jersey Magazine, click here.
To subscribe to South Jersey Magazine, click here.
To advertise in South Jersey Magazine, click here.