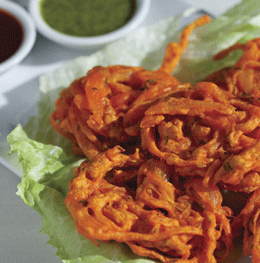 Side Dish
Quick Bite: Onion Bhajia
Monsoon
Mount Laurel
For a serious dose of spice and flavor, look no further than this Indian favorite. Strips of onion and freshly-chopped spinach are dipped in a batter that's loaded with rich cumin, turmeric and curry, then fried until crispy and served with classic cilantro mint chutney and tamarind sauce. (pictured)
Extra Plate: The Kibitz Room
It's easy to get comfortable at The Kibitz Room. Whether you're a regular, hanging out at the Cherry Hill counter and trading stories with the staff, or you're digging into one of their many New York-style deli dishes for the first time, you can't help but feel at home.
Kibitz Room has been a South Jersey staple for years, and not just because of the sweet-but-sharp staff behind the counter. Their sandwiches are legendary; known for both their massive size and even bigger flavors. Take their corned beef, slow-cooked in-house and piled mile high on grilled rye. The meat itself is salty with a hit of pepper, and truly needs no accompaniments, though a bit of coleslaw or Russian dressing doesn't hurt.
The pastrami and brisket varieties are just as impressive, but to ignore the sides each sandwich comes with would be a crime. Potato pancakes are crispy and savory, while house made potato salad, macaroni salad and coleslaw are top-notch cold sides. Then there's the pickle bar: A delightful surprise tucked into a corner for your snacking pleasure. Pickles run the gamut from sour whole varieties to sweet slices and even sauerkraut.
And with things starting to cool down, the No. 1 fall and winter go-to would be The Kibitz Room's hot matzo ball soup. It's a recipe that only time and an attention to detail can create, featuring shredded chicken, bowtie pasta, carrots, and a hand-shaped matzo ball bigger than your head right in the middle.
If you're not a regular at the Kibitz Room, you will be soon. From friendly and familiar service to dishes that keep you coming back for more, this is one local favorite that continues to deliver.
Lunch Under $15: The Moorestown Mall
Vegetable Panino
This vegetarian-friendly lunch option piles on roasted bell peppers, zucchini, cooked broccoli rabe and tomato, then tops it with a smear of basil pesto and provolone cheese before pressing the bread until crispy and crunchy. $14 at Osteria, OsteriaJersey.com
Pecan Crusted Trout
An upscale lunch doesn't have to cost you an arm and a leg, and Firebirds proves that with their delicately-cooked trout filet. The fish comes served with local peach salsa and a house-made slaw, all for one reasonable price. $13.85 at Firebirds Wood Fired Grill, FirebirdsRestaurants.com
Chopped Salad
A classically-prepared chopped salad is one of those dishes that sometimes you just crave, and Corner Bakery does it well. They blend iceberg and romaine lettuce and top it with sliced chicken, crispy bacon, avocado, blue cheese and tomatoes and drizzle everything with their own house-made vinaigrette. $8.99 at Corner Bakery Café, CornerBakeryCafe.com
Thai Dynamite with Shrimp
Fast casual gets the Asian treatment with this super-spicy bowl of shrimp, scallions, bell pepper, Thai basil and carrots. The whole dish is coated in tangy Sriracha chili sauce with lots of soy and lime flavors. $9.99 at Pei Wei, PeiWei.com
Key Ingredient: sweet potato
Mom's sweet potato casserole is a family classic come Thanksgiving, but this super spud is becoming a staple all year around. This root veg is versatile and healthy—think tons of vitamins that keep you strong throughout the winter—and chefs all over South Jersey are figuring out how to add a touch of sweet to their favorite savory plates.
Sweet Potato Tempura Roll
Tokyo Bleu, Cinnaminson
Lamb Dhansak with Sweet Potato, Spinach and Mango
IndeBlue, Collingswood
Sweet Potato Pancake with Crab
Barnsboro Inn, Sewell
Fast Food
Megu Sushi and Hibachi in Cherry Hill has renovated its dining room, installing new, private booths with a updated décor. They have also altered the menu to be more cohesive with their Moorestown and Ventnor City locations.
Cinnaminson's Lily Nichols became the youngest winner on Food Network's Chopped. At the age of 11, the sixth grader defeated three competitors to take home $10,000.
Pronto by LaScala's has opened its second location—the first in South Jersey—in Mount Laurel. The BYOB offers Italian entrees similar to its Philadelphia-based flagship spot.
Mount Holly's High Street Grill has closed and its owners are currently looking for buyers.
Owners Mike Oliver, John Companick and Scott Reading have officially opened Spellbound Brewing in Mount Holly. The 20-barrel brew house will also be canning and kegging on-site.
Buffalo Wild Wings in Moorestown officially opened to the public on Oct. 20. They gave away free wings for a year to the first 100 customers.
Deptford Registered Nurse Meneko Spigner McBeth took home the $1 million grand prize in this year's Lay's Do Us a Flavor contest. McBeth created a kettle cooked wasabi ginger-flavored chip for the competition.
Published (and copyrighted) in South Jersey Magazine, Volume 11, Issue 8 November, 2014).
For more info on South Jersey Magazine, click here.
To subscribe to South Jersey Magazine, click here.
To advertise in South Jersey Magazine, click here.