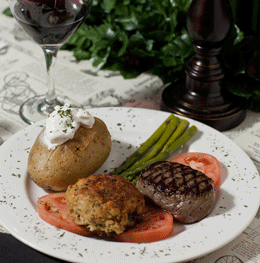 Palate Review: Woodbury Station Café
…A Dining Review from the pages of South Jersey Magazine…
Riding the Rails: Woodbury Station Café
1101 Cooper St.
Woodbury
3 forks
Having driven down Woodbury's Cooper Street on more than a few occasions, I've grown accustomed to passing the beautiful homes and well-manicured lawns, and have come to really enjoy that quaint stretch of road. One of my favorite sights is the old Woodbury Train Station, which has visually changed very little since its creation in 1883.
But while it may still have the green and yellow foundation, with the large "Woodbury" sign still proudly hanging from its side, the inside is a whole new animal. That's where you'll find the Woodbury Station Café, a tiny little dining room built right alongside the old tracks. After the train station was restored to its glory in 2000, Pat and Lonnie Finney stepped in and turned the spot into a French-inspired restaurant in 2009. Originally just intended as a brunch and lunch spot, the Finney family—who also own Woodbury's Gia Nina's and Speranza in Westville—added dinner to the agenda in recent times.
"Intimate" doesn't quite do this restaurant justice. The handful of tables fill up a space not much larger than a typical bar, with large windows offering a view of the train tracks. Small chandeliers hang from the ceiling, while the walls are dotted with old photos from Woodbury's past as a playful reminder of what this building has seen. On a chilly winter night, you can't help but feel cozy and comfortable.
I had heard more than good things about the café's brunch menu, with dishes like crepes and eggs Benedict earning a sterling reputation. My intrigue took me to their small dinner menu, which focuses on quality cuts of beef and numerous seafood dishes. I would have liked to have seen a bit more diversity for diners, particularly more chicken and vegetarian options to choose from.
The chef breads handmade raviolis and deep fries them until brown and crispy, then serves them alongside sweet and chunky marinara sauce for a crunchy, if not familiar, appetizer. This particular variety packed a lot of flavor into each bite: The seasoned ricotta inside of each ravioli was still creamy and bright, and the accompanying marinara was delicately sweet.
Then came the calamari, yet another of the fried options from the limited appetizer selection. While the breading complemented the ravioli plate, it distracted from the tiny bites of squid. There was far too much, and the soft, well-cooked squid got completely lost in the middle of a greasy fried bite.
The grilled U-10 scallops were a whole different experience. A large serving of scallops were lightly seasoned with fresh herbs, then sautéed in butter and plated alongside a massive Yukon gold potato and fresh asparagus. The scallops themselves were flaky and soft, and still had a really pleasant natural sweetness in each bite. The plate stuck out to me as some of the best scallops I've had around South Jersey, largely because of the chef's attention to execution.
A 6 oz. crab cake—which came alongside an 8 oz. sirloin, a potato and asparagus—was also well-prepared, and came pan-seared with a nice crisp exterior. The inside was soft and contained mounds of shredded crab and a light blend of chopped vegetables and breading. I would have liked to have seen better care with the sirloin, however. The cut was overcooked, and in desperate need of seasoning, and fell flat alongside Woodbury Station's seafood fare.
While seafood seemed to be the most popular entrée choice, one obvious star stood out for dessert. Beignets, a New Orleans staple, are on the menu for all meals at the Woodbury Station Café, and arrived as a dessert and coated with a comically large pile of powdered sugar. They were piping hot and golden brown, with an airy inside that was fluffier than a typical doughnut but still hearty and satisfying.
The Woodbury Station Café's transition into dinner could use a bit more finesse, but the memorable bites of food—particularly those stunning scallops—have left an impression in my mind. More comfort food would have been especially fitting for such a quaint and cozy setting. It's a warm and inviting place with equally inviting customer service, and food that has the potential to make this train stop a diner's final destination.
Published (and copyrighted) in South Jersey Magazine, Volume 10, Issue 10 January, 2014).
For more info on South Jersey Magazine, click here.
To subscribe to South Jersey Magazine, click here.
To advertise in South Jersey Magazine, click here.