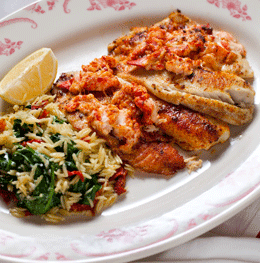 Palate Review: Maggiano's Little Italy
…A Dining Review from the pages of South Jersey Magazine…
Family Style: Maggiano's Little Italy
2000 Route 38
Cherry Hill
(856) 792-4470
2 and a half forks
There's so much more to the Cherry Hill Mall than shopping. In fact, you don't even have to brave the traffic of those in need of retail therapy to really experience some of the mall's best spots. Take a drive around the parking lot and you'll find a handful of top-notch restaurant chains that call the Cherry Hill Mall home.
But don't expect your ordinary, run-of-the-mill eateries. These chains are some of South Jersey's dining gems. One of those spots is Maggiano's Little Italy, an Italian eatery that has earned a reputation for serving up family-style meals, large portion plates for sharing that draw in large parties and hungry families. But the restaurant also serves up an extensive list of entrées and options aimed at all ages.
When you pull back the doors and step into Maggiano's, you are immediately hit with the familiar, homey smells of roasted garlic and fresh-baked bread. Past the grand waiting room and bar area sit two identical dining rooms, packed with tables that are covered in classic red-and-white-checked tablecloths. The walls are covered in black and white photos of old celebrities and unnamed families, and rooms are lined with tufted leather booths, the kind you would expect to find packed with well-dressed mobsters in a corner eatery in New York's Little Italy. But in Cherry Hill, you're more likely to find bunches of families picking from bowls of pasta in the middle of the tables.
Sure, the family-style menu is great for kids or picky eaters, but the entrée portion of the menu offers a more refined list of choices that really appealed to me. Beef tenderloin, roasted salmon; not your typical ravioli and meatballs. Maggiano's menu, and the dining room itself, is made to please groups of all sizes.
Six pieces of bruschetta arrived first, thick-cut, lightly toasted crostinis topped with mountains of diced tomato and large chunks of garlic, all drizzled in a balsamic dressing, then covered in ribbons of fresh basil and plenty of Parmesan cheese. A simple plate, but one packed with so much flavor that I found myself wanting more. The balsamic dressing was light but still packed a tangy flavor and made the sweet tomatoes even brighter and fresher. And the crunch of the bread, paired with the punch of hearty uncooked garlic, helped turn this popular appetizer into something really special.
Our second order, steamed mussels, were not the P.E.I. mussels in a white wine sauce with canellini beans and sun-dried tomatoes that we expected. Instead we received a fra diavolo variety in a thick and spicy red sauce. The mussels were small and not fresh, though the sauce had a nice flavor to it, with lots of fresh basil and chunks of roasted garlic.
And while the mussels weren't ideal, the biggest lag of the night was the service. On this particular Monday night, the dining room wasn't full, and while there were more than enough waiters and waitresses on staff, dishes were slow to arrive and empty plates and glasses sat at our table for way too long. Meanwhile, servers would mingle by water stations or wander over to the hostess table, talking and hanging out while waiting diners chewed ice at the bottom of empty glasses. Even as we left for the night, the hostesses at the front desk seemed too caught up in a conversation to acknowledge a handful of guests walking right by their station.
After a bit of a wait, my plate of lobster-baked tilapia arrived. Two pieces of juicy tilapia were coated in an Asiago cheese crust, then topped with large chunks of lobster meat. The fish was loaded with flavor, and was only made better with the cheese, but the lobster meat was dry and flavorless. Still, when served alongside a bright pile of orzo tossed in fresh spinach and diced sun-dried tomato, it made for a creative and satisfying dish.
The two Parmesan-crusted chicken breasts in the chicken francese were as juicy as the fish, and sautéed in a lemon butter sauce. The dish could have used more of the promised Parmesan cheese, but the sauce was zesty and rich with the right amount of seasoning. It wasn't terribly complex, served alongside super-crispy slices of fried red potatoes, but came with more than enough food and more than enough flavor.
The dinner ended with a larger-than-life slice of chocolate Zuccatto cake, a wedge so big that the server must have grown tired just carrying it across the dining room. Layers of dense chocolate cake sandwiched layers of chocolate sambuca mousse, which was all coated in a thick sheet of chocolate ganache. It was a heavy dessert that might have needed way more than two mouths to tackle, but the chocolate married well with the anise flavoring in the mousse.
Maggiano's menu certainly aims to please, and in most cases the dishes really succeeded. And while sub-par service left a spot on our evening, I was still surprised and impressed with the versatile options that Maggiano's provided. A change in pace from standard Italian food, with the help of some fresh fish and lighter pasta-free plates, made this more than just another Italian spot, and made Maggiano's a restaurant worth sharing.
Published (and copyrighted) in South Jersey Magazine, Volume 10, Issue 10 January, 2014).
For more info on South Jersey Magazine, click here.
To subscribe to South Jersey Magazine, click here.
To advertise in South Jersey Magazine, click here.